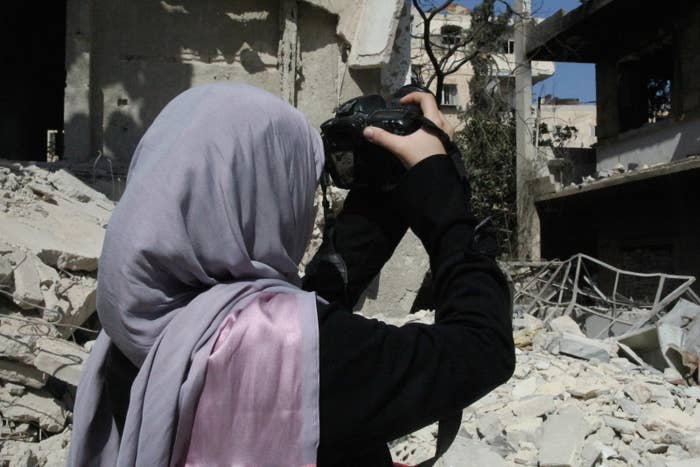 A British news channel fears that as the fall of the Syrian city of Aleppo looms, an award-winning filmmaker they've been working with will wind up killed — or worse, captured.
Channel 4 News in the United Kingdom first hired Waad al-Kateab last year to film a single story about the plight of Aleppo. Following her piece about a teenager who builds a model of the reborn city he hoped to see some day, the channel began requesting more from her, eventually producing a slew of short films from inside the besieged city.

While she's been documenting the horrors of the war, Kateab has also been working to raise her daughter and care for the second child she's pregnant with.

She isn't alone though: Kateab's husband works as a doctor in Aleppo, one of the few remaining at one of the only hospitals left in the city. The Syrian regime and its Russian allies have been accused of specifically targeting hospitals, driving them underground, and treating doctors who administer care to rebels in the civil war count as enemy combatants.
It's for that reason the two remain trapped inside rebel-held eastern half of Aleppo, along with several thousand other civilians, unable to reach the humanitarian aid waiting in the government-held western half of the city.

"I am trapped in Aleppo filming and recording what is happening with a group of 30 doctors and medical staff," she wrote in a note to Channel 4 News on Thursday, provided to BuzzFeed News. "I still have hope but we feel no one is listening or doing anything to save us. I spend my evenings hugging my baby daughter who is terrified by the noise as the bombs fall. At night I dream of my perished city Aleppo. All its people are asking you to remember your humanity. If you are listening, please help."

The city appears near to falling into government control, leaving the news channel to worry about two possibilities: that she and her family will be killed in the ongoing fighting or that she will be captured by the regime once the city falls. Given her role in documenting the conditions civilians live under, her stay in a Syrian jail cell would not be a comfortable one.
"Waad is someone that is a very talented camerawoman who's really focused — she's never filmed militants, what she's focused on is children and civilian injuries and what it's like to live and work in the hospital," Channel 4 news's Nevine Mabro told BuzzFeed News.
As negotiations for the safe passage of civilians out of the city continue — Russia said on Thursday that a cease-fire had been put in place to allow people to flee, something medics and residents deny has happened — there is still hope that Kateab, whose face is obscured in this article to prevent her from being identified should she be captured, will be able to get out of the city. But that's far from certain.
Last week, Kaeteb won two awards from Amnesty International for her reporting. As she couldn't attend to deliver a speech, she provided a letter for her Channel 4 colleagues to read aloud.
"Maybe this will be my last letter to you and to the world," she wrote. "I am in the most dangerous city in the world and only today 30 barrel bombs and 100 artillery shells fell on my neighbourhood (al-Sukkari). I wanted to be with you but the siege of the city prevented that. I am just one individual among the 270,000 people who live under this siege."
"The only thing that's available in this city is air, but this air, most of the time, is polluted with poisonous gases and chlorine," the letter continued. "We are not the only city in Syria under siege and our salvation will not be achieved only by the lifting of this siege or halting the bombing, but with the fall of the Assad regime and getting our freedom and dignity as Syrians. I would have liked for my lens and my colleagues' lenses to give you the complete picture of Aleppo, but we are helpless in front of the horrors of annihilation that the Russians and the regime are enjoying in this ancient city."
"This is a perished city called Aleppo. And all its people are asking you to remember your humanity."