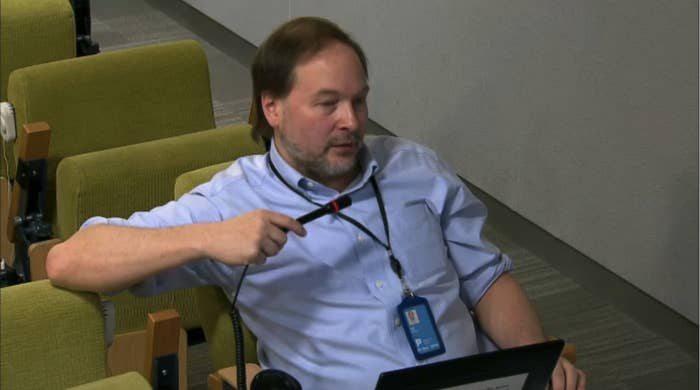 NEW YORK — Matthew Lee was one of the first bloggers to be given press credentials to cover the United Nations and his unedited posts dive deeper into the nitty-gritty of how the organization is run than any other. Now, he claims, he's being unfairly stripped of his working space in the UN's headquarters in retribution for his hardline questions of the United Nations and the mutual dislike between himself and other members of the press corps.
In a series of tweets posted on Friday, Lee, who runs and writes for Inner City Press, claimed that he had been stripped of his UN press badge, told he would no longer have access to his (extremely messy) office, and that he had to exit the premises immediately. He would still be allowed to cover the United Nations, a letter from the organization's Department of Public Information told him, just as a non-resident journalist.
The situation began three weeks ago, inside the UN's press briefing room at a meeting of members of the United Nations Correspondents Association (UNCA). Many individuals present at the meeting, including Lee, agree that Lee — who is not a member — decided to observe this meeting from the translator's booth in the back of the room and was subsequently asked to leave. United Nations spokesperson Stephane Dujarric and his deputy Farhan Haq eventually got involved, personally asking Lee to vacate the room with a member of UN security present.

But Lee contradicts the details of what happened that evening. Lee, speaking to BuzzFeed News by phone, claimed that he had every right to be in the booth, as the briefing room is open to all journalists. For the last few months, he's been covering what he says he believes to be corruption in the UNCA — the group arranged a photo opportunity between UN Secretary-General Ban Ki-Moon and a Chinese magnate under indictment for bribery in a case related to a former UN official. This meeting, Lee said, was fair game as part of that coverage.
"UNCA President Giampaolo Pioli made clear at the start of the meeting that it was a closed meeting for UNCA members only," the group said in statement released Tuesday about the incident. UNCA members, who agreed to speak on background only so they could speak freely about the incident, said that Lee did not announce his presence and he was asked to leave after he was noticed livetweeting and recording the meeting. The gathering, one member said, was being held in the briefing room as their own space in the UN was being used for a separate event.
What followed, UNCA members told BuzzFeed News, was a half-hour long stand-off as Lee refused to leave. A video of the last two minutes of the confrontation provided to BuzzFeed News show Lee exiting the booth and sitting in the last row of the briefing room, stubbornly refusing to budge unless UN security removed him. He eventually did agree to leave after much pleading by Dujarric.
"You know what, I want to go home to my fucking children, it's Friday, I'm just asking you to leave," Dujarric says in the video.
Correspondents who were gathered there were all eager for Lee, who UNCA members have accused of bullying behavior online, to leave. Several of them can be heard in the video making disparaging remarks about Lee. "The problem is we work with a mentally sick person who is not a journalist," one woman can be heard saying.

The incident at the meeting prompted the UN's Department of Public Information to send a letter to Lee, informing him he had until the end of the day – about three hours — to gather the files he needed, turn in his badge and key, receive his new non-residental badge, and be on his way. Lee instead opted to camp out at the press area near the United Nations Security Council's chamber, where he allegedly had a security officer minding him at all times.
"I know the UN complains when journalists are trailed in Iran and Syria," Lee told BuzzFeed News, pointing out what he claims is a double standard. He continued to work until 10:30 PM, at which point UN security finally escorted him out. What followed was, as of Monday afternoon, a string of no fewer than 14 posts related to his ban.
"Mr. Lee has available to him a non-resident pass for four months, and which last I heard he had not claimed," Dujarric said at Monday's press briefing in response to a question about Lee's status. "But that's what he has available. There are reports we have 'seized his files,' but that is untrue, his office remains untouched. And we await him to return so he can vacate his office."
Lee has still yet to turn in the key to his office, which he says would give his "enemies" access to the files he's collected over the last ten years. He also claims that when he attempted to access the UN grounds as a guest on Monday, he was told that he'd been completely banned.
Dujarric confirmed to BuzzFeed News that there was confusion on Monday when Lee attempted to get a guest pass, but it has since been cleared up. He said Lee is free to enter the UN on Tuesday, rather than sit in a park across the street and Periscope the building as he did on Monday. (By Monday evening, Lee had been granted access to a UNESCO event held inside the UN headquarters.) He also said that Lee's files would not be touched in Lee's absence.
"UNCA stands for press freedom and vehemently defends rights of journalists at the UN and around the world," the group said in its statement. "UNCA is committed to journalism ethics and expects journalists to act professionally."
"I didn't beat someone up, I didn't walk around the UN drunk, I didn't shit on the floor," Lee said, calling the whole situation a "total lack of freedom of the press" at the UN.
"Maybe I should be disciplined," Lee told BuzzFeed News. "I still believe in what I did. I believe that meeting room is open beyond UNCA saying get out. If unfavored journalists have to avoid confrontation, why can't they do that in the noon briefing and then people say, 'We want you out.' They need to have an actual clear rule, because that doesn't work."