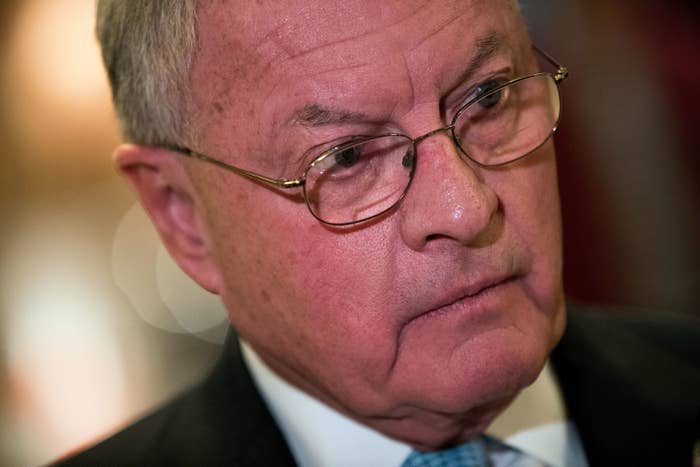 Only twenty-four days after the Trump administration began, National Security Adviser Michael Flynn has stepped down, leaving a placeholder retired general behind and a sense of confusion and dread in the body he ran.
For now, former Lt. General Joseph Keith Kellogg Jr. has been named as acting national security adviser in Flynn's stead. Kellogg had spent just over three weeks serving as the National Security Council's chief of staff. During the presidential campaign, he was an adviser to Donald Trump on foreign policy and military matters. Prior to his retirement, he'd served as head of the Command, Control, Communications, and Computers Directorate under the Joint Chiefs of Staff.
"I am honored to not only be a part of this historic administration but also to be serving with General Flynn and KT McFarland, who are widely respected as some of the most experienced and strategic national security minds," Kellogg said in a statement released after his original appointment was announced in December.
Flynn's resignation came after weeks of speculation about his ties to Russia and was sealed following revelations that US officials had proof that he'd misled the rest of the administration, particularly Vice President Mike Pence, over the contents of his calls with Russian ambassador to the US. In his resignation letter, Flynn said that "because of the fast pace of events, I inadvertently briefed the Vice President Elect and others with incomplete information regarding my phone calls with the Russian Ambassador."

It is currently unclear if Flynn's deputy, K.T. McFarland, will stay on under either Kellogg or Flynn's permanent successor. The same goes for the rest of the NSC staff appointed under Flynn, many of whom were fellow former military types hand-picked by the ousted adviser. That is, what's left of them. Around a dozen people resigned from the NSC last week, according to sources within the body, and nearly a month into the administration, the members are acting without the benefit of an organizational chart to inform them of precisely to whom they're reporting.
Early reports indicate that Kellogg is in the running to remain Trump's right-hand man on security matters, though a US official tells BuzzFeed News that it is unlikely that Kellogg will get to keep the job long-term. Also in contention is former Vice Admiral Bob Harward, who served as Defense Secretary Jim Mattis's deputy when Mattis was commander of US Central Command.
Harward is known as perfectionist among those who knew him in uniform — and something of a screamer. The retired former Navy SEAL, who spent a year and a half serving on the NSC staff during the George W Bush administration, lives in San Diego and travels frequently for Abu Dhabi for his work with Lockheed Martin. He reportedly passed on a job offer just weeks ago from his good friend Mattis because he wanted to remain in the private sector.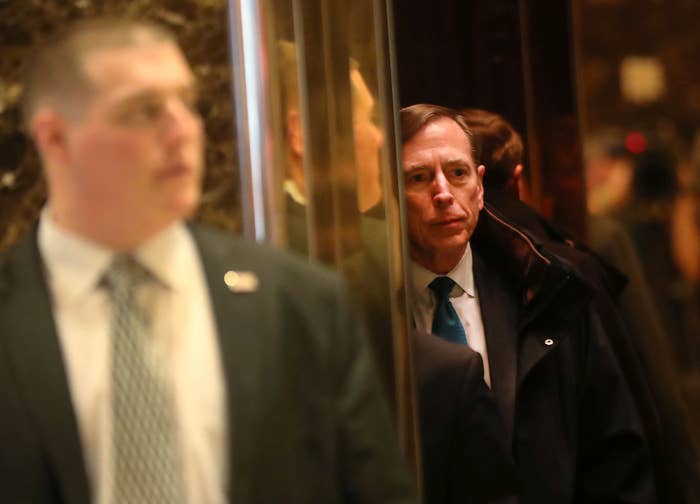 A third player in the mix is one who may find the most favor in the mental casting call that Trump is known to consult in his hiring process. Former CIA Director David Petraeus is scheduled to visit the White House this week, according to Politico, as part of an audition for Flynn's now-former job. The New York Times suggested that the meeting would happen as soon as Tuesday.
Petraeus would be an interesting choice to deflect from Flynn's transgressions — discussing US sanctions with the Russian ambassador to the US and misleading the White House over it — given his own history with classified material. Petraeus resigned from his job at the CIA in 2012 for sharing secrets with his biographer Paula Broadwell, who the general was also having an affair with, during his time as US commander in Afghanistan. (As of 2016, Broadwell remained under investigation by the Pentagon.)
In 2015 he was convicted of sharing classified information and sentenced to two years probation and a $100,000 fine.
During the presidential campaign, Trump repeatedly berated Democratic opponent Hillary Clinton for her mishandling of classified and use of personal email. Given that, many believed Trump passed over putting Petraeus in his cabinet to avoid what observers saw as hypocrisy.
During Petraeus's probation, which ends in April, he must report when he leaves the country to a probationary officer. That may also have cost him a job in the Trump cabinet, particularly secretary of state. It is unclear, however, if the conviction would affect his security clearance. Despite his fall from grace, Petraeus, who served for 37 years in the Army, remains a celebrated general who spearheaded the surge of troops during the war in Iraq that reduced years of escalating violence.
But like the newly departed Flynn, who placed Iran "on notice," and Harward, despite spending part of his youth in Iran, Petraeus has his own concerns with Iran and the nuclear deal the US and other world powers signed with it in 2015. Testifying before the Senate Armed Services Committee in 2015, Petraeus said the deal had some "positive elements."
"It will also, however, increase considerably the resources available for the Iranian regime to pursue maligned activities and in the longer term, as constraints imposed by the agreement expire, the risk of Iranian proliferation will increase," Petraeus said. "The key question going forward is what will be the relationship of the United States to Iranian power? Will we seek to counter it, or to accommodate it?"
If chosen, Petraeus would become one of the most experienced national security advisers to have held the role, having worked with several past advisers during the course of his military career and as CIA director. Moreover, as someone who has managed thousands of government troops and the CIA, he has the experience to manage government agencies like the Defense Department, Homeland Security and State, the former two of which are now led by retired generals. Finally, Flynn's preference for retired military officers may play to Petraeus's advantage, meaning the former four-star general would know many of those already there.