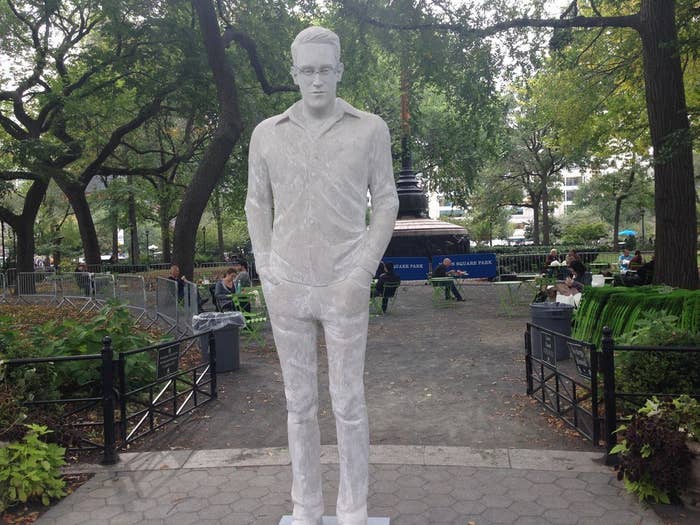 A giant statue of Edward Snowden has appeared in Union Square Park. The tribute to the NSA whistleblower is the brainchild of Jim Dessicino, a graduate student at the University of Delaware.
"When the story broke about Edward Snowden, I was thinking a lot about surveillance and monumentality and how we remember things," Dessicino told BuzzFeed News on Friday. "How public space is used and how people in history are remembered.
"And I got the idea that maybe people who are major actants upon history aren't always represented properly, and those people could be written out of history by not having something more permanent made of them."
It took Dessicino four months to complete the nine-foot tall piece of art, out of gypsum cement, steel, and foam. For the next three days, from 10 AM to 5 PM, the statue will be based in Union Square as part of the annual Art in Odd Places project.
"I was thinking a lot about who gets memorialized, who gets lionized, you know, remembered in the public eye," he said. "And there's a really democratic activity that happens in public art and public spaces where it can cause public discourse. And I saw that seemed lacking in my generation.
"And Edward Snowden does something that was beyond him, you know, it was a very public act where he sacrificed his own personal comfort and security to let us all know something. So he sacrificed himself for the greater good."
"So he's kind of dead in a way, because he can't be here, and so he becomes a subject that can be memorialized," he said.
In an amazing coincidence, the very first person to see the statue as it came off the truck was Glenn Greenwald.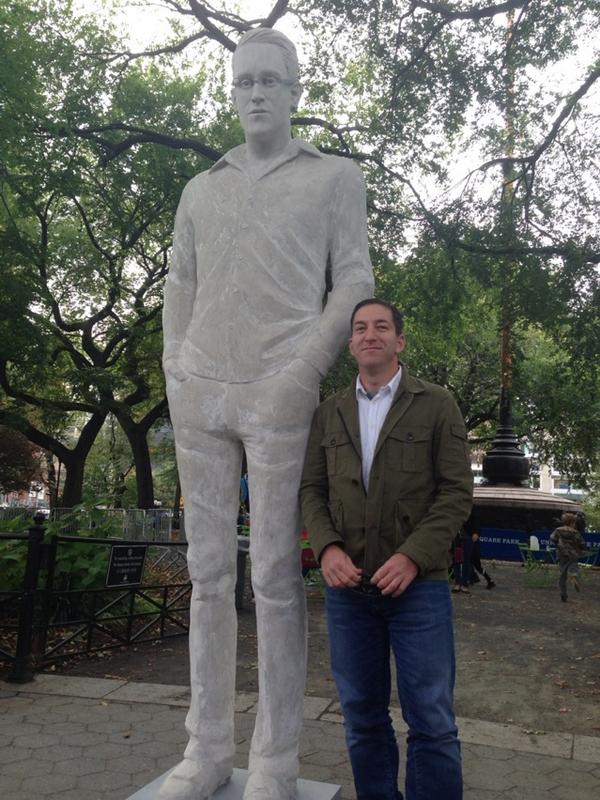 "The first person to see it was Glenn Greenwald right when we took it out of the van," Dessicino said, making clear that the picture wasn't staged. "He was just having breakfast. One of his friends came over and was like '...Is that Edward Snowden?' 'Yes it is!' 'Well, that's Glenn Greenwald!'" Greenwald apparently was a fan of the piece.
Though he clearly admires Snowden, and doesn't think the former NSA contractor should return to the U.S. for trial, Dessicino insists that he's not an activist.
"Politics aren't my number one concern and what happens to Edward Snowden," he said. "I wish him well but this is more about being active in public life and about questioning monuments. About questioning how we believe in things that are there and permanent."
Dessicino pointed to how the statute's pose — "he's pensive and unsure of his actions and unsure of himself" — and even the materials chosen reflect the uncertainty surrounding the figure. "It's not cast in bronze. The verdict is still open about Snowden so therefore he can't have a totally permanent monument."
Not everyone was exactly sure just who the statue was supposed to be.
After talking with Desscinio and milling about the statute for a few minutes, nobody asked could correctly identify the piece's subject. One Israeli man, walking through the park with his wife and small child, thought it might be of John Lennon. Another woman, when told who it was, looked at it with a new look in her eyes. "The almost Nobel Prize winner?"