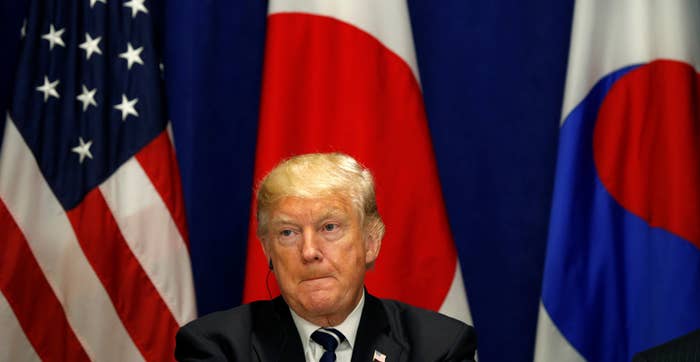 The United States on Thursday announced sweeping new sanctions against North Korea, potentially targeting anyone who trades with Pyongyang with punishment from the US.
"I am announcing a new executive order to sign that significantly expands authorities to target individuals, companies, financial institutions that finance and facilitate trade with North Korea," President Donald Trump said at a working lunch in New York, flanked by President Moon Jae-in of South Korea and Prime Minister Shinzo Abe of Japan.
The order will "target any individual or entity that conducts trade in goods, services, or technology with North Korea," Trump said.
A fact sheet provided by the White House said the order gives the Treasury Secretary the "authority to impose sanctions on any foreign financial institution that knowingly conducts or facilitates any significant transaction on behalf of certain designated individuals and entities, or any significant transaction in connection with trade with North Korea."
"Foreign financial institutions must choose between doing business with the United States or facilitating trade with North Korea or its designated supporters," the fact sheet concludes.
The order also blocks ships and planes that have either visited North Korea or engaged in engaged in a ship-to-ship transfer with a vessel that's been to North Korea from visiting the United States for 180 days. Treasury Secretary Steve Mnuchin in a press conference later in the day was unable to provide an exact number to reporters how many vessels the new order will affect.
Trump also noted during his statement that China had announced earlier in the day that the country's central bank had informed its subordinates to cease working with their North Korean counterparts.

"I had a very productive conversation very early this morning with Governor Zhou at the PBOC, the People's Bank of China, and how we are going to work together," Mnuchin said, denying that the order targets Chinese banks and businesses. "This action is directed at everyone. It is in no way specifically directed at China. And we look forward to working very closely with them."
The US has been pressing for more and greater sanctions against North Korea since the Trump administration took office, as the communist nation has stepped up its missile tests and conducted its seventh nuclear test. The United Nations Security Council has passed several rounds of new multilateral sanctions since then as well, targeting specific sectors like North Korean coal imports and calling for stricter enforcement.
While sweeping in nature, the effect of the new sanctions will have on North Korea's economy is still unclear, given the number of workarounds the regime already has in place to dodge international scrutiny.
"It's important to go after illicit networks," David Maxwell, an expert on North Korea and security at Georgetown University, told BuzzFeed News. "The North Koreans have adapted to mitigate the impact of sanctions, particularly secondary sanctions on financial institutions."

China's move will also be closely watched for impact, as most of the country's larger banks no longer do business with North Korea already for fear of being blacklisted from the international SWIFT banking system. Instead, the target may well be smaller banks along the border, which allegedly still settle trade for North Koreans. Of particular interest will be whether they genuinely change after an initial period of compliance with the central bank's orders.
Trump, in his first speech at the UN General Assembly on Thursday, singled out North Korea's nuclear program as a global threat and warned that if forced, the US would "destroy" North Korea.
When asked after the announcement asking whether dialogue with North Korea is still possible, the president responded "sure, why not," according to the White House press pool.