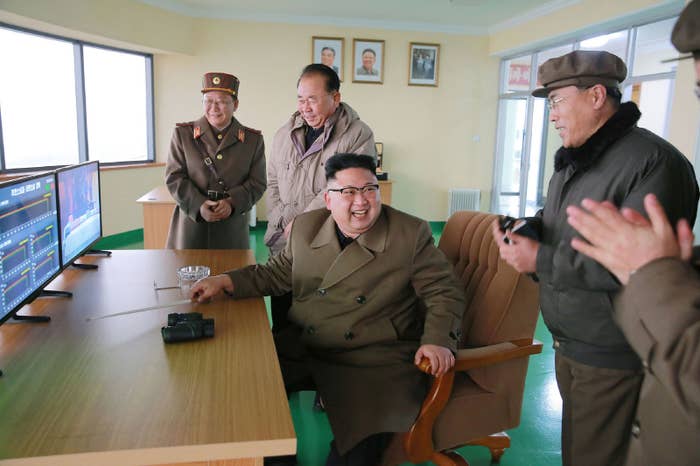 The Trump administration on Friday took aim at North Korea and the countries that still provide support to the mostly isolated nuclear state with a series of sanctions cutting 11 individuals and one company off from the US financial system.
Among those sanctioned include Han Jang Su, the representative of North Korea's Foreign Trade Bank in Russia, and Kim Yong Su, a government official who attempted to set up a shipping corridor between North Korea and Vietnam.
"Today's sanctions are aimed at disrupting the networks and methods that the Government of North Korea employs to fund its unlawful nuclear, ballistic missile, and proliferation programs," Treasury Secretary Steven Mnuchin said in a statement. "These sanctions underscore this Administration's commitment to countering the threat to the United States, to our allies, and to stability on the Korean peninsula and in the wider Asia Pacific region posed by the Kim regime in Pyongyang, and I urge our partners and allies to take similar measures to cut off its funding."

None of the new sanctions are the result of new laws or regulations, with the majority of them linked to an executive order signed by then-president Barack Obama in 2016.

More important than the people on the list may be where they operated. Friday's sanctions specifically go after "North Korean nationals working as agents of the regime in Russia, China, Vietnam, and Cuba to provide financial support or WMD procurement services for UN- or U.S.-designated sanctioned entities," according to a press release from the Treasury Department.
"No one on the list jumps out as particularly significant, though as a whole it reads to like like something of a warning shot to Chinese and Russian companies and banks, since all the gentlemen who are designated are representatives stationed abroad," Andray Abrahamian, associate director of research at Choson Exchange, told BuzzFeed News in an email. "What we really need to watch out for is if they start directly going after Chinese entities for facilitating the work of DPRK banks or businesses."

Despite not offering clarity on exactly what its position is on a slew of issues, one thing that's echoed across the young administration has been the threat that North Korea poses. Pyongyang has launched several missile tests since coming into office, including one when Shinzo Abe was visiting Trump's Mar-a-Lago resort that resulted in an impromptu national security meeting amid the paying guests.
Secretary of State Rex Tillerson on a jaunt through east Asia earlier this month said that the US would break from twenty years of "failed approach" towards North Korea, though without going into detail about what that would look like. And Defense Secretary Jim Mattis on Friday during a trip to Brussels highlighted North Korea over Iran as one of the top threats to the US.
President Donald Trump — who spent much of the 2016 presidential campaign deriding China for among other things coddling North Korea — is meeting with Chinese president Xi Jinping next week at Mar-a-Lago, where the subject of the Korean peninsula is likely to come up.