The U.S. Is Sending Special Operations Forces Into Syria
The total number will be less than 50, an administration official confirmed to BuzzFeed News, but it's a marked shift from previous operations.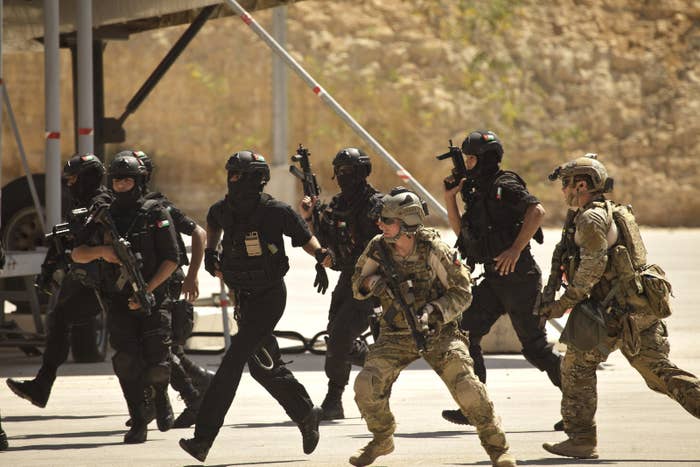 The United States will be sending special operations forces to support current operations in Syria, a senior administration official confirmed to BuzzFeed News on Friday.

"The President has authorized a small complement — fewer than 50 — of U.S. Special Operations Forces (SOF) to deploy to northern Syria, where they will help coordinate local ground forces and Coalition efforts to counter [ISIS]," the official wrote in an email, speaking on background as the deployment has yet to be officially announced.

Currently the U.S. has more than 3,300 troops in Iraq to protect U.S. facilities and to coordinate the ongoing airstrike campaign against ISIS both inside Iraq and Syria. In addition to the special forces, the U.S. will also be deploying A-10 gunships and F-15 fighter jets to Incirlik airbase in Turkey.
"The nature of the mission has not changed," a U.S. official said when asked about how the new deployment doesn't count as a combat deployment. "They will be there as part of the train, advise, and assist mission." The train part of that mission has been pulled back in recent weeks, as the U.S. wrapped up an effort to train and equip the Syrian opposition that many have declared as "failed."
White House Press Secretary Josh Earnest repeated this mantra several times during his daily press briefing, adding that the forces were not "charging to take a hill" as would be expected in a combat mission.
He also claimed that the 2001 Authorization to Use Military Force (AUMF) that allowed the U.S. to target Al Qaeda and associated forces allowed the new deployment. When asked if the White House would pressure Congress to take up a new, ISIS-specific AUMF, Earnest replied that the administration had already done plenty on that front.
"I don't know when Congress is going to meet again," the press secretary said. "I know they take Fridays off and sometimes Mondays. Maybe they can meet on Tuesday" to discuss a new AUMF.
Secretary of Defense Ash Carter previewed today's shift when speaking before the Senate Armed Services Committee on Tuesday. "We won't hold back from supporting capable partners in opportunistic attacks against [ISIS], or conducting such missions directly whether by strikes from the air or direct action on the ground," Carter said, using an alternate acronym for the militant group.
The change arrives as the pressure for U.S. action in Syria only continues to increase, as both Iran and Russia have increased their activity within the war-torn country. Since Russia began its bombing campaign in late September, the U.S.'s own airstrikes have been in decline, according to Defense Department data.
Friday's announcement also comes on the same day that the U.S. and Iran are due to meet face-to-face discussing Syria for the first time, during a meeting with several other countries in Vienna.
President Barack Obama has made several pledges throughout his original campaign for the presidency and his time in office since that he would not put "boots on the ground" in Iraq, maintaining that insistence and expanding it to Syria during the start of the ISIS campaign. The president also insisted that U.S. forces would not "engage in combat" against ISIS forces in Iraq or Syria.
When pressed on whether the special forces would count as "boots on the ground" if they found themselves in combat, Earnest said simply: "They're boots on the ground now."