State Department Has No Regrets About Highlighting An Anti-Islam Activist
"It's understood always that any tweet or Facebook post or anything else we do potentially can make someone unhappy," a State Department official told BuzzFeed News.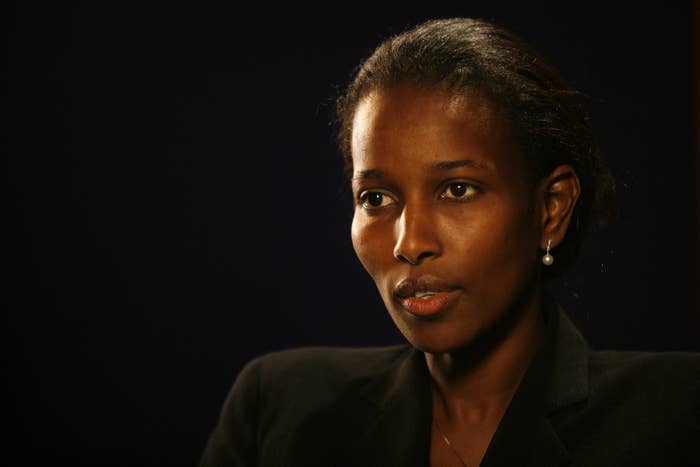 NEW YORK — The State Department is standing by a tweet sent out by its anti-extremism campaign praising an activist who has been accused of espousing Islamophobic views.
The Think Again Turn Away campaign — the U.S. government's effort to push back against jihadis and other extremists' narratives online — sent out a series of tweets on Monday lauding the winners of the Lantos Foundation for Human Rights and Justice's annual human rights award. This year the award, issued back in October, went to three women whom the Foundation lauded as "courageous": Rebiya Kadeer, Irshad Manji, and Ayaan Hirsi Ali.
A former member of the Dutch Parliament and former Muslim whose life has been threatened by Islamic extremists, Ali has made a name for herself speaking out against the tenets of Islam, calling for major reforms of the religion. She has called Islam "a destructive, nihilistic cult of death," advocated for the banning of headscarves in France, and taken a general stance that has seen her become the focus of protest and labeled Islamophobic.
"Ms. Hirsi-Ali was recognized for her work against female genital mutilation [FGM]. We felt it was important to highlight, as often as we do, accomplishments in human rights," a State Department official told BuzzFeed News. (Female genital mutilation is often considered a part of Muslim culture, including in Hirsi Ali's writings and talks — but this story shows how it is in fact based on the cultural practices of several cultures on the African continent.)
For the most part, the State Department punted to the Lantos Foundation for being the ones to give the award in the first place: "The Lantos Foundation evaluated nominees, and selected these three individuals to award their prize for human rights. We posted about each of those three using the information provided by the Lantos Foundation."
"I'm not too surprised that there are people who are upset about her, because there's sort of a community out there who's very quick to feel outrage at things that they perceive as hurtful or insensitive," Katrina Lantos Swett, president of the Lantos Foundation, told BuzzFeed News when asked about the backlash to the State Department's praise.
Lantos Swett, the daughter of Rep. Tom Lantos for whom the foundation is named, praised all three of the award winners, which also includes Rebiya Kadeer, the head the World Uighur Congress, and Irshad Manji, an author and filmmaker. They chose Hirsi Ali — who they labeled "the rebel" of the bunch — specifically in the context of the other two's work, she continued. The activist was compared during the phone interview with Lantos Swett to figures such as Voltaire and the Black Lives Matter movement for speaking out provocatively to begin conversations.
Hirsi Ali speaks as someone who has a deep cultural and personal understanding of experiencing FGM, Lantos Swett continued, and someone who "made the journey from being a radicalized Islamist extremist to an atheist ... free-speech advocate and courageous fighter for the rights of women in Islam."
While she doesn't agree with everything Hirsi Ali has said, Lantos Swett felt that the award going to its recipients "felt very timely with all the things going on in this world. These three women give the lie to true slander about women in Islam. To any people who would say they're just oppressed women in veils ... what a slander that is against Islam, what a slander it is against the women of Islam."

Despite the State Department telling BuzzFeed News that the response to the tweet was more positive than negative, a sample of the responses immediately below say otherwise.

"We used our normal vetting process which involved several people looking at the potential posts in English in a particular order," the State Department official said when asked about how the tweet came to be posted. "It's understood always that any tweet or Facebook post or anything else we do potentially can make someone unhappy."