Ah, Spring Break. The time of year when a college student's thoughts turn to flights of fancy and drinking enough to vomit the entirety of the contents of their stomach and then some. Truly, a bad decision-maker's Christmas.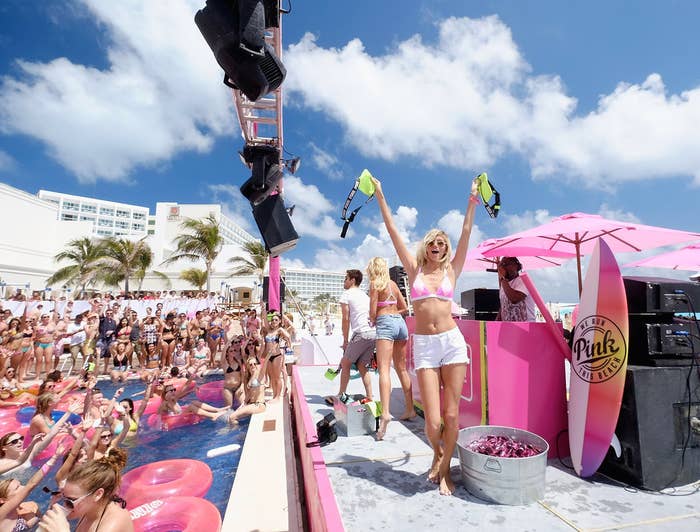 In order to prevent Americans from having their lives ruined by things other than excessive consumption and venereal complications, the State Department's official @TravelGov Twitter account has been tweeting advice with the hashtag #SpringBreakingBadly.
A tweet that went out on Tuesday, aimed at preventing people from becoming unwitting drug mules, was along those lines — good advice, but kind of weird and the target of many jokes along the lines of "...and the problem is?"
And then...well, and then today happened.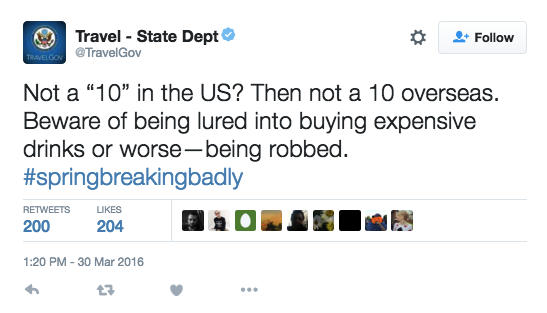 Regardless of the fact that it's actually pretty decent advice to be on your guard overseas, people took offense to the use of the classic 1-10 hotness rating scale. (Besides, Colin from Love Actually totally disproves the tweet.)
The poor staffers running the account — identified in the bio as Kaitlin and Alyssa — soon faced a flood of tweets expressing the verbal equivalent of a facepalm.
And while they tried to defend themselves...
(Sometimes both missing the "joke" and forgetting the crucial period before the tweet while doing so...)
...people weren't prepared to stop mocking the account.
Both satirizing the tweet...
And calling out the State Department for being tone deaf.
In the end, @TravelGov apologized for the tweet and subsequently deleted it entirely.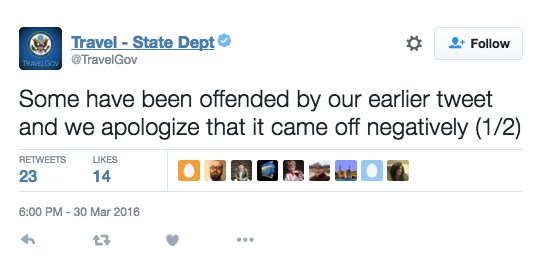 So, yeah. Spring Break whoooooooooooooooo.