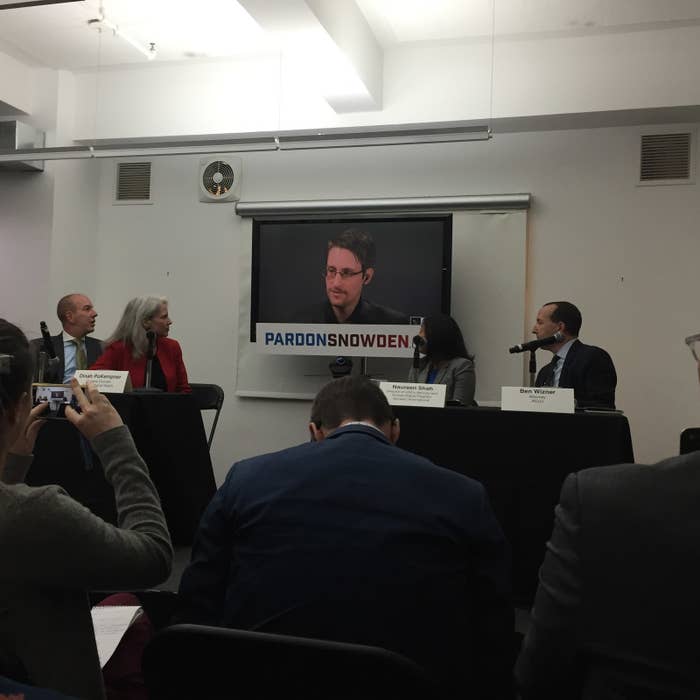 NEW YORK — Even in a New York City room full of human rights supporters and journalists, Edward Snowden still couldn't avoid being tied to Russia.
The NSA whistleblower was appearing via video link from Moscow at a press conference held by the ACLU, Human Rights Watch, and Amnesty International to promote a new campaign dedicated to pushing President Barack Obama to pardon him when a journalist from state-owned Russian television channel Russia-1 stood up and asked a question. "Can you say that Russia is the safest place on planet Earth for you?"
A chuckle rippled through the room packed with roughly three dozen reporters and camera operators as Anthony Romero, executive director of the ACLU, and Ben Wizner, Snowden's ACLU lawyer, attempted to jump in to spare Snowden having to answer the question — something potentially embarrassing at home, and could be used for propaganda in Russia.
But Snowden jumped in himself: "The main thing to remember here is that I did not pick a particular destination." He then retold the story he has told dozens of times before: how the State Department froze his passport as he was trying to reach Latin America, stranding him in Moscow during a connecting flight. "Unfortunately, what that means is when it comes to where I am, how safe I am, the ultimate decision has not been mine, it's been the State Department's."
Snowden has been on something of a publicity spree in recent weeks, thanks to the upcoming release of Snowden, the Oliver Stone-directed movie depicting his leak of thousands of documents and subsequent flight. (He had to cut questions off short to go do a test of the equipment that would let him do another Q&A after an early screen of the film later in the day.)
Snowden was keen to stress that he was not leading the campaign for a pardon and would never ask Obama for one himself: "I'm comfortable with the decisions I made, but I don't believe it's up to me to decide the future of our society," Snowden said. "That's why I do not myself ask for a pardon and never will."
Romero, the ACLU director, called on Obama to pardon Snowden and noted that most president's boldest actions occurred in their final months. "A pardon for Snowden would be good for America and burnish America's legacy as a protector of human rights," he said. Naureen Shah, head of Amnesty's security and human rights program, held a photo of Snowden as she said, "It's no exaggeration to say that this man changed the world."
Along with the human rights groups' declarations and a full-page ad taken out in Wednesday's Washington Post, a flurry of op-eds urging Obama to not prosecute Snowden under the Espionage Act were published on Wednesday in the Guardian, the newspaper that first revealed the contents of Snowden's leaks.
White House Press Secretary Josh Earnest on Tuesday dismissed the idea that Obama would pardon Snowden as a whistleblower. "I don't think it makes sense, because Edward Snowden is not a whistleblower," Earnest said. "There actually is a specific process that is well-established and well-protected that allows whistleblowers to raise concerns that they have, particularly when it relates to confidential or classified information, to do so in a way that protects the national security secrets of the United States. That is not what Mr. Snowden did."
One place where Snowden was coy on Wednesday was when discussing fellow whistleblower Wikileaks, which has come under increasing criticism from not just critics, but from fellow privacy advocates as well, including for its involvement in publicizing the emails obtained in the DNC hack, believed to have been carried out by hackers linked to the Russian government. "Well, I'm not following the election cycle that closely, but I believe I've addressed Wikileaks previously in my tweets," he said.