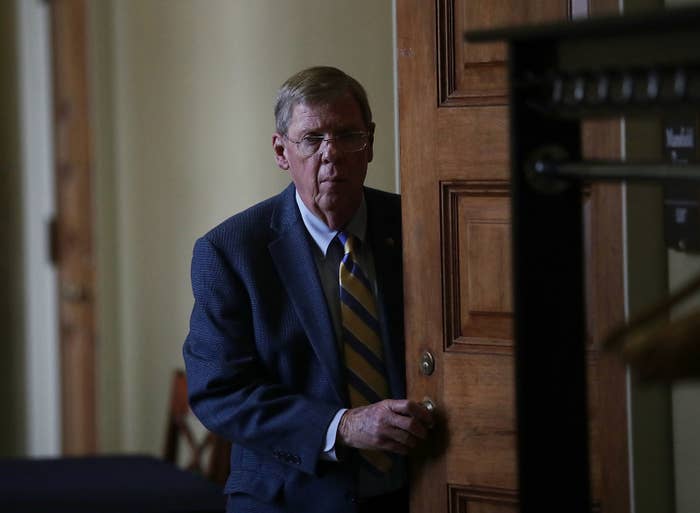 Sen. Johnny Isakson, a member of the Senate Foreign Relations Committee, said in a radio interview Friday that the US "should really have physically gone in" to Ukraine after it was invaded by Russia because of Washington's NATO commitments.
"You know, when Crimea was invaded by the Russians, and later the Ukraine, under Article 5, we really should have physically gone in to their aid," Isakson told Georgia Public Broadcasting's Political Rewind. "We didn't because we're stretched too thin. But NATO's an important part of our national defense and the defense of our own country."
Article 5 is NATO's collective defense clause saying an attack on one member of the alliance is an attack on all, and has only been invoked once, in the wake of Sept. 11. Ukraine is not a member of NATO.
It was unclear if with his wording Isakson meant to imply that Crimea was invaded by Russia and then Ukraine. Crimea was annexed by Russia from Ukraine after a surreptitious invasion in early 2014. Moscow has since also supported separatists in eastern Ukraine.
"Senator Isakson is deeply troubled by Vladimir Putin's continued threats of aggression and believes the US should stand by its allies, including through NATO," Amanda Maddox, Isakson's press secretary, told BuzzFeed News in an email when asked for clarification of the senator's comments.
Isakson, who also sits on the Veterans Affairs Committee, is a two term senator from Georgia. He has said he will support Republican nominee Donald Trump, who has said that he believes a US response to any Article 5 invocation would be dependent on whether the country in question had met its financial commitments to defense spending.
Isakson made his statements on Ukraine after being asked what the rest of the world thought of Trump's views on the US's defense commitments.
"I'm not hearing much at all from foreign ambassadors coming into my office about Donald Trump as a general statement," Isakson responded. "I hear a lot about the NATO situation. I'm a supporter of NATO. NATO has proved a great asset to our country."