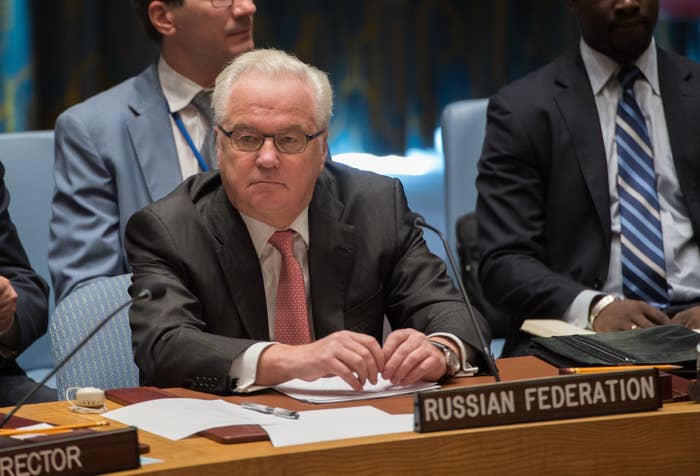 NEW YORK — Russia's ambassador to the UN has declined to comment on reports that he made a formal complaint to the UN about a pair of speeches a UN official delivered slamming Donald Trump.
The ambassador, Vitaly Churkin, issued a verbal demarche, or formal diplomatic complaint, during a meeting with UN Secretary-General Ban Ki-Moon in Geneva in September, the AP reported Friday.
"We criticized UN High Commissioner on Human Rights Zeid Ra'ad Al Hussein for a speech where he was patronizing heads of states and governments of some countries," Russian Mission to the UN spokesperson Theodore Strzhizhovskiy said in an email to BuzzFeed News. "That Donald Trump may have been one of the targets of the High Commissioner is a pure coincidence."
Maria Zakharova, the Russian foreign ministry spokeswoman, directed all requests for comment to Churkin's office. "His press service must comment if such an incident took place or not." Asked if that meant she believed maybe it didn't happen, Zakharova said: "I have no idea. There are elections in America — and the entire world is held hostage."
The State Department and US Mission to the UN declined to comment.
The complaint related to a pair of speeches given by Prince Zeid Ra'ad al-Hussein, the UN High Commissioner for Human Rights, in which Zeid decried Trump's xenophobic rhetoric.
"Less than 150 miles away from where I speak, a front-running candidate to be president of this country declared, just a few months ago, his enthusiastic support for torture," Zeid said during one speech at Case Western University in April, months before the Republican National Convention began in nearby Cleveland, Ohio, "inflicting intolerable pain on people, in order to force them to deliver or invent information that they may not have."

In another speech, days before Churkin's reported complaint, Zeid listed Trump among a group of nationalists that he labeled as "demagogues and political fantasists" who were eroding human rights.
A spokesperson for Democratic presidential candidate Hillary Clinton did not immediately respond to a request for comment.
Miriam Elder contributed to the reporting of this story.