Russia Got Its Seat On The UN Human Rights Council Taken Away In A Surprise Vote
Human rights advocates had called for Moscow to be denied a seat thanks to its role in bombing civilians in Syria.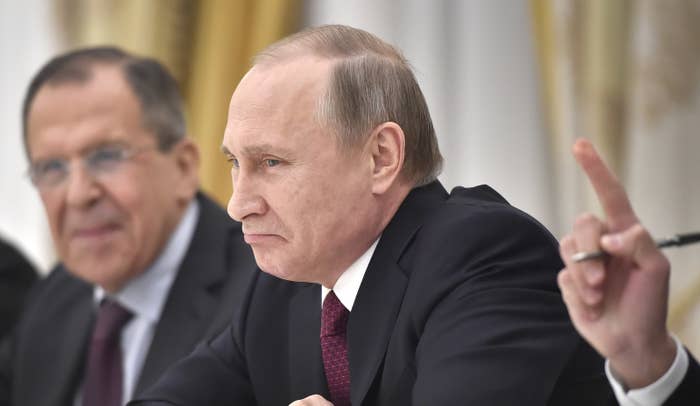 Russia's attempt to win a seat on the United Nations Human Rights Council was rejected on Friday, in a surprising vote that saw several other countries with human rights issues easily winning seats.
The United Nations General Assembly's 193 members gathered on Friday to fill the open seats on the council, which are doled out regionally. Russia — a member of the Eastern European region — ran against Hungary and Croatia for two open seats, ultimately losing the vote. It was a close race: Croatia won 114 and Hungary 144 compared to Russia's 112.
Human rights advocates heavily contested Russia's bid to retain its seat on the 47-member council — which it has held nearly consistently since the Human Rights Council was formed in 2007, save a year in 2013 due to eligibility constraints — given the role Moscow is playing in Syria's ongoing civil war.
"Russia's actions in Syria stand in clear contrast to its rhetorical commitment to human rights," an open letter to UN members signed by 87 human rights groups read. "Member states should particularly consider Russia's indiscriminate attacks, its substantial weapons deliveries to the Syrian government and its efforts to prevent impartial accountability for serious crimes in Syria."
"In rejecting Russia's bid for re-election to the Human Rights Council, UN member states have sent a strong message to the Kremlin about its support for a regime that has perpetrated so much atrocity in Syria," Louis Charbonneau, UN director at Human Rights Watch, said in a statement after the vote.

Beyond its role in world affairs, Russia's loss in a UN election extremely rare. As one of the five permanent members of the Security Council — along with the US, United Kingdom, France, and China — its position on all of the UN's bodies is all but guaranteed. The last permanent member to miss out on a seat in a UN body came in 2001, when the US lost an election to sit on the UN Human Rights Council's predecessor.
A spokesperson for the Russian mission to the UN did not immediately respond to a request for comment.
Though Russia lost its bid, several other states that have committed human rights abuses won their, often uncontested, campaigns to sit on the council. Egypt, Saudi Arabia, and China all won their seats without opposition. And Hungary, which beat out Russia, has its own troubling history of how it treated refugees during the crisis that consumed Europe last year.