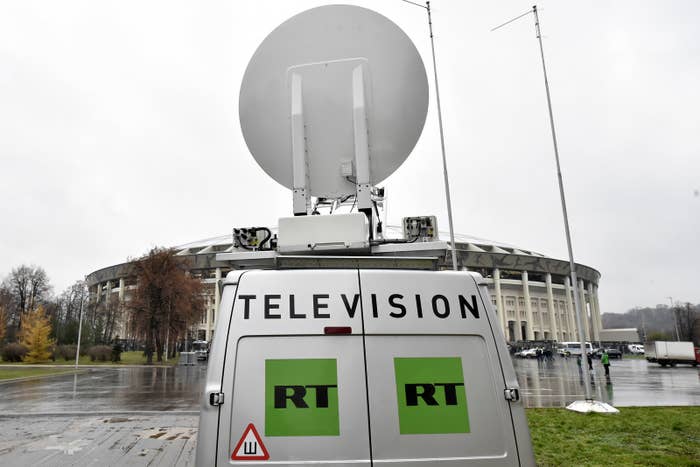 New filings with the Justice Department show that the original US distribution company for RT, also known as Russia Today, is in the process of "winding down" and has been since earlier this year.
"RTTV America, Inc. does not engage in any current daily business activity and is in the process of winding down," reads the registration uploaded on Monday. According to the document, filed by Alex Yazlovsky, a Russian-born US citizen, RTTV America has not produced content for RT since 2014.

Yazlovsky in the document noted that his company did previously have contracts with ANO TV-Novosti, the Russian media outlet that owns RT, but didn't see the need to file under the Foreign Agent Registration Act (FARA). ANO TV-Novosti is owned by RIA Novosti, a Russian "autonomous nonprofit" that is funded by the Russian government.
"The registrant does not agree that it is acting/acted as an agent of a foreign principal, but is registering because DOJ has taken the position that the contractual relationship with ANO TV-Novosti falls under the registration obligations of FARA," the filing reads.

"The few pre-paid contractual legacy arrangements with RTTV America will expire in the near future and we will continue as usual," RT spokesperson Anna Belkina told BuzzFeed News in an email asking about the relationship between the two.

Attempts to reach Yazlovsky for comment were unsuccessful.

RT has been in the spotlight for the last year, after an intelligence community report determined that in the 2016 presidential election, "Russia's state-run propaganda machine . . . contributed to the influence campaign by serving as a platform for Kremlin messaging to Russian and international audiences." The Justice Department earlier this year ordered RT to register under FARA, which RT complied with in November.

But those filings were for T&R Productions, the company that currently handles RT's content creation and distribution. For most of its initial decade broadcasting in the United States, RT used two companies to produce and distribute its content: RTTV America, Inc., and RTTV Studios, LLC, both owned and operated by Yazlovsky.
RTTV still had two contracts with stations for distributing RT that would have lasted until 2018, but those obligations were sold back to ANO TV-Novosti, per the filings. RTTV company paid out $5.5 million to Time Warner as part of the deal to sell ANO TV-Novosti access to the distribution channels themselves.
According to his personal filing, Yazlovsky's salary from RTTV America plummeted over the years, from its peak of $734,999 in 2013 to $90,000 this year. In 2016, he earned $360,000 from the company.
In 2013, Yazlovsky pled guilty to tax fraud for diverting $2.7 million in funding from Russia to a personal offshore account over the course of nearly a decade. His connection to RT America was first reported in April 2014 — the same month that T&R Productions was founded.
"RTTV America, Inc. is a video production company providing services such as video content, transmission, crew services and studio facilities. It is a District of Columbia corporation," RT America business manager Roman Tokman told the Washington Free Beacon at the time of their relationship with Yazlovsky. "These services are sold to a company in Russia that runs RT including the RT America channel."

CORRECTION
Alex Yazlovsky was sentenced to community service as a result of his tax fraud charge. A previous version of this article incorrectly stated that he served time in prison.
CORRECTION
Roman Tokman's name was misspelled in an earlier version of this post.