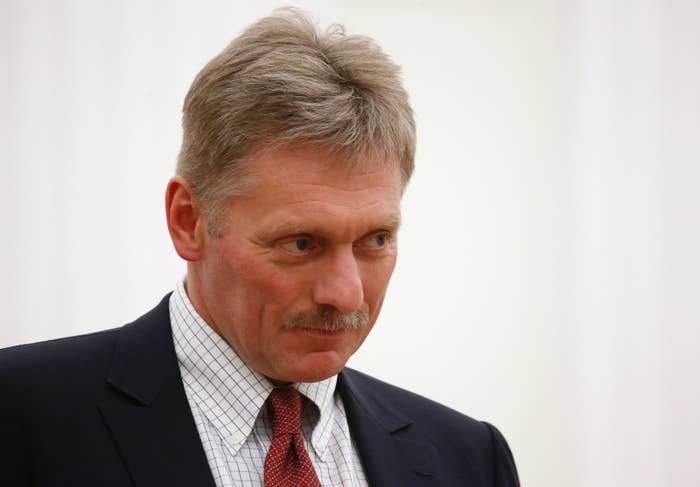 Russian President Vladimir Putin's spokesperson compared the women who accused disgraced producer Harvey Weinstein of sexual assault and harassment to prostitutes.
Dmitry Peskov made his comments Thursday at Moscow's Higher School of Economics, Russian outlet Meduza reported, while finally addressing charges leveled against senior Russian lawmaker Leonid Slutsky.
Four women — all journalists — filed a complaint with the ethics committee in the Duma, the lower house of Russia's parliament, against Slutsky in early March. Over the years, they said, Slutsky had kissed, groped, and otherwise harassed them and other women. Last week, the committee cleared Slutsky, who runs the foreign affairs committee, of any wrongdoing.
"This has less to do with the Ethics Committee than the police," Peskov said on Thursday. "If he groped you, if he harassed you, why did you remain silent? Why didn't you go to the police? Why did so much time pass, and then you went to the Ethics Committee?"

There is no law banning sexual harassment in Russia, which is usually considered harmless by the authorities. As of last year, even domestic violence is essentially decriminalized after Putin signed a change in the law to only impose fines on husbands who beat their spouse.
Peskov then compared Slutsky's accusers to the women who have come forward against Weinstein, sparking the #MeToo movement around the world, calling such accusations "something of a fashion statement."
"You know, it reminds me of the Hollywood stars who became stars and who have done a lot that clashes with our notions of honor and dignity," he continued. "But they did these things anyway, in order to become celebrities. They earned hundreds of millions of dollars, and after 10 years they started saying that Weinstein is a bad man."
"Maybe he's a scumbag, but none of them went to the police and said, 'Weinstein raped me!' No! They wanted to earn 10 million dollars. What do we call a woman who sleeps with a man for 10 million dollars? This might sound rude, but we call her a prostitute," Peskov said.

While Slutsky was cleared by his peers, who reportedly denigrated the two women who appeared before the ethics committee to testify in person, the situation has not faded away. More than 20 Russian outlets have said they will not cover the Duma until Slutsky steps down.