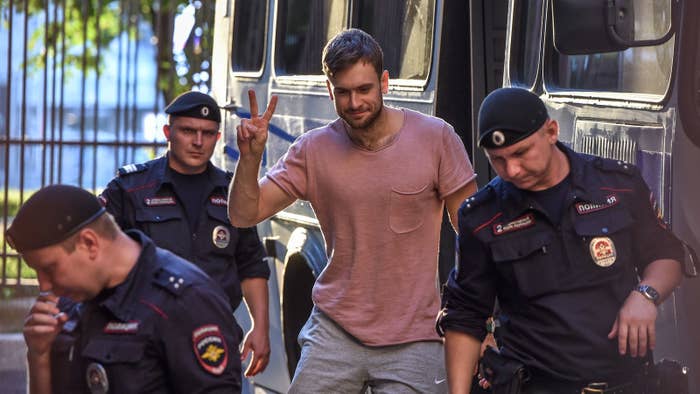 Pyotr Verzilov, a member of the performance protest band Pussy Riot, has been flown to Germany for medical treatment, after being treated for an unknown illness in the toxicology wing of a Moscow hospital earlier this week.
Verzilov first began to feel unwell Tuesday following a court hearing, the Russian-language outlet Meduza reported, citing a friend of the activist. Though initial tests came up empty, around 1 a.m. Wednesday he was moved into the toxicology section of Bakhrushin City Clinical Hospital.
"When the paramedics arrived, he answered all their questions, saying, 'No, I didn't eat anything. No, I didn't take anything,'" Veronika Nikulshina, Verzilov's girlfriend, told Meduza. "He was getting worse even faster, and then he started convulsing. On the way [to the hospital], in the ambulance, he was already babbling. ... He fell into such a half-asleep, half-unconscious state that he stopped responding to me and didn't even recognize me anymore."

He was flown to Berlin Saturday via a medical transport plane arranged by the German nonprofit Cinema for Peace Foundation, a nonprofit that has worked that with Pussy Riot in the past.
Pussy Riot member Nadya Tolokonnikova tweeted photos at what appeared to be a German airport Saturday, including a video that seemed to show Verzilov disembarking from an airplane.

Since 2014, Verzilov has served as the publisher of the independent media outlet Mediazona, founded by Tolokonnikova and fellow Pussy Riot member Maria Alyokhina. More recently, Verzilov and three other members of Pussy Riot ran onto the field during the World Cup Final to protest human rights violations in Russia.

Verzilov's condition was unknown, according to Meduza, with doctors releasing little to no information, even to Verzilov's mother. Pussy Riot tweeted from its verified account Thursday that they believed he had been "poisoned," although that has not been independently confirmed.

"The attack (last week) is regarded as revenge for appearing in the World Cup final to support human rights in Russia," the Cinema for Peace Foundation in a statement Sunday.

This is a developing story. Check back for updates and follow BuzzFeed News on Twitter.‏