Iran's State-Run Media Claims Turkey Killed One Of Its Reporters
Press TV calls the death of their reporter in Turkey "suspicious" but offered no evidence backing its claims.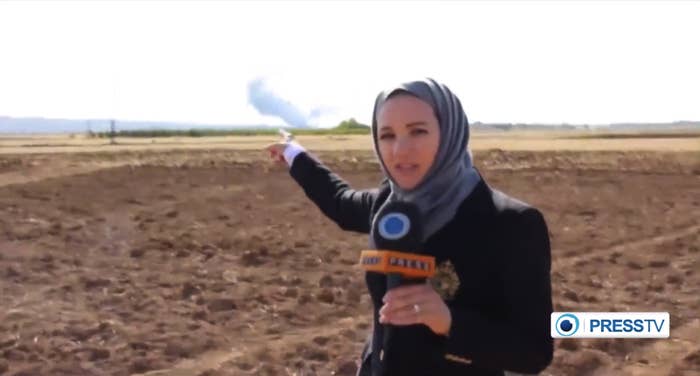 Serena Shim, a Lebanese-American reporter for Press TV, was killed this weekend in a car crash.
"She was going back to her hotel from a report scene in the city of Suruç in Turkey's Urfa Province when their car collided with a heavy vehicle," Press TV's report on the death of its correspondent based in Turkey read. "The identity and whereabouts of the truck driver remain unknown."
Shim had on Friday told Press TV that the "Turkish intelligence agency had accused her of spying probably due to some of the stories she has covered about Turkey's stance on the ISIL terrorists in Kobani and its surroundings, adding that she feared being arrested."
That accusation, she said during the on-camera segment, was based on her reporting that she'd received images of vehicles belonging to the World Food Organization and other aid groups smuggling Islamic State terrorists being smuggled over the border into Syria.
On Sunday, Press TV's news director, Hamid Reza Emadi, called Shim's death a tragedy for "anyone who wants to get the truth."
The accusation is that Shim was specifically targeted for her reporting on ISIS and Emadi, during an interview with his own network, called the version of Shim's death that was being reported in Turkey an "infantile argument."
"We are not going to buy that," he noted, adding, "We believe that the Turkish government has to be held accountable before the international community. It has to find out exactly what happened."
The reporter would not be returning to her children in Lebanon, Emadi said, because she "criticized a certain country that is creating chaos in the region by supporting terrorists both inside Syria and Iraq."
The network did not offer up any evidence, however, that backed its suspicions. That hasn't stopped one analyst on the network on Sunday dubbing Shim's death an "assassination."
İzzettin Küçük, Şanlıurfa's governor, dismissed Press TV's claims as "completely baseless."
Küçük said the claims were "attempts to put Turkey in a difficult situation," promising to Turkey's Hurriyet Daily News that a detailed explanation of the circumstances surrounding Shim's death would be released after an investigation is concluded.
Hurriyet also noted that, counter to the Press TV story, the "driver of the concrete mixer that hit the reporter's car has been arrested, although his identity has not been released, according to Doğan News Agency."
Press TV's finger pointing at Ankara also comes during what was a time of increased cooperation between the two countries. Both Turkey and Iran are publicly opposed to ISIS and have in recent months been working to increase their ties.
So far, neither major press freedom organization — Reporters Without Borders and the Committee to Protect Journalism (CPJ) — has weighed in on Press TV's claims.
"It is hard for us to comment yet, since we are also looking into the case," Johann Bihr, head of Reporters Without Border's Eastern Europe and Central Asia desk, told BuzzFeed News in an email. "We have asked Press TV to share with us any concrete element allowing them to qualify Shim's death as 'suspicious.' For now, our own research has not brought out anything specific, but we are still investigating."
Bihr added that Shim was not the only one to accuse Erdogan's government of covertly supporting the Islamic State, noting that "many Turkish opposition journalists and politicians have made the same claims over the past few months."
CPJ, in an email response to a phone call, also said that it was currently investigating the case. Both groups have previously reported on Turkey's troubling press freedom record. In a recent meeting with CPJ and the International Press Institute, Turkish leaders — including President Recep Tayyip Erdoğan, Prime Minister Ahmet Davutoğlu, and Minister of Justice Bekir Bozdağ — strongly defended their decisions regarding the press, but pledged to address some of the reforms the groups proposed.