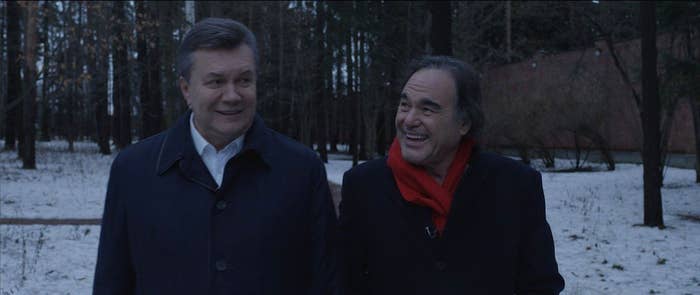 Acclaimed film director Oliver Stone on Tuesday claimed that the overthrow of Ukrainian president Viktor Yanukovych earlier this year was the result of an American plot.
Stone, who is known for his left-wing politics, made the claim via a post on his Facebook page. In it, he revealed that he'd spoken to the ousted ruler for "4 hours in Moscow for new English language documentary produced by Ukrainians." Stone did not provide many details on the documentary but said it "seems clear that the so-called 'shooters' who killed 14 police men, wounded some 85, and killed 45 protesting civilians, were outside third party agitators."
"Many witnesses, including Yanukovych and police officials, believe these foreign elements were introduced by pro-Western factions-- with CIA fingerprints on it," Stone wrote.
Stone compared the Maidan protests, which started in late 2013 as part of a backlash to Yanukovych's pro-Russian, anti-European policies and eventually led to his overthrow, to protest incidents in Venezuela in 2002 and earlier this year. "Create enough chaos, as the CIA did in Iran '53, Chile '73, and countless other coups, and the legitimate Government can be toppled," Stone wrote. "It's America's soft power technique called 'Regime Change 101.'"
In Stone's telling, the deal that Yanukovych agreed to that would keep him in power was tossed aside "when well-armed, neo-Nazi radicals forced Yanukovych to flee the country with repeated assassination attempts. By the next day, a new pro-Western government was established and immediately recognized by the US (as in the Chavez 2002 coup)."
In actuality, the Ukrainian parliament voted to remove Yanukovych from office. For days afterwards, from the Russian city where he had fled after the vote, Yanukovych insisted that he remained in charge of Ukraine, even as new elections were called.
Stone's post has drawn mixed reactions. The Carnegie Endowment's Andrew Weiss pointed out that Stone is currently working on a film about Moscow resident Edward Snowden, based in part on a book written by his FSB-affiliated lawyer.
The Intercept's Glenn Greenwald, on the other hand, fell firmly in Stone's camp.
Stone, for his part, concluded on the idea that the current narrative of what's happened in Ukraine over the past year is false.
"A dirty story through and through, but in the tragic aftermath of this coup, the West has maintained the dominant narrative of 'Russia in Crimea' whereas the true narrative is 'USA in Ukraine,'" he wrote. "The truth is not being aired in the West. It's a surreal perversion of history that's going on once again, as in Bush pre-Iraq 'WMD' campaign. But I believe the truth will finally come out in the West, I hope, in time to stop further insanity."