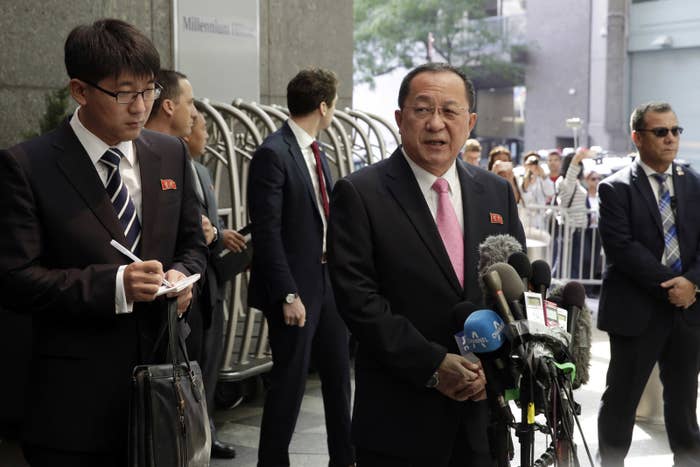 North Korea's foreign minister declared on Monday that the United States had declared war on his country — a declaration that came in the form of a presidential tweet.
Foreign Minister Ri Yong Ho, speaking outside a hotel near the United Nations before an assembled crowd of journalists, said that President Donald Trump's Saturday night tweet would not go unanswered.
"The UN charter stipulates individual member states' rights to self-defense," Ri said. "Since the United States declared war on our country, we will have every right to make countermeasures including the right to shoot down the United States' strategic bombers even when they're not yet inside the airspace border of our country."
On Saturday, ahead of Ri's speech at the UN General Assembly, US Air Force B-1B bombers flew along North Korea's east coast, escorted by fighter jets. Though still over international waters, the flight was further north of the DMZ than any US military flight has gone in the since the end of the 20th century, the Pentagon said.
"This mission is a demonstration of US resolve and a clear message that the president has many military options to defeat any threat," Pentagon spokeswoman Dana White told Reuters, calling North Korea's weapons program "a grave threat."

"'President Evil' is holding the seat of the US president," Ri said during his speech, warning that Pyongyang was ready to defend itself if the United States showed any sign of conducting a "decapitating operation on our headquarters or military attack against our country."
President Trump fired back on Twitter later that evening, repeating his earlier taunt of calling North Korean leader Kim Jong Un "Rocket Man," and warning that if the North Koreans continue on their current path, "they won't be around much longer."
North Korea has long considered the US a threat to its existence and argued that its nuclear arsenal is necessary to prevent aggression from Washington. Since Trump took office earlier this year, the country has launched multiple missile tests and conducted a sixth nuclear weapon test.
The two countries have technically been at war since the Korean War touched off in 1950 — an armistice signed by the parties was never replaced with a full peace agreement. In the decades since, the North Koreans have labeled multiple things a "declaration of war," but this appears to be the first time a tweet has been the root cause.
Ri on Monday concluded his press conference by stressing his country's rights to self-defense — and warning against any more bomber flights near its coast.
"The question of who won't be around much longer will be answered then," he said, before walking away from shouted questions from the press.