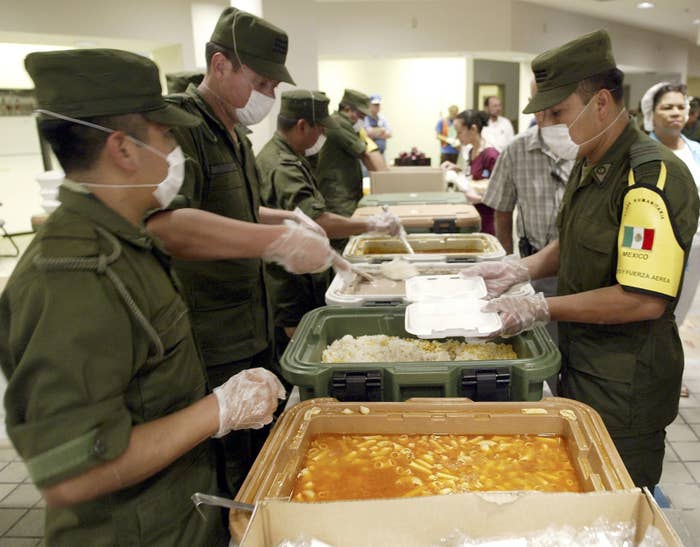 Mexico's Foreign Ministry on Sunday offered "all the help that can be provided" in response to the devastation that Tropical Storm Harvey is unleashing on Texas.
"The government of Mexico takes this opportunity to express its full solidarity with the people and government of the United States for the damages caused by Hurricane Harvey in Texas and reports that we have offered the US government all the help and cooperation that can be provided by the different Mexican governmental agencies to deal with the impacts of this natural disaster, as good neighbors should always do in times of difficulty," the statement reads.

But the offer of aid only came after the original point of the statement. The majority serves as a response to President Donald Trump issuing another volley — seemingly unprompted — toward Mexico, insisting once again that it will eventually pay for the southern border wall he's long promised.
"As the government of Mexico has always maintained, our country will not pay, under any circumstances and under any circumstances, a wall or physical barrier built on US territory along the Mexican border," the foreign ministry statement said. "This determination is not part of a Mexican negotiating strategy, but a principle of national sovereignty and dignity."
Trump's Sunday morning tweet stands in stark contrast to an image from the aftermath of Hurricane Katrina in 2005 that has gone viral over the last day. Members of the Mexican Armed Forces were deployed to Louisiana following that storm — the first time Mexico sent aid to its larger northern neighbor.
"Large Mexican flags were taped to many of the 35 olive-green Mexican Army trucks and tractor trailers as they rumbled northward toward the border," CBS News reported at the time. "The convoy includes two mobile kitchens that can feed 7,000 people a day, three flatbed trucks carrying mobile water-treatment plants and 15 trailers of bottled water, blankets and applesauce. The 195 Mexicans taking part include military engineers, doctors and nurses."