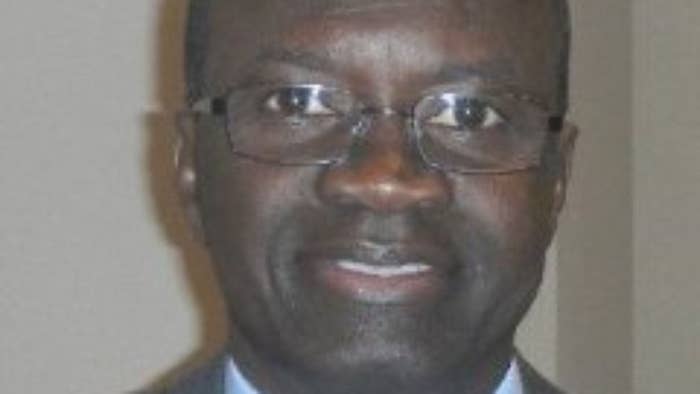 On Dec. 30, a bloodless coup designed to overthrow the Gambia's ruthless and eccentric president went horribly — and given the level of planning, predictably — wrong. Yahya Jammeh was out of the country during the attempt and woke up still president. The man whom the coup plotters had designated to replace him had admitted defeat and was preparing to go back to his home halfway across the world — in Austin, Texas.
Cherno Njie, a 57-year-old dual U.S.-Gambian citizen, never made it. He was arrested during his layover at Washington, D.C.'s Dulles International Airport on Jan. 3 and charged with violating U.S. law in his attempt to seize power. The Gambian-Americans who would have supported anyone but Jammeh in control of their home country now fear for the lives of the families still within Jammeh's reach.
In a world peppered with outspoken dictators, Jammeh stands apart. He has claimed to have cured AIDS and the Ebola virus, and rules over a small West African country poor in resources and consistently ranked by the United Nations as one of the least developed countries on earth. One man, who had left the Gambia for the U.S. more than two decades ago, thought that he could fix it with a small group of fellow exiles and $200,000. He now faces up to 10 years in jail.
Njie first came to the U.S. to study at the University of Texas in Austin in the late 1980s, eventually graduating with a degree in political science and economics. Toyin Falola, now a professor of African history at UT-Austin who came to the U.S. from Nigeria in 1991, said he was part of Austin's tight-knit African community, though the two disagreed on much. "He's to the right of politics, he's a Republican, it's one of the things that sustained our discussions," Falola told BuzzFeed News over Skype. "He criticizes extremists, hated Saddam, loves Israel," he said. "He has a commitment to market institutions, a deep commitment," including free-market reforms.
Despite that, Njie spent much of his early career working for the state and local government. According to his LinkedIn profile, Njie worked his way up at the Texas Department of Housing and Community Affairs, from an underwriter to the manager of its dispersal of federal tax credits. A minor scandal erupted during his time there, just as Gov. George W. Bush was preparing to launch his presidential campaign. Millions of dollars worth of loans and credits to less-than-impressive applicants were granted, while others were cast aside, leading to criminal investigations into potential illegal dealmaking. At the time Njie said that agency director Larry Manley alone overruled the agency's staff to approve the tax-subsidized projects under scrutiny. Manley countered that "nothing happened in a vacuum."
Others believe Njie had more of a role in the affair than his denial would suggest. "Cherno was the puppet master" during the scandal-plagued era, Walter Moreau, the executive director of Austin-based Foundation Communities, said to the Austin American-Statesman on Monday. "He was a very smooth, slick operator." But nobody could fully pin the agency's troubles on Njie and he was never charged with a crime or fired.
After resigning from his position with the Texas government in 2001, Njie founded a housing and construction firm called Songhai Development. The Austin-based company — named for the Songhai Empire, a political entity in West Africa during the 1700s — was successful and made Njie a millionaire. According to a Dec. 20 report from Zoom Company Info, last year Songhai brought in $2.4 million in revenue and ended the year firmly in the black. The company's website boasts four housing properties in the Houston area, including two retirement communties.
Multiple attempts by BuzzFeed News to reach the other employees of Songhai Development, of which Njie is still listed as president on the website, have gone unanswered.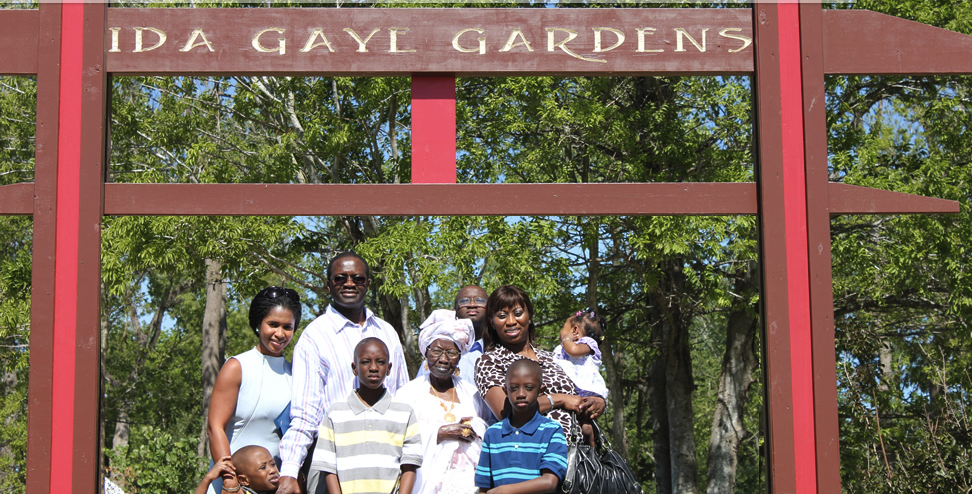 On the night of Dec. 30, as reports of a coup began to emerge, the Gambian government spent hours denying that any disturbance was going on.
But according to criminal charges filed against Njie and his alleged co-conspirator, a 46-year-old dual U.S.-Gambian citizen and U.S. army veteran from Minnesota named Papa Faal, the plot looked something like this. The original plan, according to the affidavit the U.S. Attorney's Office filed that contains Faal's account, was to ambush Jammeh's presidential motorcade, firing shots into the air to scare off his guards. Jammeh was to be taken alive, unless the president attempted to fire back. When the plotters learned that Jammeh would actually be out of the country during the window they had provided for themselves, the plan shifted to an assault on the State House, the Gambian president's home.
According to the charges, the plotters believed that "the Gambian Army soldiers at the State House would drop their weapons and flee, being unwilling to die for Jammeh." Split into two groups, the men expected "that while the two teams took control of the State House, a battalion of Gambian soldiers sympathetic to the conspirators would arrive and offer support." Njie, who was waiting in a safe location, would then meet with the Gambian army's commander and persuade him to drop his support for the president.
The plan had a low probability of success to begin with, especially given the fact that only 10 to 12 plotters actually entered the country per Faal's recounting, along with approximately 30 guns bought in the U.S.
When it came time to put the plan into motion, the group found a fortified State House, and when the first team attempted to storm the State House, they were fired upon. Faal later said that he believes all members of this first wave died during that assault. Following the failed assault, the second group retreated. Faal fled to the U.S. Embassy in neighboring Senegal and turned himself in, telling the FBI everything.
Those close to Njie still aren't sure what happened, and the Texan declined to be interviewed by the FBI. Falola said he knew Njie was returning to the Gambia for a brief period, but "even [Njie's] wife knew nothing" about what he had planned.
"I just don't understand what was going on in their heads," Falola said. "It's like watching a movie. This is a Rambo kind of story. I just don't understand."
When the FBI searched Njie's home, they found a document titled "Gambia Reborn: A Charter for Transition from Dictatorship to Democracy and Development," as well as handwritten notes asking questions like "do you have a budget?" and "what is the transition period for a return to civilian rule?" according to the affidavit.
Also taken from his home: a spreadsheet documenting the logistics of the plan. Their budget? Just under $221,000.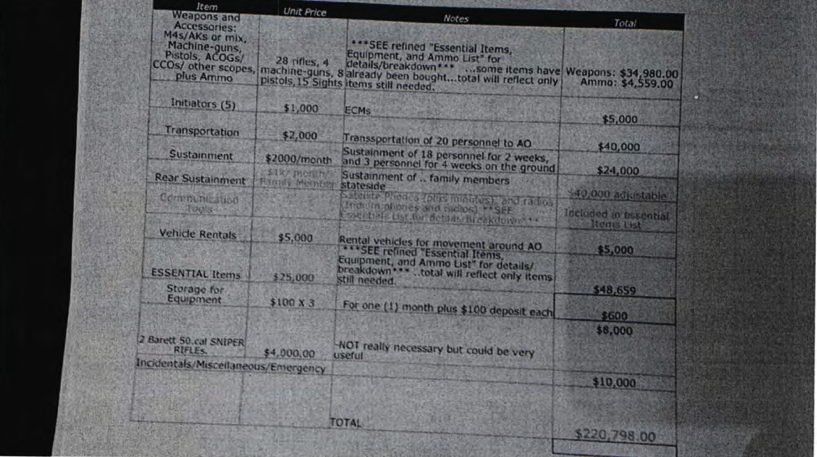 Jammeh, the president, took power in a coup 20 years ago. He is both brutal and eccentric, having once claimed to have invented a cure for AIDS and pledged to kill any LGBT Gambians he catches attempting to flee to Europe. What vague attempts to pretend that democracy exists in the Gambia are entirely controlled by his Alliance for Patriotic Reorientation and Construction.
"Anybody who fights for human rights over there dies, easily, because Jammeh will kill you," Banka Manneh, a U.S.-based Gambian human rights activist, said. "Or he will exile you. Or he will torture you. So we have gotten to a point where literally any Gambian whose name you hear about these things, don't be surprised. We are all in that same mood and we fully are in the mood to change things in our country."
The State Department has recently criticized the Gambia for its anti-LGBT policies, holding a roundtable with Gambian activists, and the U.S. has removed the Gambia from its a deal granting trade preference to African countries. But little more has been done in response to the disappearance of LGBT activists and other atrocities.
"I think maybe the reason the U.S. is making a deal out of this is maybe the U.S. still doesn't understand the magnitude of the problem in the Gambia," Manneh said. "Because what is going on in the Gambia, you don't find that in the whole of Africa," he continued, listing a string of African countries with strongman presidents. "The Gambia is far worse."
Falola, Njie's friend, agreed. "If this was Syria, or this was Iran or Iraq, the federal government would be looking to provide them with support and see what they can do," Falola said. "So they are presenting them as evil people instead of freedom fighters who are sacrificing everything to free enslaved people and bring democracy to a people who have been ruled by someone [...] who probably is mentally ill."
Both Manneh and Falola now fear that Jammeh's retribution will be severe. "The U.S. knows that Jammeh is a dictator, so they know he will kill all the relations, the ones who don't care what their brother, nephew, uncle has done," Falola said.
Manneh said he believed the U.S. should have left the two men alone. "The U.S. is sending a very, very horrible message to the Gambians," Manneh said. "Two things are going to happen. The Gambians on the ground who are looking to the U.S. for leadership on our plight are going to finally say, 'OK, we are left alone on our own.'
"Jammeh will take this and run with it. He's going to tell them, 'Aha, you see? Over here, I will kill you and do whatever to you, and if you go to the United States, they will take care of you for me, so you had better shut up or put up.'"
The State Department did not return a request for comment on whether it had consulted on the Justice Department's decision to seek charges.
Faal and Njie have been charged with violating the Neutrality Act of 1794. On Monday morning, the day after his arrest, Njie appeared briefly in a U.S. District Court in Baltimore. At the time he stood before the judge, he had not hired a lawyer to speak on his behalf. Instead, he may, like Faal, receive a court-appointed attorney, despite his wealth. Both men will be tried in Minnesota.