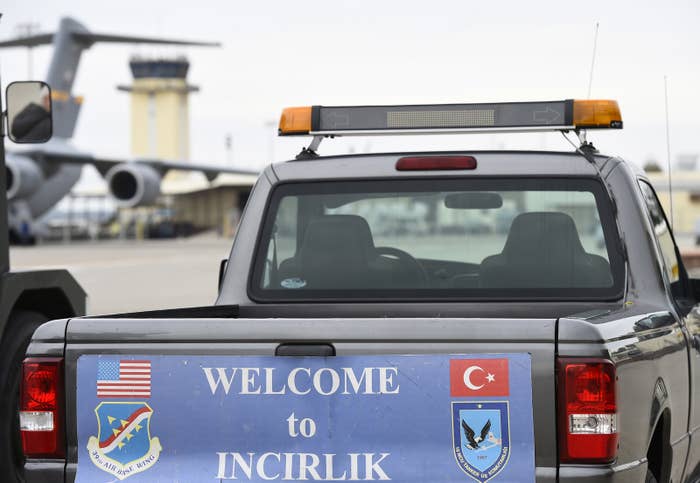 Paul Manafort, campaign chair for Donald Trump's campaign, said on Sunday that a NATO base in Turkey came under attack by terrorists within the last week, something that did not happen.
Manafort was defending his campaign by pointing to what he claimed were stories that went uncovered last week thanks to the media's focus on Trump's statements.
"You had — you had the NATO base in Turkey being under attack by terrorists," Manafort told CNN's Jake Tapper during his appearance on State of the Union. "You had a number of things that were appropriate to this campaign, were part of what Mr. Trump has been talking about."
It's unclear precisely what Manafort was referring to as no terror attack had been claimed or reported on Incirlik air base in Turkey, last week or ever. The base is the staging area for US military operations against ISIS.
Flights out of Incirlik were halted during the coup attempt last month, during which power to the base was temporarily cut. Protesters also marched in late July to demand that the US turn over Muhammed Fethullah Gülen, the exiled Turkish figure the government blames for the coup. And on August 10, Secretary of Defense Ashton Carter offered condolences to victims of terror attacks in Turkey — but the attacks were nowhere near Incirlik.
Manafort did not immediately respond to a BuzzFeed News email asking that he clarify his comments, or reveal the source of his information.

Several Russian sites, however, have been quick to report on potential terrorist attacks on NATO bases in Turkey. In late July, Sputnik and RT — both Russian state-controlled media outlets — pointed to a fire near a NATO base in western Turkey as potential sabotage. And both sites helped spread the idea — which also was passed along on Twitter by accounts that are both pro-Trump and pro-Russian — that the protests against Incirlik in late July were a massive mob attempting to takeover the base.
Sputnik has also pushed stories about how Incirlik base, where nuclear weapons are stored for NATO sharing purposes, should be shut down amid the threat of possible attacks. But there's been nothing about attacks within the last two weeks.
A NATO official, who spoke to BuzzFeed on the condition of anonymity, was puzzled by the claim.
"We have a Spanish air defense unit at Incirlik, and an Italian air defense battery in Kahramanmaras — their work continues uninterrupted," the official said. "NATO personnel and units were safe and secure during the events in July."