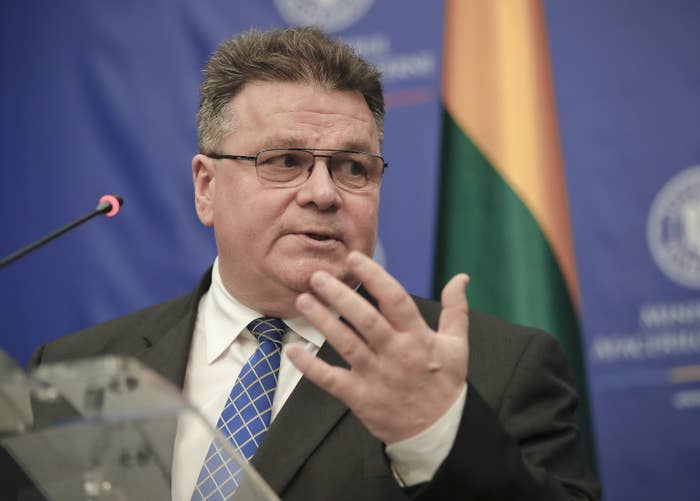 As soccer fans across the globe gear up for the World Cup's opening next month, Lithuania's foreign minister still thinks holding the event in Russia is a "stupid idea."
"Many stupid ideas are happening ... for instance, another stupid idea is holding football cup final in Russia," Foreign Minister Linas Linkevičius told BuzzFeed News during an interview last week. "It's totally stupid because they will make big fuss."
"They will again be a center of gravity," Linkevičius said. The last time Russia hosted a major international sporting competition, the 2014 Winter Olympics in Sochi, it invaded Ukraine just after the closing ceremonies ended.
"Those who naively think sports is sports, culture is culture — in Russia, no, everything is politics. And now they are already celebrating," Linkevičius said.
Linkevičius also said he was concerned about European unity on sanctions against Russia that were put in place after the country annexed Crimea from Ukraine in 2014.
"The time for comfort is over," he said. "If you think things will happen by themselves, that's not the case."
Lithuania's foreign minister was in New York for meetings at the United Nations, following a trip to Washington where he met with newly appointed National Security Adviser John Bolton. Linkevičius, a former defense minister and Lithuania's one-time representative in NATO, said he got on well with Bolton, the former UN ambassador, discussing next month's NATO summit and other security issues.
The Trump administration's "words are sharp, but [it's the] right approach — defense spending should be more, Europeans must spend more," he said. Since taking office, President Donald Trump has been vocal about NATO's European members upping their defense spending to meet goals the organization has set, recently warning again that those who don't meet their targets will be "dealt with."
Putin is clearly hoping for the World Cup to land as a propaganda coup for Russia, winning over people who may be on the fence about Moscow's intentions. But Linkevičius isn't trying to tell people who enjoy the sport not to travel to the World Cup. If they want to travel to Russia to do so, he said, he's not in a position of authority to convince them otherwise.
Among those who won't be in attendance during the monthlong sporting extravaganza: Lithuania's national soccer team, which finished fifth in its six-team group during qualifying play to reach the finals.
When BuzzFeed News asked whether Lithuania had qualified, Linvkevičius just laughed. "We are boycotting," he said with a chuckle.