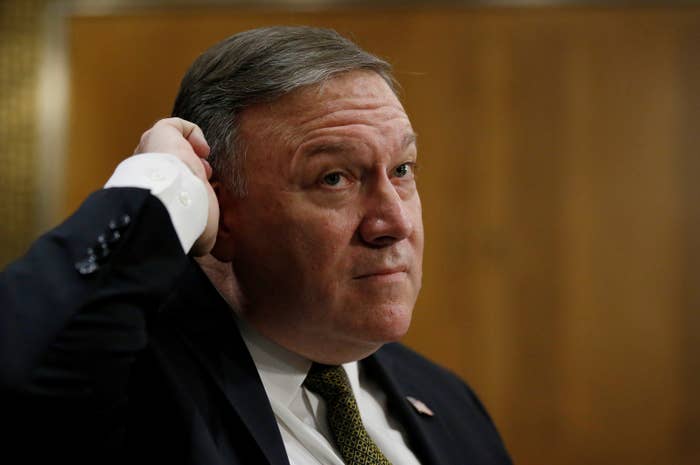 Newly confirmed Secretary of State Mike Pompeo faces a skeptical LGBT community around the world, worried that his stance on LGBT rights will roll back past successes.
Pompeo "signifies a step backward, yet another hurdle in the work that LGBT organizations have been trying to build up on," Enrique Torre Molina, a Mexico-based LGBT activist, told BuzzFeed News.

During his confirmation hearings April 12, when asked whether he continues to hold his previously expressed view that gay sex is a "perversion," Pompeo refused to give a direct answer.
"Senator, when I was a politician, I had a very clear view on whether it was appropriate for two same-sex persons to marry. I stand by that," Pompeo said at the time.

"You do not believe it's appropriate for two gay people to marry?" Sen. Cory Booker asked.
"Senator, I continue to hold that view. It's the same view," Pompeo said.
Despite that, the Senate on Wednesday approved him in a 57–42 vote after a rocky confirmation process that saw his ability to serve as the nation's top diplomat questioned.

After then-secretary of state Hillary Clinton's 2011 speech declaring that gay rights are human rights, activists around the world were sure that their efforts at home would be given a boost. In the following years, particularly after the US adopted marriage equality in 2015, the Obama administration supported LGBT rights both in international meetings and by placing pressure on repressive states. The Trump administration has muted those efforts since taking office last year, in line with a general decline in US diplomacy, including not naming a replacement for Special Envoy for LGBT Rights Randy Berry at the State Department.
But now Pompeo's comments haven't sat well at all with activists globally, who are concerned that US backing for their efforts will decline.
"Mike Pompeo's clear opposition to marriage equality and LGBTQI rights and his support of 'Don't Ask, Don't Tell' policies are disturbing viewpoints for a potential Secretary of State," representatives of the North America region of the International Lesbian Gay Bisexual Trans and Intersex Association (ILGA) said in a statement to BuzzFeed News when asked about Pompeo's testimony before the Senate. "Our leaders have a responsibility to promote and protect human rights around the world, starting with their own country. Mike Pompeo has made it very clear that for him, human rights do not include the rights of the LGBTQI community. Thankfully, the US Supreme Court does not agree with his views."

Some groups were still skeptical, but more sanguine, noting Pompeo's pledge to the Senate that he will "ensure that human rights, democracy, and the equal treatment of all persons will remain fundamental to U.S. foreign policy." In written responses to senators' questions, he also said that he would defend people's human rights and dignity regardless of sexual orientation or gender identity.
"We believe that our Secretary of State must reflect Constitutional principles and America's call to equality," Mark Bromley, council chair at the Council for Global Equality, said in a statement provided to BuzzFeed News. "We call on Secretary Pompeo to set aside his well-documented prejudices and do just that."
"Since Mike Pompeo has a history of staunchly anti-LGBTQ and anti-human rights positions, his responses [to the Senate] are surprising and at least theoretically reassuring," Jessica Stern, executive director of OutRight, told BuzzFeed News. "However, statements alone are not enough. We will hold him to his commitments."

Torre Molina, for his part, said that the countries in Latin America that would be most affected by Pompeo's appointment would be those that have the most conservative legislation and where anti-LGBT groups are particularly strong, such as the countries in Central America and Paraguay.
And in East Africa, where LGBT rights are frequently under threat, the situation could be more even dire. Pompeo's tenure at the State Department "will likely roll back LGBTQ global achievements in the last decade, bringing back an old and repressive dispensation where LGBTQ along other marginalized groups of people are treated with disdain," Brian Macharia, spokesperson for the Gay and Lesbian Coalition of Kenya, told BuzzFeed News.
Tamerra Griffin in Nairobi and Karla Zabludovsky in Mexico City contributed additional reporting to this story.
CORRECTION
The US adopted same-sex marriage nationwide after a 2015 Supreme Court case. A previous version of this article mistakenly cited a 2013 Supreme Court case as the date same-sex marriage was adopted.