ISIS likes to present itself as a force composed entirely of jihadi ninja commando superfighters, able to take on an entire regiment of infidels singlehandedly.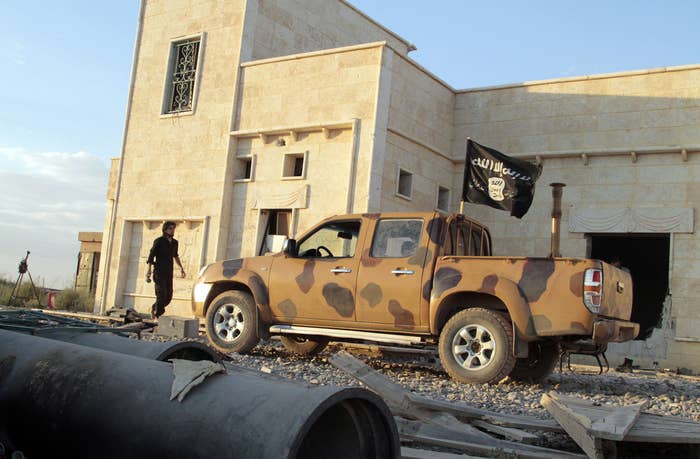 But compared to the slick videos ISIS has pumped out, it looks like some — if not many — of ISIS's units are a little less…polished than ones the group highlights.
This week, Vice News released footage it said was "taken from the headcam of an Islamic State (IS) fighter who died in March while battling Kurdish peshmerga troops in northern Iraq."
The camera is strapped to the head of a fighter identified as Abu Ridhwan, the leader of the five-man crew driving around in a souped-up armored vehicle.
On one end of the "good at fighting" spectrum was Abu Ridwhan. On the other, a hero known as Abu Hajaar.
You see, Abu Hajaar is absolute shite at being an ISIS fighter. He's the Beetle Bailey of ISIS. The Barney Fife. He's somehow even worse at war than most of us would be if dropped into this situation.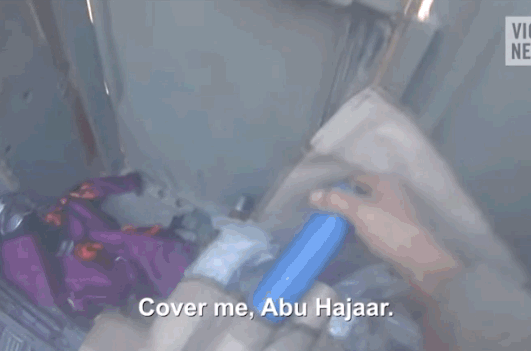 In the brief video, Abu Hajaar is screamed at more times than a kid running the wrong way around the bases at a tee-ball game by a parent who probably shouldn't be coaching in the first place.
To be fair, his cohorts on the vehicle don't fare too much better. It's an all-around Keystone Kops performance compared to the polished, deadly aura ISIS projects.
Eventually the Kurdish peshmerga against which the ISIS team is fighting manages to disable the vehicle, forcing the fighters to retreat. While we're not sure if Abu Hajaar was killed, his memory lives on in the hashtag #AbuHajaar.
Indeed, who among us hasn't filled the role of Abu Hajaar, trying our best to do something we believe in, only to fail horribly.
Despite his inherently relatable nature, the masses went in on Abu Hajaar, comparing him to the protagonists in the jihadi satire Four Lions.
They mocked his and his cohorts' incessant rolling once they abandoned their vehicle.
And the general failboat that was his crew.
They compared him to famous fails, including on the soccer pitch...
They imagined the horror of learning they'd have to work and fight side by side with him.
But some, just some, realized just how tough firing a gun that big has to be.
In closing, Abu Hajaar will be missed — not for his fighting for a terrible, horrible group. But for providing us the laugh-tracked backed ISIS footage the world sorely needed.