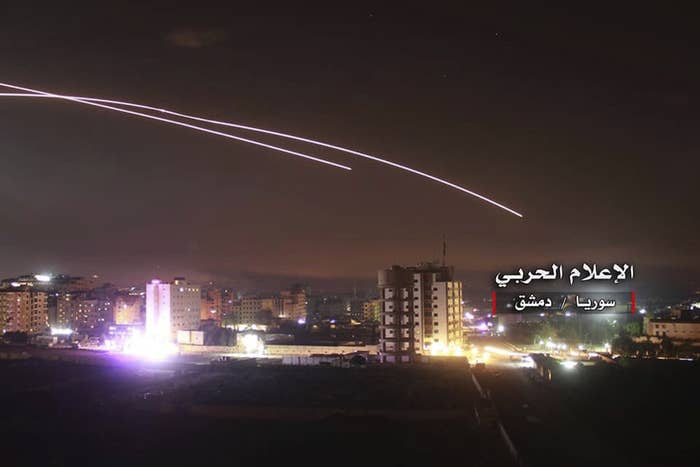 Israel claimed Thursday that the country's military had wiped out "almost all the Iranian infrastructure in Syria" in a series of missile strikes.
Israel said it was retaliating to an earlier missile barrage on its military targets in the occupied Golan Heights — an area in southwest Syria which overlooks northern Israel — that it directly blamed on Iran. Iran is yet to officially comment.

Defense minister Avigdor Lieberman said that no rockets landed on Israeli territory and cautioned that Israel wouldn't allow Syria to become a "forward base" for Iran to launch attacks. He said that while Israel did not wish to escalate the conflict, "If it rains on us, it will pour on them."
The UK-based Syrian Observatory for Human Rights claimed that 23 fighters were killed in Israel's attacks.
The Russian military said in a statement that Israel fired as many as 70 missiles into Syria during a two-hour raid, half of which it claimed were shot down by anti-air defence systems. Russia said that 60 air-to-surface missiles were fired by 28 Israeli F-15 and F-16 fighter jets, while 10 were surface-to-surface missiles.

The Israeli Defense Forces (IDF) said its fighter jets hit targets at seven locations in Syria, including an armory and a military compound, that are used by the Quds Force, an Iranian special forces group under the control of the Iranian Revolutionary Guard Corps.

The White House said in a statement: "The United States condemns the Iranian regime's provocative rocket attacks from Syria against Israeli citizens, and we strongly support Israel's right to act in self-defense.
"The Iranian regime's deployment into Syria pf offensive rocket and missile systems aimed at Israel is an unacceptable and highly dangerous development for the entire Middle East."
Earlier, a spokesperson for British prime minister Theresa May also condemned the Iranian attack: "Israel has every right to defend itself. We call on Iran to refrain from any further attacks and for calm on all sides," they said.
French president Emmanuel Macron called for a "de-escalation" in the conflict between Israel and Iran, and said he would discuss the issue with German chancellor Angela Merkel on Thursday.
UK foreign secretary Boris Johnson added: "It is crucial to avoid any further escalations, which would be in no one's interest. We also continue to call on Russia to use its influence to press those in Syria to cease their destabilising activity and work towards a broader political settlement."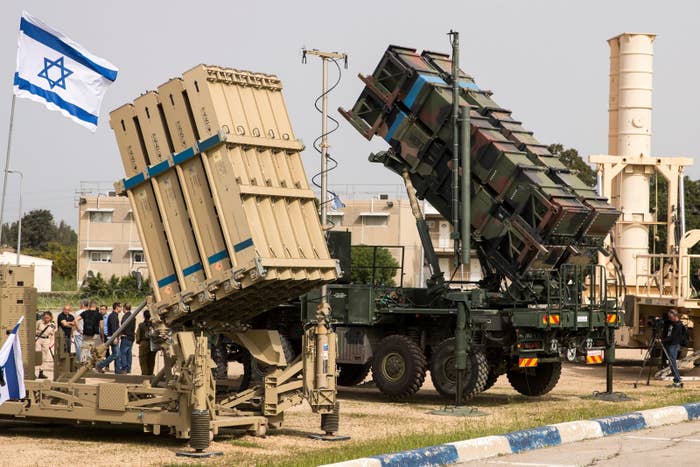 Citing a military official, Syria's state news agency reported that the Israeli strikes managed to hit a number of air defense battalions, radars, and an munitions depot, but claimed that most of the missiles were intercepted by Syrian air defenses.

The airstrikes were a response to a rocket assault against Israeli military positions along the border with Syria earlier Thursday. The IDF attributed those attacks on the Quds Force, marking the first time that Israel has blamed Iran directly for attacks launched from Syria.
Several of those missiles were intercepted by the US-made Iron Dome missile defense system, the IDF said, without giving an exact number. No injuries were reported, though there was some damage to Israeli military bases.
Pictures and videos of the missiles flying towards Israel quickly circulated across Twitter. Later, as Israel launched its military response, Syrian media broadcast video of the army's air defenses being activated, and firing into the sky over Damascus.

The overnight confrontations are the first known instance in which Israel and Iran have engaged each other directly in Syria since the start of the civil war in 2011.

The missile attack on Israeli positions in the Golan Heights may have been an effort by Iran to turn the tables on Israel after a string of setbacks, Jonathan Schanzer, vice president of research at the Foundation for the Defense of Democracy, told BuzzFeed News.

"This has been a very bad two weeks for Iran, between Israeli strikes on their assets in Syria, the revelation of the Israeli operation on their warehouse in Tehran, and now Trump's killing of the Iran deal," Schanzer wrote in an email. "This strikes me as a miscalculation, particularly since the Israelis seem to be operating without fear of being contained by the US, or even Russia."
Though Israel has insisted that it does not intend to escalate tensions with Iran, a spokesperson for the IDF said that the country is on "very high alert."

"Any aggression against Israel will be met with a severe response," spokesperson Lt. Col. Jonathan Conricus tweeted Thursday.
The Trump administration also voiced its support for Israel's response.
"As Secretary [of State Mike] Pompeo said in Jerusalem last week, we stand with Israel in the fight against Iran's malign activities and we strongly support Israel's sovereign right to defend itself," a State Department official said in a statement to BuzzFeed News.
This is a developing story. Check back for updates and follow BuzzFeed News on Twitter.‏