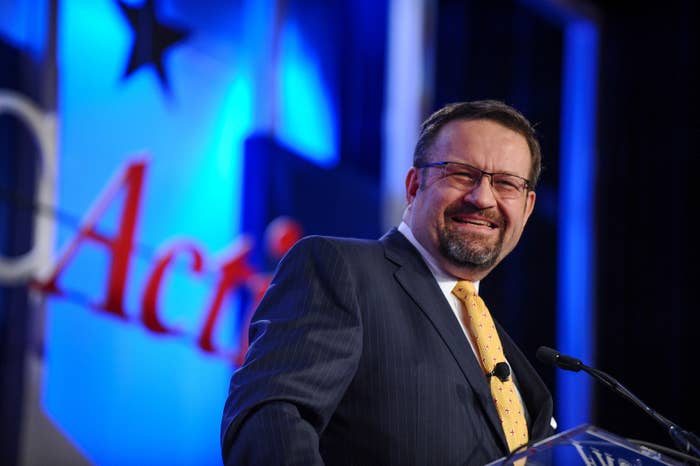 Former Trump White House staffer Sebastian Gorka has an active warrant out for his arrest in Hungary, according to the Hungarian police's website.
Gorka, whose exact role in the White House while serving as a deputy assistant to the president was never entirely clear, apparently is in trouble with the law over a charge of "firearm or ammunition abuse." The warrant, first reported in Hungarian online outlet 444, was issued on Sept. 17, 2016, prior to Trump's election.

That means that during the entire seven months Gorka spent in the White House, including when meeting with Hungarian Foreign Minister Péter Szijjártó in Washington last March, an arrest warrant was pending overseas.

Details about the reasoning behind the warrant are sparse: The Hungarian police's website only notes the date it was issued, the charge, and that it was filed with the Budaörs police station in Budapest. 444 noted that the charge could have resulted from an incident as far back as 2009. The police station did not immediately respond to BuzzFeed News' request for comment.

Gorka declined to comment. "Don't waste your time," he said when reached by phone. "I don't talk to BuzzFeed, thank you." After this story's publication, Gorka noted on Twitter that he moved to the US in 2008 while not denying that the warrant exists.
Gorka's affinity for guns is well-known. He told Recoil magazine in November that he packs a pistol — along with a knife and tourniquet — every day. In February 2016, he had a gun confiscated after attempting to bring it through Washington's Reagan National Airport.

BuzzFeed News previously reported on Gorka's history in Hungary.

The details of Gorka's leaving the White House still remain murky: He claims to have resigned, but reports at the time indicated that he was fired and the Secret Service ordered not to let him into the building. Whether or not Gorka possessed a security clearance during his months in the Trump administration is also at question, with reports suggesting he had none. A background check prior to the issuance of a clearance likely would have turned up Gorka's warrant.
CORRECTION
Sebastian Gorka was born in London. A previous version of this article mistakenly referred to him as a native Hungarian.