This heartbreaking photo of a Syrian man selling pens in Lebanon while carrying his young daughter went viral this week, prompting a global search for the photo's subject and an outpouring of support that he told BuzzFeed News has left him stunned.
After the photo of him went viral, the internet managed to track down Abdul Haleem al-Kader. A Palestinian-Syrian refugee, the single father formerly lived in the Yarmouk refugee camp with his daughter, 4-year-old Reem, and son, 9-year-old Abdullelah.
Kader told BuzzFeed News in a phone interview that he first left Syria four years ago with his wife and two children, moving to live in Egypt. His wife insisted they return to Syria, then left Kader and the children when he refused.
The photos were tweeted by Gissur Simonarson, founder of the website Conflict News, which draws content from conflict zones around the world. When he spoke to BuzzFeed News from Norway, Simonarson said he knew that the photos would draw a response.
"I talked to the guy I got the photo from, but he wasn't the original photographer," Simonarson said. "We haven't been able to find the original person who took the photos yet."
"Conflict News has pretty good reach — I thought i might be able to locate him," Simonarson said. So he set up the Twitter handle @Buy_Pens, urging @conflict's 64,000 followers to aid in the search.
After an initial false start, two Twitter followers managed to locate Kader based on the retweets of the original photo.
With this information in hand, Simonarson opted to launch an IndieGogo campaign with the hope of raising $5,000 for the family. In less than 24 hours, it had already raised more than $50,000.
"I was surprised to know that people abroad heard about my story and care about my kids," Kader told BuzzFeed News. "I couldn't hold my tears. I kept saying, 'Thank god, thank god,' and hugging my kids."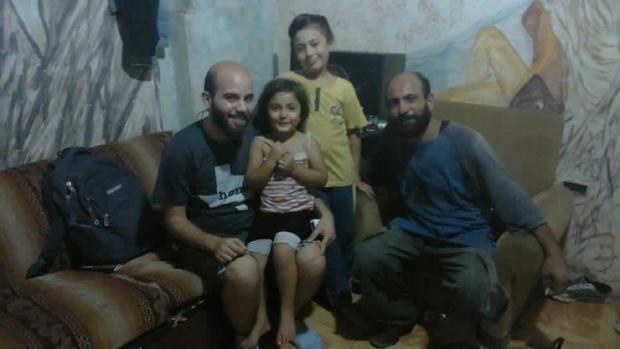 "I don't need money. All I want is to educate my kids," Kader repeatedly told BuzzFeed News, "send them to school, help them to get their education."
"I hope I can take the kids and live in Europe," he continued. "There they will have a much better chance for a good education. I really hope I can do that."
"If not, plan B will be opening a chocolate shop in Lebanon."
Simonarson says that he's currently working with UNICEF, the U.N.'s children's agency, to figure out the best way to turn over the funds raised for Abdul and his family. BuzzFeed News has reached out to UNICEF to talk about Kader and his family and will update once they respond.