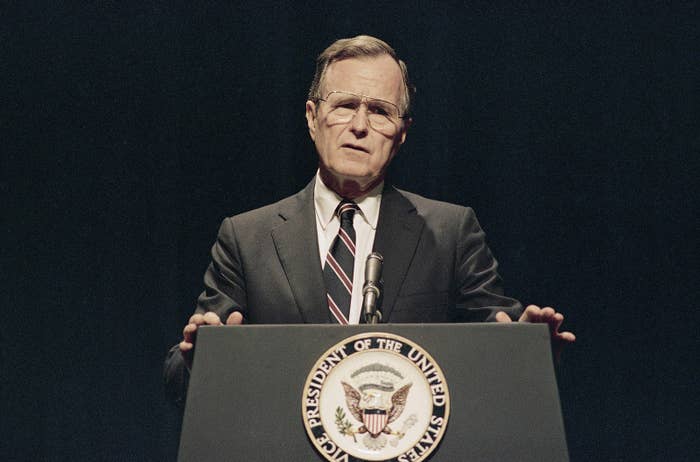 There's no shortage of contrasts between President Donald Trump and one of his predecessor George H.W. Bush. But among the most striking is the handling of the presence of people with reported Nazi sympathies in their midst.
Trump aide Sebastian Gorka has in recent weeks made headlines for his ties to far-right elements within his native Hungary, including forming a political party with former members of the Jobbik party and writing for a newspaper known for anti-Semitism. On Thursday, The Forward reported that the leadership of Vitézi Rend — a national group that the US says was under Nazi direction during World War II — counts Gorka among its members.
This is not a new issue to American politics. During the waning months of the 1988 presidential campaign, then-Vice President Bush's team was confronted with a report that several members of their election bid had ties to either Nazis or Nazis sympathizers, a potential crisis in a race that had already had its share of crises. Those volunteer members were immediately fired.
"The campaign moved quickly on it," a campaign official with the 1988 Bush presidential campaign told BuzzFeed News in a phone interview. "The question is why. I can honest to gosh say part of it is the sensibility of 'this is wrong'."
At the heart of the controversy was the chase for votes from people who'd emigrated from what were referred to then, during the height of the Cold War, as "Captive Nations" — the countries behind the Iron Curtain who were under de facto Soviet rule. While Democrats could count on unions to provide voters of Polish, Hungarian, and Czech descent, Republican operatives had spent years building coalitions — religious, racial, and ethnic — that could try to siphon votes away from the alliances that the Democrats had built.
But both parties had to navigate the Cold War politics of what is now a dying issue: Anti-Soviet fighters during and after World War II who were explicitly and implicitly allied with the Nazis. The U.S. explicitly embraced some ex-Nazis — notably the rocket scientist Wernher Von Braun — but drew the line at those associated with some Nazi atrocities, including those connected to some Eastern European nationalist groups.
Jerome Brentar was a member of American Nationalities for Bush, which attempted to get support for Bush from a wide range of ethnic groups. Until, that is, a Washington Jewish Weekly report that he'd taken the stand as a character witness for in the trial of John Demjanjuk, an infamous guard known as "Ivan the Terrible" at the Treblinka death camp in Poland. Brentar, the report said, had defended him against deportation to Israel after that 1983 conviction.
Demjanjuk's case was a rollercoaster: his conviction was later overturned by the Israeli Supreme Court due to reasonable doubt and his US citizenship, stripped in 1981 for lying about his background, restored. He was then accused of being a different guard at Treblinka in 2003 — he died before his trial could be completed.
Brentar was dismissed from his volunteer position with American Nationalities for Bush, objecting all the while to his firing. ''I could have been an atheist. I could have been a polygamist. I could have been anything else and questions wouldn't have been asked. And now because I helped a poor victim, I'm everything under the sun," he told the New York Times at the time. The Times further described him as a "Croatian-American who has also been active in groups that deny the existence of the Holocaust," such as the pseudo-historical Institute for Historical Review.
"Hitler could not have accomplished what he did accomplish in the so-called Holocaust if it wasn't for the full-hearted cooperation of the Jews themselves," Brentar also told the Times. The former Bush campaign volunteer would later accidentally help provide proof that Demjanjuk actually had been a guard at Treblinka in an attempt to prove that his conviction was part of a Soviet plot.
But there was no leeway from the Bush campaign. "There is no place in this campaign for anti-Semitism, racism, bigotry or people who espouse those views. Any individuals who espouse those views will not be welcome in this campaign." Bush campaign chief James A Baker, who would later become chief of Staff and then Secretary of State under Bush, said in a statement.
Bush campaign officials also dismissed two others named in the initial Washington Jewish Weekly report as having Nazi ties: Florian Galdau and Philip Guarino. The Simon Wiesenthal Center confirmed that Galdau, honorary chairman of American Nationalities for Bush, had been "New York chief of the Iron Guard, a Rumanian anti-Semitic, pro-Nazi movement of the Nazi era." Guarino, the panel's vice chairman, was described by the Times as a "member of P-2, a group in Italy led by Licio Gelli, a known Fascist with whom Mr. Guarino is said to be very close."
Today, Gorka, a Hungarian-American who became a nationalized US citizen in 2012, serves as a deputy assistant to the president and member of the Strategic Initiatives Group, headed by chief White House strategist Steve Bannon. It's unclear at this point whether Gorka possesses a security clearance and the Forward's report raises questions about his immigration status. Vitézi Rend is listed by the State Department as a group whose members are "presumed to be inadmissible to the US."
Gorka waved off BuzzFeed News attempts to clarify the matter on Thursday, before flatly denied the Forward's reporting in an interview with Tablet magazine. "I have never been a member of the Vitez Rend," he said. "I have never taken an oath of loyalty to the Vitez Rend. Since childhood, I have occasionally worn my father's medal and used the 'v.' initial to honor his struggle against totalitarianism." It's a perfectly plausible explanation, and you'd have to be of a very specific mindset to still pursue allegations of Nazi affiliation."
Vitézi Rend was founded in 1920 by the then-president of Hungary, a noted anti-Semite and collaborator with the Nazis during World War II. While the original was disbanded during Communist rule, two successor groups have emerged to claim the name, one of which seems to include Gorka among its members. The group's leaders tell the Forward that Gorka swore an oath to their group, which reportedly "upholds all the nationalist and oftentimes racial principles of the original group."
"It's fair to say Trump's view of stuff is not wholly formed but there's an instinct there and Bannon helps complete it," the former Bush campaign official told BuzzFeed News. "And if Gorka is part of the architecture… Michelangelo had help when he was paining on the ceiling of the Sistine Chapel."