Turkish President Says Feminists Are Wrong And Men And Women Aren't Equal
Recep Tayyip Erdogan made the remarks to a group of women activists during a conference on women in democracy.
Turkish President Recep Tayyip Erdoğan wants everyone to know that men and women are not equal, nor should equality be a goal for women.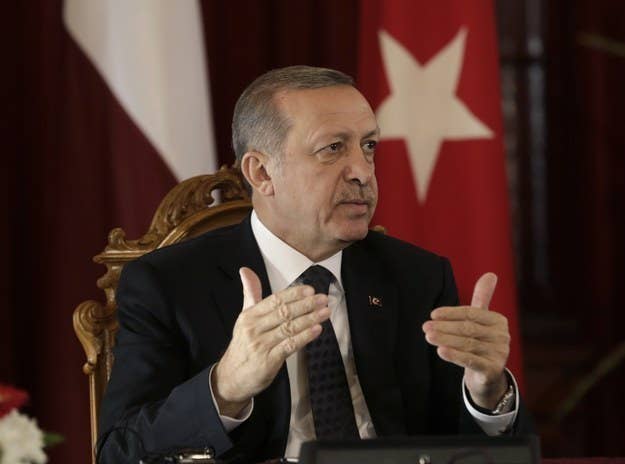 He somehow decided that the best time to make that point clear was while addressing the Women and Justice Summit in Istanbul, an international conference hosted by the Women and Democracy Association (KADEM), a Turkish NGO.
"When we are able to look at human beings from the point of view of justice, then the elimination of discrimination between women and men would be possible in a much more fair, humane and conscientious way. What do women need?" Erdoğan told the audience, according to Hurriyet Daily News.
"Sometimes, here they say 'men and women equality.' But 'equality among women' and 'equality among men' is more correct. However, what is particularly essential is women's equality before justice," he explained. "Equality is turning the victim into an oppressor by force or vice versa. What women need is to be able to be equivalent, rather than equal."
"You cannot bring women and men into equal positions; that is against nature because their nature is different," he continued. "For example, in work life, you cannot impose the same conditions on a pregnant woman as a man." Another report translates Erdogan as saying "You cannot place a mother breastfeeding her baby on an equal footing with men."
Erdogan also took direct aim at feminists during his speech: "Motherhood is the highest position ... You cannot explain this to feminists. They don't accept motherhood. They have no such concern."
The assembled activists were less than impressed with Erdogan's arguments.
"Such comments by state officials which disregard equality between men and women play an important role in the rise of violence against women," lawyer and women's rights activist Hulya Gulbahar told the Associated Press. "Such comments aim to make women's presence in public life — from politics to arts, from science to sports — debatable."
"His declarations have not surprised us at all because we all know that sexism is in his nature," Aylin Nazliaka, a member of the leading opposition party, said in response to Erdogan's statements. "Erdogan, who regularly says that he doesn't believe in gender equality, has shown again that he doesn't think that it is a problem that three women are killed every day. He is just repeating things by rote; he can attribute all the killings to 'disposition' and escape responsibility," she continued, adding that she believes the president is "openly committing a hate crime against women."
"I will keep on fighting these people who see feminists as terrorists," Nazliaka concluded.