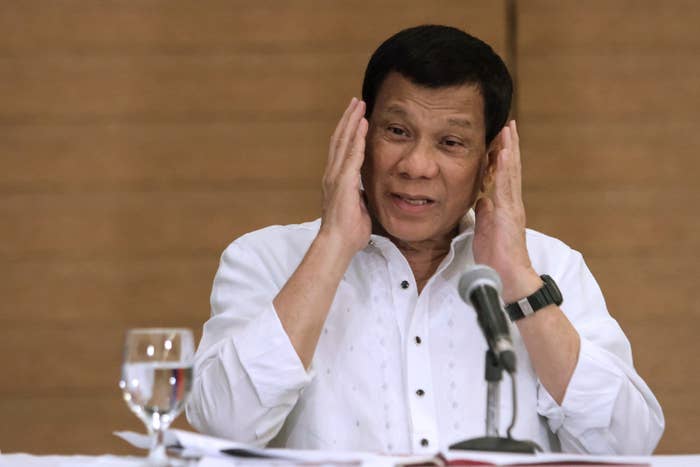 Philippines President Rodrigo Duterte last week told soldiers under his command that when engaging with rebel women, they should shoot them in the vagina.
Duterte, a former mayor who has made numerous incendiary remarks since taking office in 2016, made the comments while speaking to former rebels at a private event on Feb. 7.
During his speech, he described an imaginary conversation between a general and a solider, "'Are there any women holding guns?' 'Sir, she's a fighter.
An Amazon.' 'Shoot the [slang term for vagina].'"

The official transcript of Duterte's comments released by his office replaces the word "vagina" and the slang for it with a set of dashes. According to the transcript, the male audience laughed.

"Tell the soldiers: There's a new order coming from the mayor. We
won't kill you. We will just shoot your vagina so that ... If there are no vaginas it would be useless," he said, according to local media reports.

Duterte went on to wonder aloud why any woman would join the communist New People's Army (NPA).
"We have pills for free," he said. "Why would you give birth six, seven times and you're an NPA? Then you'd go to war, you leave your family behind. I feel pity for the person."

Duterte's comments went mostly unnoticed until a Facebook post Sunday from feminist group Gabriela condemned them. The president's "latest nasty remark openly encourages violence against women, contributes to the impunity on such, and further confirms himself as the most dangerous macho-facist in the government right now," the post read.
Human Rights Watch on Sunday issued a statement, calling Duterte's comments "the latest in a series of misogynist, derogatory, and demeaning statements he has made about women."
It's been one inflammatory comment after another from Duterte, who has been frequently compared to US President Donald Trump for his penchant to say exactly what runs through his head. Much like Trump, when confronted with his statements, Duterte's office insists that he was joking. Last week, presidential spokesperson Harry Roque said that women were overreacting to Duterte's attacks on women, saying, "I mean, that's funny. Come on. Just laugh."
Trump has praised Duterte on more than one occasion, drawing scorn from human rights advocates who point to the ongoing war against drug users in the Philippines. That war has compelled the International Criminal Court to open a preliminary investigation into whether crimes against humanity have taken place under Duterte's orders.
Still, Duterte's popularity hasn't waned among his electorate. A poll released in late January showed that 79% of those surveyed were satisfied with Duterte's performance, compared to just 9% who were dissatisfied. Another poll showed 82% of the populace trusts him. Both numbers represent all-time highs in the country.
CORRECTION
Rodrigo Duterte was mayor of a city called Davao. A previous version of this article mistakenly listed him as a former mayor of Manila.