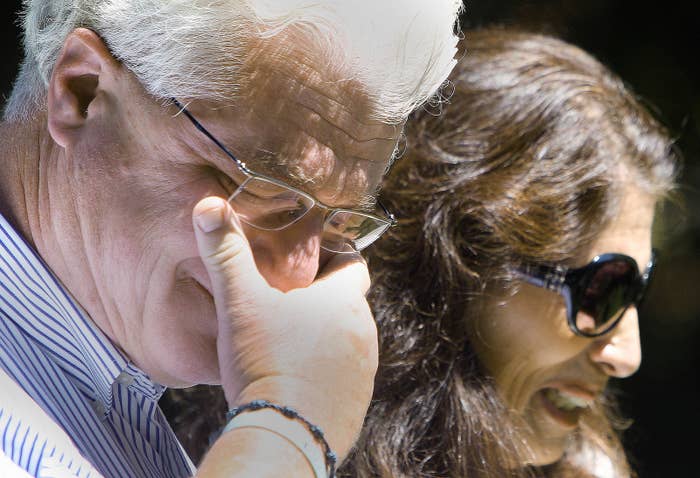 WASHINGTON — One of the most vocal congressmen on U.S. hostage issues is saying that new measures to be revealed Wednesday after a White House review of hostage policy is "nothing more than window dressing."
"After a long, drawn-out review of U.S. hostage policy, the changes offered up by the White House prove that neither the right questions were asked nor were any lessons learned," Rep. Duncan Hunter said in a statement provided to BuzzFeed News. "Wholesale changes are needed, but what's being put forward is nothing more than window dressing, I fear."
The White House said in December it would conduct a wide-ranging review of its policy towards hostage situations involving ISIS or other terrorist groups. The move came after the death of several Americans — including journalists James Foley and Steven Sotloff — at the hands of ISIS and reports that the internal process for attempting to retrieve hostages was muddled at best, completely uncoordinated at worst.
A new executive order and presidential statement due for release on Wednesday are expected to lay out the review's conclusions. The administration will no longer threaten prosecution of families who wish to pay ransom, the New York Times reported, quoting a senior administration official. ABC News reported last year that a U.S. official had threatened the Foley family that they could be charged with financing a terrorist group if they paid a ransom.
Also, the new policy will reportedly see the creation of a new "fusion cell" housed inside the FBI to coordinate the government's response, the New York Times reported. A senior staffer dedicated to liaising with families will reportedly be part of that cell. Hunter and some victims' families had called for the appointment of a high-level czar within the administration.
Some families have been among the most vocal critics of the administration's handling of their loved ones' disappearances and, in some cases, murder. Relatives of Sotloff, Foley, Kayla Mueller, an aid worker who was killed by ISIS, and journalist Austin Tice who is still missing in Syria, are in Washington to be briefed on the new changes, the New York Times reported. President Obama himself will meet with them on Wednesday.

A friend of the Foley family told BuzzFeed News that the families have grown together through their shared struggles: "They haven't gotten much support from the government so, you know, they have gotten closer to each other. The families are really close right now." BuzzFeed News reached out to several victims' relatives, who did not return requests for comment.
A spokesman for Hunter told BuzzFeed News that "a large number" of the families actually "refused to participate" in interviews with the review panel due to their frustration with the U.S. government. The White House's review team also neglected to meet with Lt. Col. Jason Amerine, who was heavily involved in the Defense Department's efforts to rescue U.S. hostages, Hunter's spokesman continued.
"I have no idea why they didn't meet with Amerine," Joe Kasper, Hunter's Chief of Staff told BuzzFeed News. "We recommended that they talk to him. He is the one person in the government who understands this issue."
In an e-mail provided to BuzzFeed News, Amerine wrote Representative Hunter's office in August 2014 laying out how to get US hostages home. "In general," Amerine wrote at the time, "entering into talks with terrorist groups is far different from bowing to their pressure." Amerine, who was unavailable for comment, believed that Foley's death might have been averted if the US had entered into a dialogue and shown him "to be of more value to ISIS as a live prisoner than the subject of an execution video."

"Among all the issues I believed the White House could get right, this was one," Hunter, a California Republican, said in his statement. "I was wrong."
On the whole, the pending announcement appears to do little to change the policies that several mediators in the Middle East already believe hurts the chances of Americans' release. "If they wanted to free the hostages they should have been in touch with ISIS," a Syrian who has acted as middleman in negotiations with one U.S. hostage and several European hostages in Syria told BuzzFeed News.
Citing the case of a Yazidi woman and her children that he recently helped free from ISIS, he was blunt in his assessment: "Okay we paid some money for ISIS to release them, but it's better than keeping silent and letting them get beheaded one day."
The pending announcement will leave in place the U.S. government's policy of not negotiating with terrorist groups.
Mike Giglio contributed reporting from Istanbul, Sheera Frenkel contributed reporting from San Francisco.