Colombians Reject Historic Peace Deal In Shocking Vote
The vote to approve a peace agreement between Colombia and FARC rebels was supposed to win by an overwhelming margin. Instead the country is left without a Plan B.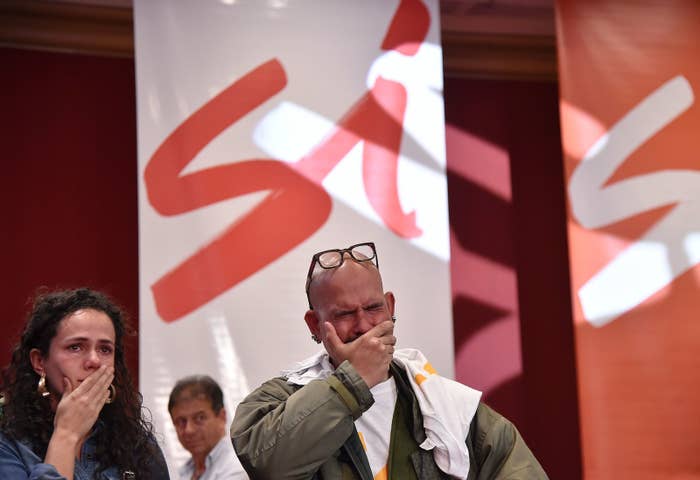 Colombian voters opted to reject a peace deal that was meant to end 50 years of conflict with leftist rebels, leaving the country on uncertain footing moving forward.
Voters took to the polls throughout the country on Sunday faced with a simple choice, voting "yes" on "no" on whether to accept the government's peace deal as negotiated with the Armed Revolutionary Forces of Colombia (FARC). With 99.85% of the vote counted on Sunday afternoon, the "No" vote had taken the lead at 50.22%, according to official government numbers.
"The bilateral and final ceasefire is still standing," Colombian President Juan Manuel Santos, said during a televised speech from the official residence following the results' announcement. "Tomorrow I will convene the political forces, in particular the ones in favor of 'no,' to listen them and determine which path to follow. ... I will not give up,"
FARC leader Timoleon Jimenez also said that his group remains willing to work towards peace. "The FARC-EP maintain their desire for peace and reiterate their disposition to use only words as a weapon to build the future," a statement from the FARC released Sunday evening read. "The Colombian people who dreams of peace that rely on us. Peace will triumph."

On Monday, President Juan Manuel Santos and the FARC signed the final peace agreement in Cartagena before more than a dozen Latin American heads of state. More than 220,000 people were killed and nearly 7 million were displaced from their homes as the conflict dragged on and peace negotiation after peace negotiation over the years failed, with this year's agreement meant to finally break the cycle.
Ahead of the referendum, polls showed as much as 72% of Colombians in support of the deal that was announced in August. Since the terms of the deal were first presented, however, opponents have come from numerous corners to claim that the conditions grant the FARC impunity for their crimes, because of lack of proper prison sentences for FARC soldiers and a provision offering automatic seats in Colombia's Congress to the former rebels.
Former President Alvaro Uribe led the charge against the deal's terms, posting numerous videos calling on Colombians to vote "no" to his Twitter account: