NEW YORK — Michelle Bachelet, the president of Chile, admits that she's biased when it comes to the US election.
"We've developed a good friendship," Bachelet told BuzzFeed News in an interview, referring to Democratic candidate Hillary Clinton. "I think she's a great woman, very capable, intelligent, and very committed. I think that we need more female presidents in the world."
"I am sorry for being biased, I have to say," she said with a laugh.
Bachelet's first term as president of Chile overlapped with Hillary Clinton's time as Secretary of State, though the two first met in 2005, when Clinton was a Senator and Bachelet was campaigning. (During Clinton's first bid for president in 2008, she penned Bachelet's entry on the annual "Time 100" list.) The two worked closely together during that time, Bachelet said, and continued after she was appointed the executive director of the newly created UN Women in 2010. After stepping down from the UN, Bachelet won her bid to return to office in 2014.
Though she was Chile's first woman president, Bachelet says she hasn't given Clinton any specific advice on how to deflect sexism on the campaign trail or once in office. "In all countries there's a lot of misogyny and sexism still, and in the campaign some of those things have been used against Hillary," she said, adding if she were to give Clinton advice, it would be to follow through on her campaign commitments and "to make sure any policy you develop as president is people-centered."
And as for the other side of the US ballot? "I don't personally know Donald Trump," Bachelet said. "I've read his declarations on many issues, and of course in Latin America … people feel 'what is the relationship with Latin America' should he win?"
"I would want that the president of the US would be someone who is friendly and would respect countries and civilities," she said.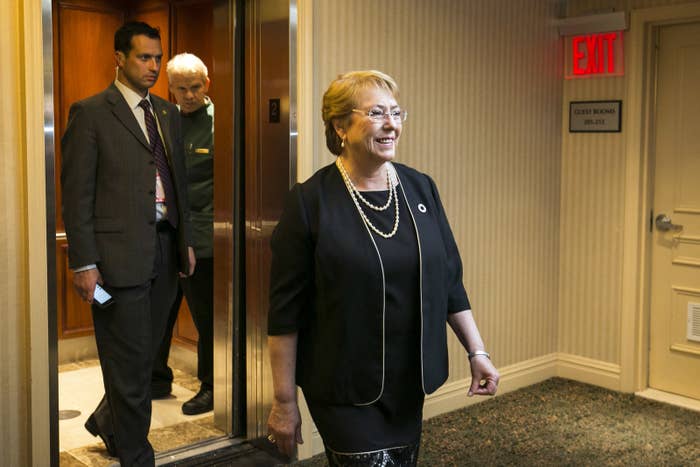 Bachelet was in New York for the UN General Assembly. The global body is due to elect a new secretary-general in the coming months and there have been calls for the body to finally appoint a woman for the first time in its 71-year history. Male candidates, however, appear to be leading the race, which is just beginning to solidify.
Bachelet declined to jump into the fray. "We have a lot of great women running as candidates, and we have a lot of great men running," she said, noting that straw polls that will give a better sense of the race are still yet to come.
Bachelet, 64, is too nearing the end of her presidential term, her second, with her approval ratings dwindling to around 15% in recent polls. A series of corruption scandals, including tax evasion charges against her daughter-in-law Natalia Compagnon, and setbacks to her education and pension reforms, have dogged her administration.
That has made it difficult to push forward her goals in the legislature, even though her seven-party coalition has a majority. That includes initiatives to decriminalize abortion in certain cases, including those of rape and the health of the mother — a position Bachelet claimed to BuzzFeed News that 70% of her population agrees with her on — and legalize marriage equality.
Bachelet said she has a "personal conviction that women should have the chance and not go to jail by decided they want to interrupt a pregnancy" that meets certain conditions. "I do believe that women should have sexual reproductive rights."
Regarding LGBT issues in Chile — which drew international attention after the brutal murder of a 24-year-old gay man in 2012, prompting the adoption of an anti-discrimination bill and the eventual introduction of civil unions — Bachelet said that it is becoming "increasingly clear that a family is a family." On Wednesday while speaking at the UN, she announced that she'd be pushing forward legislation to provide full marriage equality to LGBT couples. "I believe we need to expand people's rights," she told BuzzFeed News, "and LGBT people have to have the same rights as everyone."
Bachelet said she would push ahead with those initiatives despite her dwindling popularity. "I don't lead the country thinking on my popularity," Bachelet said. "I lead the country according to the promises I made and the commitments I took with people during the election, and they voted for that."