Catholic Confab Ends With No Change In Church's Anti-Marriage Equality Stance
The meeting of bishops did, however, open the door to divorcees being reintegrated into the fold of the Catholic Church.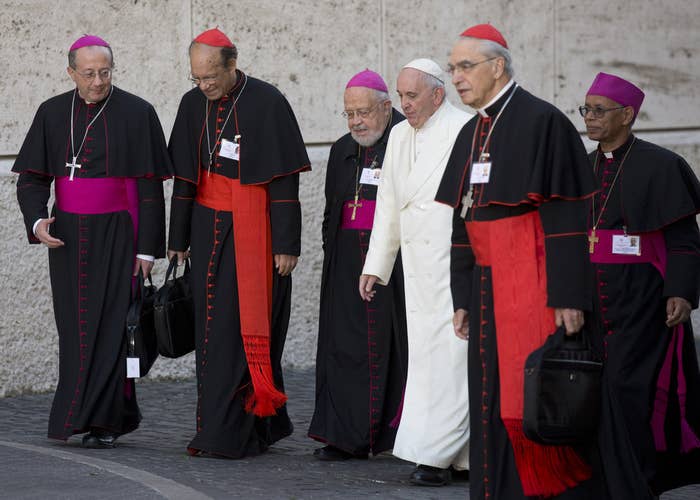 A summit of Catholic Church leaders discussing issues related to the family concluded on Saturday with the approval of a document that opened the doors to allowing divorcees back into the fold of the Church while rejecting a more accepting stance towards marriage equality.
The meeting — called the Fourteenth Ordinary General Assembly of the Synod of Bishops — was a continuation of a two-year process within the Church. Last year's extraordinary session concluded with conservative bishops managing to tone down proposed language that would have "welcom[ed] homosexual persons" into the fold of the Catholic Church.
Within the final document, known as the Relatio Synodi, there was little equivocation over whether marriage equality would be more tolerated within the Church moving forward. While reaffirming "that every person, regardless of their sexual orientation, must be respected in their dignity and welcomed with respect, with care to avoid any brand of unjust discrimination,'" the document declared "there is no foundation whatsoever to assimilate or establish even remotely analogous between homosexual unions and God's plan for marriage and the family."

Progressive bishops managed a slight victory in managing to include within the final document language loosening the restrictions on receiving communion for people who remarry. Currently, those who do remarry face a total ban from communion unless they abstain from sex. The new document described a "so-called 'internal forum' in which a priest or a bishop may work with a Catholic who has divorced and remarried to decide jointly, privately and on a case-by-case basis if he or she can be fully re-integrated," Reuters explained.
Though important in offering advice to Pope Francis, the synod does not set policy within the Catholic Church — all final decisions on doctrine remain in the hands of the papacy.
In his address following the synod's conclusion, Francis only hinted at the clash over gay rights. "We have also seen that what seems normal for a bishop on one continent, is considered strange and almost scandalous for a bishop from another; what is considered a violation of a right in one society is an evident and inviolable rule in another; what for some is freedom of conscience is for others simply confusion," he said.