Armenia Is Very, Very Excited That Kim Kardashian Is Visiting Her Homeland
Like, super excited. It's her first time there.
April 24 marks 100 years since the start of the Armenian genocide, when more than a million Armenians were killed in 1915, during the dying days of the Ottoman Empire. Turkey still refuses to acknowledge the genocide. Enter Kim Kardashian.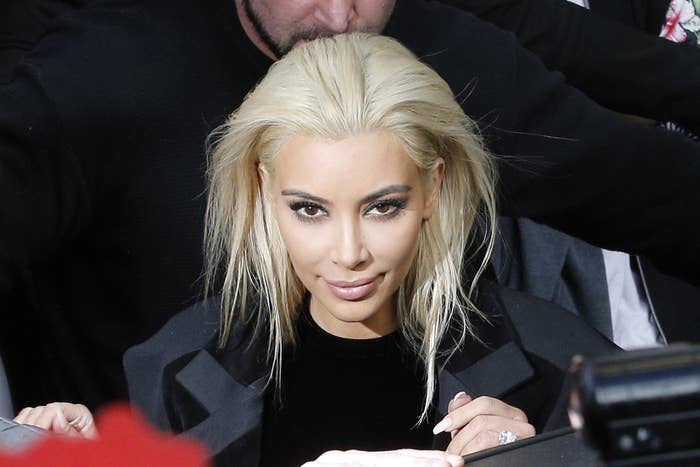 The daughters of the Kardashian clan are Armenian via their father Robert, who was third-generation Armenian-American.
Many Armenians fled the genocide, creating a huge diaspora. Today, more live abroad than in the country of Armenia itself.
Kim's been pretty vocal in the past in speaking about the genocide and the need for the U.S. government to acknowledge it over Turkey's protests.
So Kim and the rest of her family are making a pilgrimage to Armenia to commemorate the anniversary, a couple of weeks early. And the crowd that awaited her arrival was thrilled...if not, according to a live stream of the airport, particularly thrilling.
Mostly there was a lot of milling around. The people lucky enough to be beyond the barricade busied themselves on their cell phones to look, well, busy.
To pass the time, the live stream's cameraperson did things like focus in on the girl dressed in traditional attire, who was there to present the Kardashians with the traditional welcome offering of bread and salt.
Suddenly, a stir. A sudden shift in the air as the luggage appears and is rolled past.
OUT OF STILLNESS, CHAOS IS BORN. THEY HAVE ARRIVED.
And then — for one brief, shining moment — Kim appears through the throng. "Are you excited to be here?" a voice asks. "Very excited!" she replies. And then, in an instant, she's gone.
In the back of the procession, relatively unmolseted, Kanye West carried the wee baby North through the airport, looking no worse for the wear.
Things got even more hectic after the scrum followed in hot enough pursuit that the feed cut out several times.
This scrum crowd even followed the Kardashians to their hotel. Though it was nearly impossible to hear over the din, and we don't speak Armenian, no questions about the genocide — or whether Obama will acknowledge it this year — appeared to be asked.