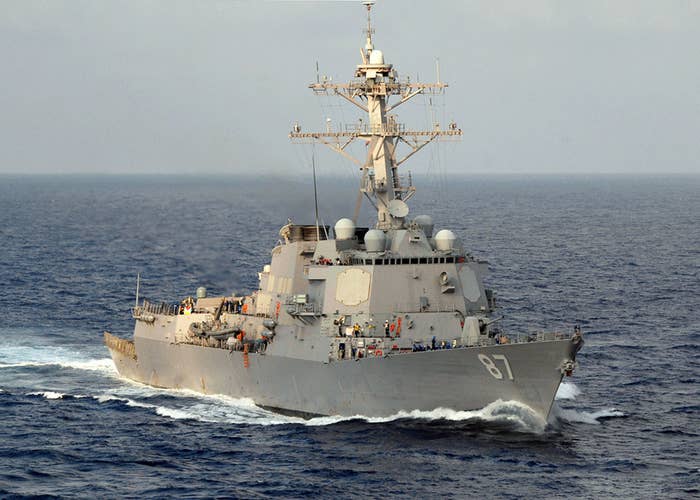 The United States launched a series of missiles into Yemen early Thursday in response to two attacks on a US Navy ship in the past four days.
The USS Nitze, a destroyer based in the Red Sea, launched multiple Tomahawk missiles into territory controlled by Yemeni rebels to destroy a set of radar sites, the Pentagon said in a statement. Early assessments indicated that all three radar sites targeted were destroyed.
"These limited self-defense strikes were conducted to protect our personnel, our ships, and our freedom of navigation in this important maritime passageway," Pentagon press secretary Peter Cook said. "The United States will respond to any further threat to our ships and commercial traffic, as appropriate, and will continue to maintain our freedom of navigation in the Red Sea, the Bab al-Mandeb, and elsewhere around the world."
The strikes were ordered by President Barack Obama and came "at the recommendation of Secretary of Defense Ash Carter and Chairman of the Joint Chiefs General Joseph Dunford," Cook said.
All three radar sides were said to be involved in an incident with the USS Mason, a destroyer deployed to the Yemeni coast earlier this month that was forced to take defensive maneuvers in order to avoid a missile. The attack launched from near the coastal city of Al Hudiyah, the Pentagon said in a statement released on Wednesday. Per the statement, there was no damage to the ship or the crew.
"Those who threaten our forces should know that US commanders retain the right to defend their ships, and we will respond to this threat at the appropriate time and in the appropriate manner," the earlier statement concluded.
The Mason first came under attack on Sunday, when two cruise missiles were fired from Yemen at it and the nearby USS Ponce. According to the US Naval Institute, the Mason launched three missiles to attempt to intercept those fired from Yemen. It is still unclear whether the interception was successful or if the missiles would have fallen into the sea on their own.
Both attacks, the Defense Department has said, came from territory in Yemen controlled by rebels known as the Houthis. The Houthis, who are backed by Iran, seized control of Yemen's capital last year and have since then been under constant bombardment by forces in a Saudi-led coalition. The US has supported Saudi Arabia in its campaign, including refueling Saudi planes, and recently completed a $1.15 billion arms sale to the Gulf state.