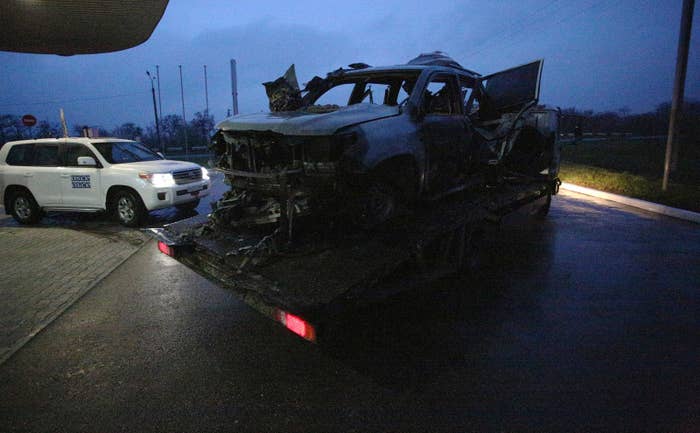 A US paramedic working in eastern Ukraine died on Sunday when his vehicle hit a landmine inside territory controlled by Russian-backed separatists operating there.
Joseph Stone, 36, was working with the Organization for Security and Cooperation in Europe (OSCE), which has had a 600 person-strong observer mission inside the country since 2014. The mission's goal has been to provide independent facts from on the ground as the conflict continues to help facilitate a peaceful solution and call out human rights abuses.
The other two observers in the car along with Stone — one a woman from Germany, the other a Czech man — were injured in the blast but are in stable condition.
"The death is a tragedy on many levels -- obviously the loss of life of one who was devoted to saving lives is always particularly poignant," Daniel Baer, who served as the US ambassador to the OSCE under the Obama administration, told BuzzFeed News in an email. "But it's also a loss for the international community, because these folks are out there, unarmed, working in a war-zone, trying to ensure that the facts are available that give a baseline for finding political solutions and holding actors accountable to them."
The US State Department said in a release on Sunday evening that the US is "shocked and deeply saddened" by the death of a US citizen. (Stone's name was not revealed in the press until Monday.)
"We extend our deepest and heartfelt condolences to his family, friends, and loved ones, and we wish a quick recovery for those injured in the blast," the statement, released under acting spokesperson Mark Toner's name, read. "This death underscores the increasingly dangerous conditions under which these courageous monitors work, including access restrictions, threats, and harassment."
Russian Foreign Minister Sergey Lavrov on Monday called for a swift investigation into the matter, echoing the US and OSCE. But the pro-Russian rebels have claimed that the observers were aware that the area they were traveling in was dangerous.
Stone was killed in Luhansk, one of two regions of Ukraine that have declared their independence from the government in Kiev. The separatists are backed politically and militarily by Russia, which has denied the latter. The conflict, which began following Moscow's annexation of Crimea in 2014,
"No one stands to gain in the long run," Baer said of Stone's death. "Now, the Russians and their proxies have shown time and again that they don't want to implement the agreements they've made and resist being held accountable to them -- so if the Mission is further constrained operationally by this death, then in the short run Putin's forces may have even more capability to continue to fuel the conflict and resist implementing the Minsk Agreements."
John Hudson contributed reporting from Washington.