A Politician Is Warning Her Fellow Russians Not To Do Sex With Foreigners During The World Cup
Tamara Pletnyova, head of the Russian parliament's Family, Women and Children Committee, say women should be especially careful if a potential father is "of a different race."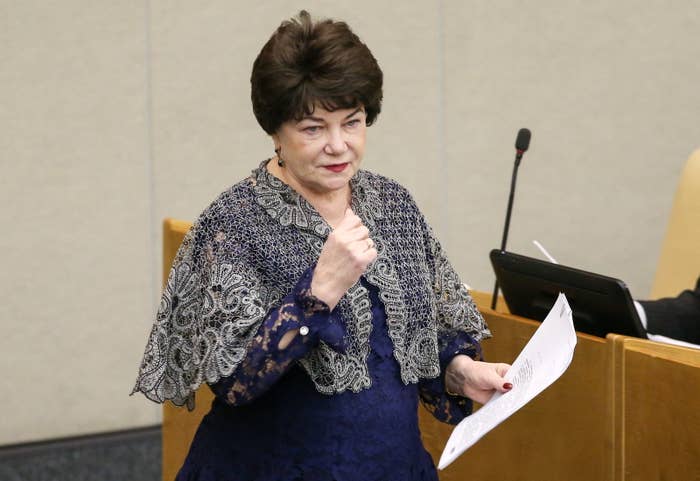 A Russian politician warned against having intimate relations with visitors attending the World Cup, especially if a potential hookup is "of a different race."
Tamara Pletnyova, the head of the Russian Duma's Family, Women and Children Committee made her comments Tuesday while speaking with Govorit Moskva radio station. During the interview, she reminisced about the troubles that came along with the 1980 Summer Olympics hosted in Moscow, namely all of the children born out of wedlock as a result and the stigma she says the single mothers faced.
"It's the children who suffer and have suffered since the Soviet era," she said.
But she then went a bit further, saying that it's "lucky if [the mother and child are] the same race but if they're of a different race, it's worse."

"I'm not a nationalist, but nevertheless," she said.

Her comments come as Russia is desperately trying to convince the world that it's ready to tackle the racism that many are predicting will come along with the World Cup. English soccer player Danny Rose made waves in the UK when he said that he doesn't want his family coming to the finals, due to the racist abuse he worries they'd face.
FIFA, the World Cup's governing body, has said that it won't tolerate any racist acts — like, say, a banana being thrown onto the soccer pitch — during the tournament. It's been running a campaign known as "Say No To Racism" since 2006, which hasn't exactly stamped out racism from fans toward nonwhite players.
"In terms of discrimination, we will have clear procedures in place, including a three-step process for referees who can stop, suspend or even abandon a match in case of discrimination," FIFA President Gianni Infantino has said about discrimination during the World Cup. "We have a monitoring system and then immediate sanctions if something happens. We obviously wish that doesn't happen and everyone has been warned that if it happens there will be serious consequences."
Russia's football union even hired retired Russian soccer player Alexei Smertin to serve as an anti-racism inspector, watching the stands during matches and educating the masses.
"Sometimes, a small group of people do stupid things," Smertin told the CBC. "We need to punish people if they do something wrong." But he couldn't "guarantee 100%" that there would be no incidents.

"FIFA has no compromises, zero tolerance," Vitaly Mutko, Russia's deputy prime minister and a former minister for sport, said ahead of last year's Confederation Cup, also held in Russia. "As for Russia, the Russian Federation and Russian football have taken similar measures, stricter measures in Russia. This is a problem that is not purely Russian. It exists everywhere in the world and, of course, FIFA is fighting this phenomenon. We will support FIFA and in our joint efforts we will try to conqueror [sic] this."
Pletnyova's comments Tuesday are just the latest controversial stance from her. Earlier this year, in the middle of a scandal involving another committee chair harassing women journalists, she said that women "would be better off if they dressed modestly ... and weren't going around with bare bellies."
But for those traveling to Russia, take heart: Pletnyova's advice isn't shared universally. On Thursday, ahead of the World Cup's start, another Russian politician had the opposite advice. "The more love stories we have connected to the World Cup, the more people from different countries fall in love, the more children are born, the better," MP Mikhail Degtyaryov said according to Tass.