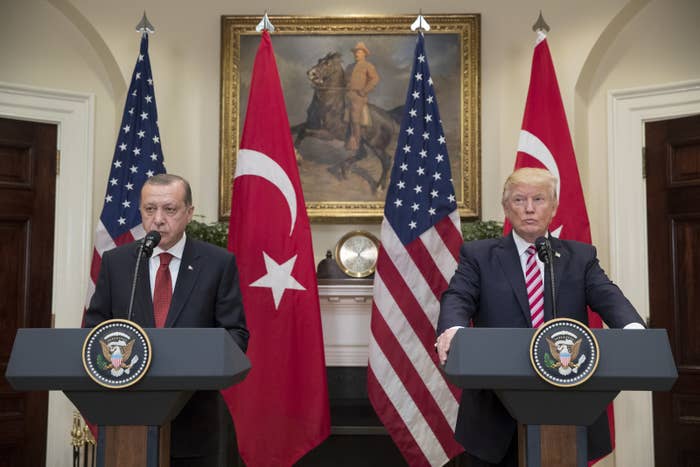 The US Department of Justice on Tuesday indicted more than a dozen members of the Turkish president's security detail for a brawl between them and protesters during the leader's last visit to the US that a grand jury says was rooted in prejudice against the victims based on their ethnicity and political ties.
Of the 19 people named in the indictment handed down at the Superior Court of Washington, DC, 15 are members of President Recep Tayyip Erdogan's security forces. His trip in May was marred when his supporters clashed with anti-Erdogan protesters on Washington's Sheridan Circle. Videos of the attack quickly went viral, and showed the men kicking, choking, and otherwise beating protesters, sparking international outcry.
All of them face at least one charge of conspiracy to commit violence. But they face a stiffer penalty than usual in this case, as the grand jury has determined that their assault on anti-Erdogan protesters "demonstrated the prejudice based on the actual or perceived ethnicity." Under DC law, this "bias enhancement" could increase the amount of prison time and financial penalties the defendants face if they're found guilty.
"The members and associates of this group were bound together by their aversion towards a group of persons who oppose Mr. Erdogan, support pro-Kurdish political parties in Turkey and Syria, and are of ethnic Kurdish background from Iran, Iraq, Syria, and Turkey," the indictment reads.
Several others also face charges of aggravated assault, assault with serious bodily injury, and assault with a deadly weapon, in this case their own feet encased in their shoes. All 21 charges the men collectively face have been augmented to take into consideration DC's hate crime laws.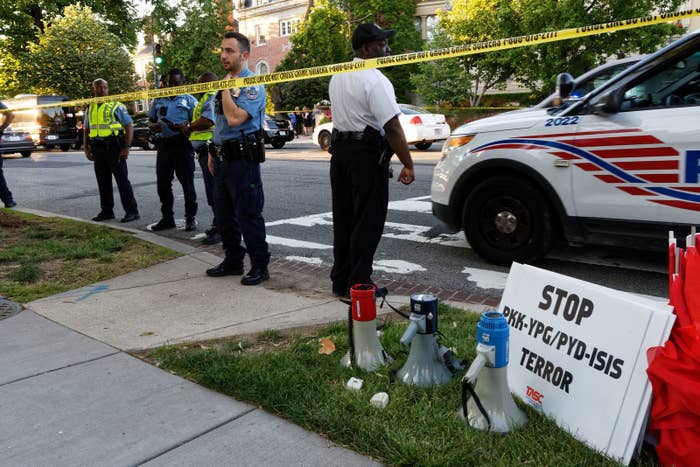 DC Mayor Muriel Bowser and Police Chief Peter Newsham first announced that the members of Erdogan's detail would face charges at a press conference in June.
"Rarely have I seen in my almost 28 years of policing the type of thing I saw in Sheridan Circle on that particular day," Newsham said at the time. "You had peaceful demonstrators who were being physically assaulted in the District of Columbia … That's not going to be tolerated in Washington, DC."

Sinan Narin of Virginia and Eyup Yildirim of New Jersey were both arrested back in June and are due to appear in court on Sept. 7. The other defendants are not in custody and the US faces a difficult process to extradite them to stand trial. Washington is currently in the middle of a struggle with Ankara over Fethullah Gulen, a cleric living in Pennsylvania who the Turkish government claims masterminded a failed coup attempt in 2016.
As if to illustrate that point, when the charges against the security forces were first announced in May, the Turkish foreign ministry issued a statement calling the move "unacceptable" and claiming that the charges were not the result of an "impartial and independent investigation."

Zoe Tillman contributed to this report from Washington, DC.