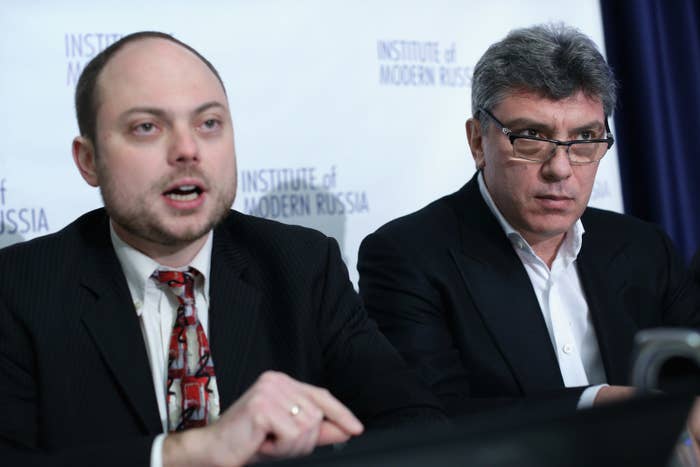 Prominent Russian opposition journalist Vladimir Kara-Murza is currently in a medically induced coma after suffering organ failure, leaving him in a dire situation that mirrors a similar incident in 2015 and raised speculation that he was poisoned.
Kara-Murza was first admitted to a Moscow hospital's intensive care unit on Friday. "His doctors describe his condition as critical," Yevgenia Kara-Murza, Vladimir's wife, told RFE/RL at the time. "He has low blood pressure [and] respiratory insufficiency, and the reason for this is yet again unclear."
On Monday, she told Russian opposition organization Open Russia that he had suffered from "severe intoxication by an unknown substance." Kara-Murza works for Open Russia, which was founded by Russian businessman and opposition leader Mikhail Khodorkovsky, as its federal program coordinator.
"We want to get some samples tested again to try to determine what this 'unidentified' substance may be," she told RFE/RL in a Facebook message, saying that she had sent some bits of her husband's hair, blood, and fingernails to a lab in Israel for inspection.

Kara-Murza first fell ill while taking a train ride from the Siberian city of Tver, according to the Daily Beast, where he had just screened a film about former deputy prime minister Boris Nemtsov. (Nemtsov was killed in a brutal shooting — shot in the back four times near the Kremlin in 2015. The killer and motive remain unknown to this day.)
The symptoms Kara-Murza displayed, Yevgenia told the press on Friday, closely resembled those he exhibited in 2015, when he found himself on life support for two months in hospitals near Moscow and Washington, DC. Kara-Murza is a joint Russian-British citizen who spends much of his time in the US in a DC suburb with his family.
The Kara-Murzas believe that he was deliberately poisoned in 2015, just three months after Nestov was shot, in a case that could be compared to that of former KGB spy Alexander Litvinenko in the UK. A British inquiry determined in 2016 that Russian president Vladimir Putin had likely ordered Litvinenko's murder through the use of polonium, a radioactive isotope.
Several US senators have issued statements expressing their concern about the journalist's condition, including Russia hawks from both sides of the aisle, such as Sens. John McCain and Robert Menendez.
Senator Marco Rubio on Friday put out a statement noting that he had just weeks prior cited Kara-Muzra's apparent poisoning during his questioning of Secretary of State Rex Tillerson.
"I am praying that Kara-Murza's condition improves, and I urge the Trump Administration, including Secretary of State Tillerson, to make Kara-Murza's cause America's cause, question Russian authorities about this, and ultimately hold Putin accountable if he was targeted by the regime," Rubio said.