CHICAGO, Ill. — On the evening of April 4, campaign manager Jim Messina gathered more than 300 staffers into a large room on the sixth floor of One Prudential Plaza in Chicago, the nerve center for President Obama's 2012 reelection campaign. The occasion: the one-year anniversary of opening the headquarters in the president's hometown. Messina grabbed a microphone that was set up for him to address his army of twenty-somethings, who were seated at his feet on the floor, spilling on to the filing cabinets, stretching far out into the vast floor they occupy in the office tower. The staffers knew it was a night to party — the plan was to head to a nearby bar for drinks to celebrate — but first they had to listen to a speech from the boss.

Messina didn't want to bullshit them: he warned of the ups and downs in the upcoming months, the good and the bad. He showed them a graph of Republican primary contenders who had once led in the daily polls — Gingrich, Herman Cain, Santorum, Perry, a roster of fallen clowns. Don't read the daily polls, he warned. "The only poll you care about is November 6th," Messina said. "None of that stuff matters, the day-to-day stuff doesn't matter."
Messina ended the talk with a presentation of "Fired Up, Ready to Go," a web video that takes viewers from the story of one supporter to the final rally of Obama's campaign in 2008. The video hit at the inspirational core of the president's historic victory four years ago, and a few of the staffers were moved to tears. For Team Obama, watching Fired Up offered a nostalgic release, carrying them away from the corporate feel of their Chicago office tower and to the movement that captured their imaginations in 2008. It reminded them of why they were grinding away now.
"There is a very, very good feeling here," David Axelrod, Obama's senior advisor, told BuzzFeed.
On the way out of the building that night, Messina passed a white board at the sixth floor reception desk with a number in blue ink: 216, the number of days left until the election.
For a year, Messina and his growing staff had what struck him, in comparison to the long frantic 2008 primary against Hillary Clinton, a strangely linear job: "We had to just build something." He spent months in Chicago engineering the most technologically savvy and expensive political operation in American history in a laboratory-like setting, geographically distant and hermetically sealed from the politics of Washington. The isolation sometimes gives way to unreality. When the debt ceiling crisis gripped the Beltway last summer, Messina recalled, a young staffer innocently asked him: "Is there something going on in Washington?"
And now that Mitt Romney is the presumptive nominee, the Obama team has flipped the ON switch for its reelection machine.
The Obama machine's singular goal: to keep the president in his job by raising and spending hundreds of millions of dollars to recreate the momentum of 2008. There are now close to 700 hundred full time employees, an entire floor of office space, thousands of volunteers in well over 100 field offices across all 50 states, and the most impressive digital team a presidential campaign has ever assembled. There's been experimentation—the tech team figured out a way to make the Obama website display perfectly on any device, a feat that wouldn't have been possible even a year ago—and the entire office was designed to resemble a Silicon Valley start-up. The digital department is the largest in headquarters. Messina even consulted with Palo Alto execs to find the "best practices," says an Obama official, including carpets (quieter), mixing the staffs on the floor into teams rather than departments, bouncy balls, and communicating with instant messages and Twitter. "We ensure maximum collaboration so people don't sit with their departments, they sit in teams," Messina told BuzzFeed. (Messina insisted on speaking off-the-record in an interview at the Chicago headquarters, and subsequently agreed to be quoted on some, though not all, of what he said.)
There's a small warehouse of cool Obama gear for sale to the staff, all made in America, with an iPhone cover running for $40 (discounted to $35 for staff). A Ping-Pong table, state flags, ironic mementos on desks. The office does have sights that are more familiar to an old school campaign, too, like the speechwriters' office, where a bar well stocked with Jack Daniels sits in front of the window. The 1.8 million donors, 50 percent of them new, according to Obama officials, have given $157 million through the end of February, with hundreds millions more to come.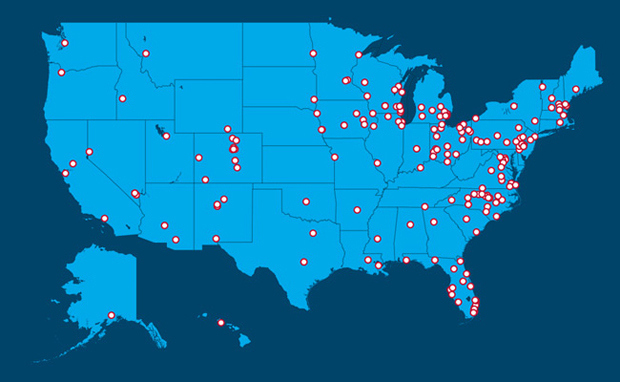 The Obama machine has come alive. In March the campaign put out 27 press releases, compared to just 10 in February — and already in April the campaign has pushed out seven items to reporters. The volume on the releases has grown steadily louder: They began with memos to reporters on electoral strategy and conference call advisories, but now feature direct attacks on Romney will like "Mitt Romney Has Put His Personal Finances In a Black Box and Hid The Key."
These days, the campaign's Rapid Response team has reached out to reporters covering Romney, providing a rebuttal to every speech. They're also in full-on courtship mode with a press that complains of a lack of access to Romney and his top aides. Obama's headquarters averaged about ten visits a week from reporters over the past month, aides said. David Axelrod, whose official title of "senior campaign advisor" understates his role as guru and decision-maker, was at the office everyday last month. (On Thursday "Axe," as he is known among the staff, took the afternoon off to attend the Cubs opening day with Mayor Rahm Emanuel; at his seats over the dugout, he caught a foul ball.)
Some of Obama's old Chicago allies however, say they worry that the campaign is getting a little too cocky. Months of blockbuster economic data were interrupted by a March jobs report that missed expectations. Obama allies fear that the president's team will get caught flatfooted on the economy if growth slows down between now and Election Day.
There are also already the first signs of campaign infighting, like the flap last week over a Jewish liaison whose embarrassing Facebook photographs prompted jabs from senior Democrats at Democratic National Committee Chairwoman Debbie Wasserman Schultz, viewed by some in Chicago as a bit too interested in her own path to power and the House Speakership, too little concerned with the re-election campaign. And to say that the campaign doesn't fear Romney is an understatement — he's viewed as almost a joke. (The campaign named their sixth floor elevators for cars to mock Romney's planned over-the-top addition to his La Jolla, CA home.)
Axelrod described what he saw as "complacency" among donors in face of what is likely to be a $700 million to $800 million onslaught from the Romney campaign and their Super PACs.
"That's why we took the position that we took that we need to support the [Obama Super PAC] effort," he said. "There is still ambivalence on the part of people. Perhaps people are too complacent because the Republican race has been so much of a spectacle."
But he also projects the confidence that permeates the sixth floor of the old Prudential Building. The Republican Primary has been, he chortled, "kind of a calamity for them."
And now the Obama campaign is going to be part of the spectacle. "I walked into this headquarters a year ago and it was this big cavernous space, and it was symbolic in many ways of what we had to build," Axelrod told BuzzFeed. "There is a sense of anticipation that this thing is entering a new phase. Game on."
CORRECTION: The campaign's digital department does not employ more than half of the headquarters staff, campaign spokeswoman Katie Hogan said, though it is the office's largest department.