Two Can Play That Game was never supposed to become a Classic. On the surface, the 2001 romantic comedy may not even seem all that iconic. The film itself was a low-budget project, it was director Mark Brown's debut feature, and it starred solid but hardly household name actors. But the $13 million film has had an outsized impact on black popular culture and the representation of black life onscreen since its release. The world it portrays — wealthy upper-middle-class life in which black people are the drivers of their own complicated narratives — was instrumental in normalizing so many of the images we see today: everything from romantic comedies like Think Like a Man and The Perfect Match to digital content like The Misadventures of Awkward Black Girl and Black Twitter's ever-revolving GIF highlight reel.
By 2001, there had been a gap in the market for a pure "black romantic comedy" — the last major one had been in 1992, when Eddie Murphy and Halle Berry walked into the sunset together in Boomerang. And while Love Jones and Love & Basketball, for example, are both beloved films that are frequently heralded as giants of the genre, neither is a romantic comedy in the strictest sense. Two Can Play That Game, which was pitched as a "battle of the sexes" romp, finds Shanté, played by Vivica Fox, setting up a 10-day plan to get her boyfriend back after he's caught out with another woman. "Have you noticed around spring men start to act up a bit?" asks Shanté early on in the film, highlighting the weather-based fuckery of men. "They don't act up in the winter. They want that indoor activity. But as soon as the season breaks, they show their asses." The man showing his ass was her boyfriend Keith (Morris Chestnut), and in the game of love, no one was going to back down. Each side had its gender-specific war cabinet: Shanté's girls were played by Wendy Raquel Robinson, Mo'Nique, and Tamala Jones; the Robin to Keith's Batman was Anthony Anderson; Gabrielle Union took on the role of everyone's favorite ponytail-swinging man-eater, Conny. The characters were affluent and attractive, the colors were bright, the mood was light, and the jokes were sharp. For writer-director Mark Brown — and small Sony studio Screen Gems — the film was a hit.
In the 15 years since Two Can Play That Game was released, its stars have witnessed a sea change in Hollywood for actors of color. The film's stars have gone on to successful careers and collectively have picked up NAACP Image Awards, a Peabody Award, and an Oscar. ShondaLand and its stable of wildly successful shows have taken over Thursday night network television; Empire and Black-ish own Wednesday. Issa Rae co-wrote and starred in her web series, The Mis-Adventures of Awkward Black Girl, and parlayed its success into Insecure, a TV series premiering next month on HBO. On Black Twitter, romantic dilemmas sound like lifts from Two Can Play That Game: "You find a thong in your man's bed, you only wear Calvins tho, wyd??" Fifteen years later, it's only fitting that the film lives on in a medium as ubiquitous as the game itself: memes.
BuzzFeed News spoke to members of the cast and crew about how the film came to be, how it shifted black Hollywood, and whether or not the game is still the game.

"I know about women. I got a mama, nine sisters, and a cat." —Tony

The film, originally written as a sequel to Brown's previous picture, How to Be a Player, was previously titled How to Make Your Man Behave in 10 Days or Less. While the title changed, the central premise — how to get a man back in line — stayed the same. Selling the film would come down to perfect casting: two charismatic leads the audience would root for without question.
Vivica Fox, Shanté Smith: [Morris and I] did a sitcom years ago, called Out All Night with Patti LaBelle. When we first did the show, he had just come off of Boyz n the Hood, and he was still kinda young, still kinda green. He really was into video games, and then by the time we did Two Can Play That Game, he had got married, he was about to become a father, and he had really turned into this...man. I was like, you kinda sexy for real. [laughs] It was just amazing to watch him evolve, and then now to see him on Rosewood, he's getting even finer. I'm like, damn, you like fine wine, baby! [laughs] He takes care of himself, and I appreciate him for that. Morris Chestnut was one of the best kissers, child!
Mark Brown, director: I liked Morris. He's a strong actor. He's very much a man's man. I wanted a guy that would be a man's man and strong...so that once Vivica breaks him down, he would've come from somewhere. If it was a real sensitive guy from the very beginning and didn't have much confidence, then it wouldn't be much of a feat for Shanté to tackle. And I wanted it to be a good battle. He had to be her equal, and within the fabric of the story, it went back and forth. … We hired [casting director] Robi Reed to come on board. And she named a list of folks who we might want to consider, and Morris was at the top of that list.

Vivica Fox: Originally I turned it down three times. The initial script...I didn't like Shanté. I was like, you know, the way that it was written, she was just...such a bitch, and I didn't like it and some of the language... I didn't like her relationship with Keith, and so I just said, "Nah, it's not what I want to do."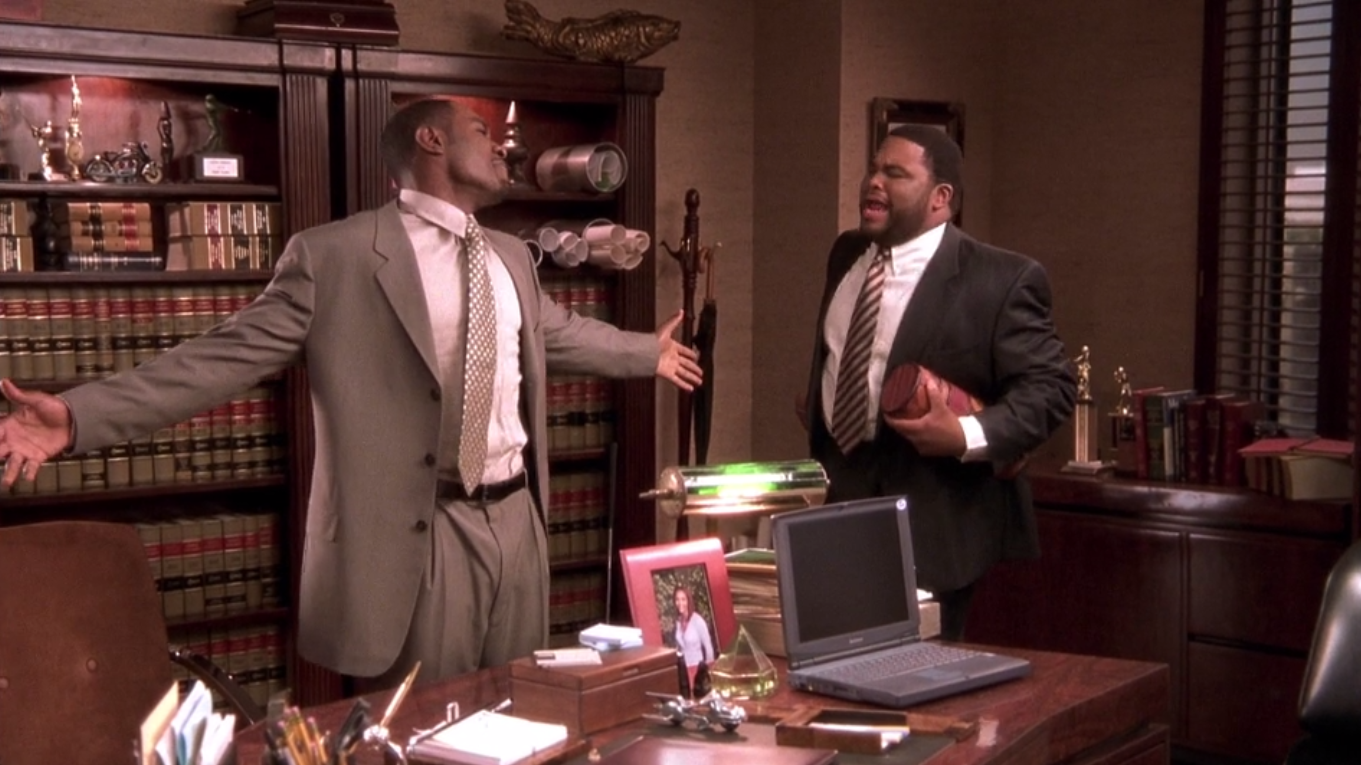 Vivica Fox: We made the characters strong and believable and likable. ... They both had to be two powerful people that got it going on, that come in the middle and are trying to figure out, "Gosh, I really like this person." [It was less about] "winning" at love [than] how we make sacrifices for relationships. You know, it's a journey, not her just winning. I wanted it to be, like, a good battle of the sexes.

Mark Brown: I think women drive the market. But men liked Morris's drive, they loved the fact that he showed up with another girl at the party. Even during the premiere, you would hear guys cheer during those particular scenes. And it's funny, because a lot of the cheering was divided purely along gender lines.

Morris Chestnut, Keith Fenton: You see things in that movie that people still do to this day. I mean, in a way, it's playing games: when you should call, not calling...that's always gonna be present in relationships.

Vivica Fox: I really wanted Shanté to be sassy and to be fun and love her girlfriends and love her guy. So there was a lot of me in Shanté, from the language to the way she dressed. Even now, when we go out and I do something and I go, "Strange Shanté!"

Tamala Jones, Tracey Johnson: Vivica's character was doing all of this, you know, like, "This is how you catch your man, you place your underwear in a place and find them and ask him who they belong to." That still works, by the way. [laughs] You gotta see his reaction — either he's gonna tell you "I don't know, I've never seen them before!" which would be the honest thing, or he's gonna try to lie, and then you know he's messing around.

Mark Brown: She was the perfect combination of sophisticated with...ghetto, right? [laughs] That's what makes her character so multidimensional. She was able to, as many professional black women do, straddle two or three different kinds of worlds. You may have a family life; you may have a life with your girlfriends who are completely different from your work girlfriends. And those worlds often don't intersect, and when they do, it might cause some turmoil.

"Don't take your man frustrations out on me. Okay?" —Conny Spalding

Every good rom-com needs a capital-b Bitch. Enter Conny Spalding (played by Gabrielle Union), the woman who attempted to weasel her way between Keith and Shanté, ponytail first. The quickest way to distinguish Conny from Shanté was through each woman's aesthetic. When it came to styling the two, the key was to put them at far ends of the heroine-villain spectrum: soft versus hard, waves versus a sleek ponytail. But don't get it twisted: Both had to be fly.
Gabrielle Union, Conny Spalding: I love Conny Spalding. [laughs] 'Cause we know her. There's something that we hate, but then there's like, Damn, that bitch has balls! She's so ballsy! To bring it full circle, that girl at the Warriors game [a while back]. That's Conny Spalding. Where you're just like, really? Like, you went for it! I mean, shit! And then you kind of need to know more information. I know I went down that Instagram rabbit hole with the Warriors game chick — I needed to know more information. That's kinda how I felt about Conny: What goes into a woman like this? Where do you come from? How are you raised? I find women like that fascinating. Much more fascinating than like the wallflower, but, like, you know, you wanna see 'em coming but you don't want them in your life. [laughs] Like, you wanna see Conny Spalding — but from across the street. She's fascinating.
"It's a little bit like her sword." – Gabrielle Union on Conny's ponytail
Gabrielle Union: [The thinking behind Conny's hair was mainly] "What hairstyle does Vivica have? OK, let's figure out the opposite." So, I'mma guess that Vivica didn't have a ponytail that day. [laughs] I mean, I loved the idea to make it thick and big, and that she would just kinda swing it around. Like, it's an accessory. 'Cause it's not hers, obviously. It's obviously attached. And it comes off at night. It's a little bit like her sword, you know what I mean? The "power pony." It's part of the package: purse, pony, you know, hot red suit.
Vivica Fox: I broke out my own American Express credit card! I had just got one, girlfriend, and I was like, "Charge it!" That yellow Versace suit, me and the wardrobe lady kinda blocked heads a lot of times, but I had a wonderful girlfriend by the name of Cassandra Mills, who was like, "Honey, when you get out that car, you gettin' out of a red Jaguar. Red is a hot color." So the Versace yellow suit, she said, "Get that tailored — that Versace don't fit good on that booty!" And I wanted the color to be bright — bam! — we went, we found it. The Dior dress that I wore when [Shanté] went over there to seduce Keith...just got that body and that booty just...TA-YAM!

Gabrielle Union: Conny might be broke. She could have had an amazing car, but that's where all of her money is. Conny could live with her parents, and she just...fakes the funk. Which is why she goes so hard in the paint for Morris's character, you know? He was the come up. It's like, "If I fake the funk long enough, someone will choose me, and then I can get out on from that."
"Like my house? Not bad for a girl from Compton." —Shanté Smith

Shanté's war cabinet for getting Keith back on track consisted of three girlfriends: Tracey, Karen, and Diedre, played by Tamala Jones, Wendy Raquel Robinson, and Mo'Nique. The four women would meet up at Shanté's lavish, immaculately decorated home and strategize. It was a friendship that obviously straddled different socioeconomic brackets. For his part, Keith was an accomplished attorney: A visual pan across his office shows no small number of plaques and degrees, and it's at this firm where he met Tony.
"I wanted [Shanté] to drive a brand new convertible Jaguar." – Mark Brown, director
Mark Brown: One of the debates that I had with the executives at Sony was [about] Shanté's house. The argument was that there's no way Shanté would be able to afford that house, it could've been a smaller house, and I said no. I said, "Look, I want my movies to be aspirational. You've seen guys in the ghetto driving a Toyota, and I want her to drive a brand-new convertible Jaguar. I want her living in a really, really nice house that bespeaks the level of success that she has acquired. I want it to be a social statement that even though the black woman's earning power is less than her white female counterparts and her male black counterparts, I wanted to see her not only exude power in what she says but I wanted it to be a subliminal impression that this woman is successful and there are successful black women around. So some of that was me trying to make a political statement with who she is and the condition of black women.
Morris Chestnut: There was a point in time when we weren't seeing these type of images. So, the original Best Man, Two Can Play That Game, The Brothers, those type of films, I believe, did change the way people view African-Americans. I was fortunate to be a part of Boyz n the Hood, which showed, you know, street life. There was New Jack City that showed street life in New York; there was a movie called Menace II Society, another gang type of drama film. So it was good to be able to show people another aspect of African-American life.
Mark Brown: If you find a black person who is successful, he's probably a degree of separation from a friend that is in jail or someone who's in the ghetto or someone downtown. African-Americans in general don't have generations upon of generations of wealth. Three or four generations ago, you know, we were slaves. The truth of the matter is that if you're successful, you're that way by either sheer will of yourself or your parents or the people around you, but you still have aunts and uncles and cousins who are about as ghetto as they come. And you don't necessarily select your friends based upon their socioeconomic status.
Tamala Jones: I think that Tracey had enough class just to get by when she needed it, but for the most part she was a hood girl, y'know? She was an "I got out of the hood and I'm tryna make a good living and this man always wants to take my attitude back to the hood and I don't wanna go there but you gon' make me go there." I think that was Tracey's whole thing, like, "I'm doing better now and here you go messing me up, like you know you gon' have to pay for that, right?" [laughs]
Mark Brown: One thing that's consistent for me in my writing, and particularly when I'm writing for my audience — and my audience is African-American audiences — is that I like to mix worlds. So Vivica says the "coup de grâce," which is French. But then she also shows her street side by providing some explanation of what that is by saying, "That's when you fuck him up." I like how she combines both worlds in one sentence, and that's consistent in everything Shanté says. She's clearly successful, but she chooses colloquial language and kind of oftentimes harsh vernacular.
Gabrielle Union: It's more recently in my career that I haven't played characters that weren't at the very least middle class. I guess juxtaposed against some of the other films that had a lot of popularity around that time, yeah, I guess Two Can Play That Game does stand out for audiences. I just love that there's a diversity of experience. Everything can't be, you know, Tales From the Hood, and everything can't be The Cosby Show. Because that's not us as a people. We're not a monolith. Intra-group diversity — I'm glad that that shows onscreen.
"It was more of a party than it was work, you know, because everything was so natural and we knew what to do." —Tamala Jones

Behind the scenes, the film had something of a friendly get-together vibe. The small tribe of black actors were either already friends or about to be. Gabrielle Union and Morris Chestnut had just done The Brothers for Clint Culpepper and Screen Gems. Over the last 15 years, the studio has distributed several black romantic comedies, including About Last Night and the Think Like a Man films.

Vivica Fox: I remember that we shot the film in five weeks. Sometimes we shot six days a week. And the crew was awesome. I remember the lighting guy — he lit me better than anybody has ever lit me in my life. Sometimes you'll see yourself on camera and go... "What did you...who were you lighting — the background? Or me?" So it was wonderful that the crew got that. They wanted the bright colors to be vibrant; they needed it to move and have driving scenes and fun.

Gabrielle Union: I took less to do Two Can Play That Game, but I got bigger bonuses on the back end of The Brothers, which I didn't know was a thing. I really felt like, Wow, I'm really in the business now. They're cutting deals to make things happen for me, wow. I didn't know this was a thing. It was the first time the studio was like, "We want you to be a part of the Screen Gems family for a long time, and this is what we're willing to do." And it was amazing. So when The Brothers opened — and it opened so well — they literally brought me a check, like, to my door, opening weekend. To me, it was a moment of "I've arrived!" Like, I'm a part of a studio family. The studio believes in me. This is really dope, that they just dropped off a fat-ass check. [laughs]
Mark Brown: Clint was good in that he gave me free rein to do what I wanted to do, which is...unusual for a studio exec to do that. I think Clint particularly liked the script because he really enjoys being in the presence of African-American women. He doesn't make it a secret — he really loves hanging out with black women.
Mark Brown: Two movies really influenced how this picture unfolded: The first one was a movie called Ferris Bueller's Day Off. ... And the second one was a movie that Michael Caine did called Alfie. I really liked how he handled the camera. So when I was directing Vivica, one of my constant notes was to treat the camera like one of her girlfriends, more conversational.

Vivica Fox: The breaking of the fourth wall...at first, I didn't get it. I said, "Why she always turning and talking to the damn camera?" [laughs] I was like, talking to the audience — that's not cool. They're gonna be like, "Shut up. Bitch, turn around!" [laughs] It took Clint Culpepper to say, "Vivica, go watch Ferris Bueller's Day Off. He does it." It was like a eureka moment for me. I got it. … It was like going into your mind and reconnecting. Breaking the fourth wall was obvious and bringing them all in.
Tamala Jones: Before each and every one of the girlfriends' scenes, Vivica was very instrumental in sitting down with us and kinda like rehearsing. Like, "What would you do if your girlfriend was in this situation?" And we would talk, and once we got that out and all of our attitudes were at 10, we were ready to shoot. [laughs] It was just, it was more of a party than it was work, you know, because everything was so natural and we knew what to do. And we all knew each other. The crazy part was I had never met Mo'Nique, and I thought she was, like, so funny and talented and I didn't know the caliber of comedian she was.

Vivica Fox: There was one line that we improvised, when Keith is trying to make [Shanté] jealous by dancing on the girls when we get to the party. And Wendy's character is like, [soft, helpless voice] "Oh my god! What are we gonna do?" Mo'Nique's line was "What you gon' do?" and she looked at me and went, "What you gon' do, bitch?" [Mark said], "She can't call Shanté a bitch!" I said, "Yes she can — that's my girl, and that's what we would say. 'Bitch, what you gon' do?' It's not an insult, it's, like, a term of affection. Like, [singsong voice] 'I got your back, bitch! What we gon' do?'" I took him to the side, and we had one of our director–leading lady talks and said, "Mark, it's OK for Shanté. This is real. This is really how girls speak to each other. She's not insulting me."
Mark Brown: Anthony was an integral casting choice, because he was giving a significant amount of advice to Keith, Morris Chestnut's character, but it didn't appear that [Tony] would be able to have the life experience and the mental resources to be able to afford that type of advice. ... Once he and Morris really got into it, he even helped Morris's comedic timing, because Morris traditionally defaults to a very stern disposition. Anthony sort of complimented him and brought out a warmer and more comedic side to him. I liked the dynamic between them because it allowed between those two guys to explore all of the counter-positions of what Shanté was doing and ultimately what goes on within the minds of a great number of men as they're forming strategies as to who's gonna wear the proverbial pants within the fabric of the relationship.

Morris Chestnut: Anthony's obviously still a very funny, talented actor, and he was trying different things. One time the studio executive came to me and said, "Look, you've gotta step up your game, 'cause Anthony is just doing things left and right!"

Tamala Jones: I'm still really good friends with Vivica, and she'll have, like, Taco Sunday at her house, and it'll be a game on, and she has friends from all walks of life. Some own their own businesses, some she's known since childhood, high school, college times. Same with me. I have a lot of acquaintances from Hollywood that I hang out with and some that I do call friends, but most of my friends have nothing to do with the business, and we all vibe and we all hang out. They come over, I cook, we're supposed to be watching Game of Thrones but we're talking through the whole thing. So I think that's very real, and I also think it's a great way to balance your life, to not have the same kind of people around you to always talk about the same kinda stuff.
"I wanted us all to shine." – Vivica Fox
Vivica Fox: I wanted us all to shine. And to show that girls could be good girlfriends to each other and support each other, 'cause we really do do that. ... It was about me having three girlfriends that were awesome in different ways.
In the years since Two Can Play That Game, representations of black life on both television and cinema screens have expanded, from Morris Chestnut's Beaumont Rosewood (Rosewood) to Vivica Fox's Jasmine Dubrow (Independence Day: Resurgence) to Gabrielle Union's Mary Jane (Being Mary Jane) to Anthony Anderson's Dre (Black-ish). Even as the actors take on bigger roles, fans still remember them as Keith, Shanté, Conny, and Tony. The year following the release of the film, Halle Berry won an Oscar for her role in Monster's Ball. In her acceptance speech, she named Vivica Fox among other African-American actors ("I'm forever grateful to her for that," says Fox).

Vivica Fox: It was sassy and ahead of its time, almost. It definitely set a trend for a lot of, especially African-American, romantic comedy, and I'm grateful that I could be part of that.

Gabrielle Union: I've seen politicians use the Conny Spalding GIF and meme. It's kinda all-purpose. Strangely, out of all the "urban comedies" that I have done, Two Can Play That Game probably has the biggest crossover appeal. Like, it's very mainstream. I remember, I was randomly stopped overnight in St. Louis due to a flight delay, so I went to a Cardinals game. And this kid comes up, and he's like, "I know you! Oh my god, you're a movie star!" And my ego's like, "Yeees!" [laughs] And I'm just assuming that this young, small white child has seen probably H-E Double Hockey Sticks on Disney, or, I don't know, a movie like that. And he was like, "Two Can Play That Game, right? Mom! It's the woman from Two Can Play That Game!" I was like, "Wait, what?" It was one of those times that just caught me off guard, and I will never forget that kid.

Tamala Jones: Oh my gooood, you know, before they mention Castle, they'll tell me...it's either Two Can Play That Game or Booty Call that's their favorite movie. And it's mostly the girls. And guys like Two Can Play That Game as well! 'Cause they feel like they're spying on us: "So that's what your girls talk about!" I'm like, that's not everything! [laughs]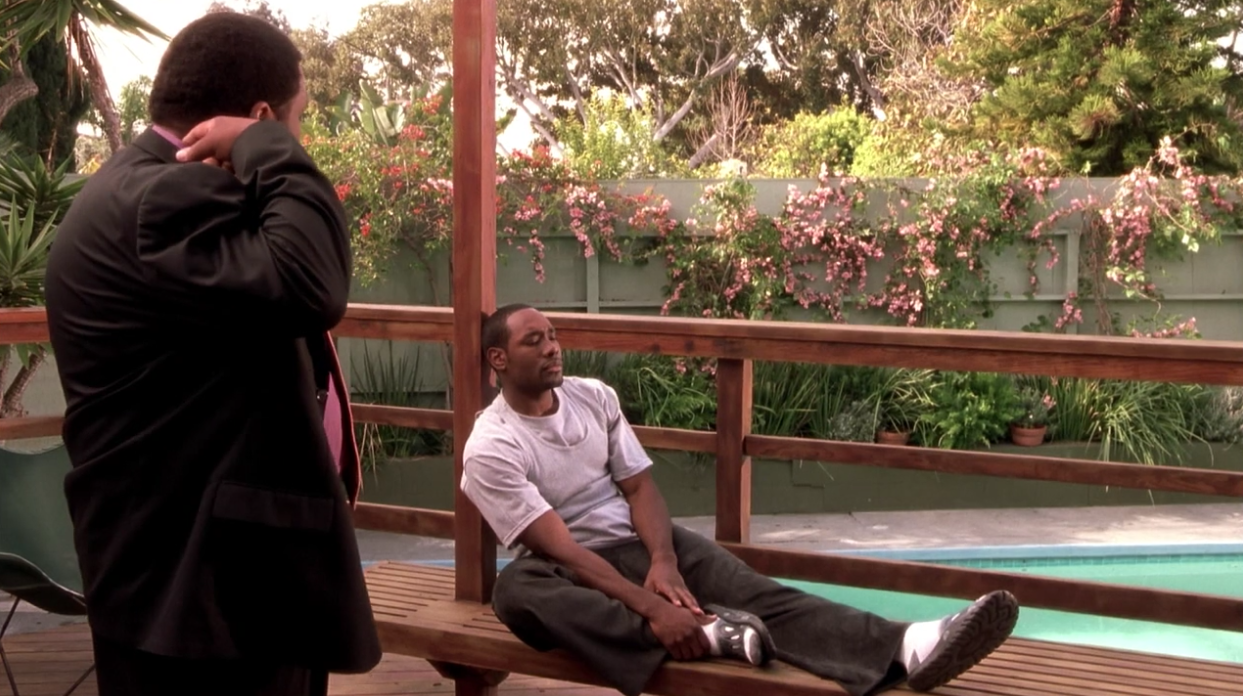 Tamala Jones: I definitely think things have changed for black women in Hollywood. It takes time to change; it doesn't happen overnight. But I think we have been improving since Two Can Play That Game. Halle Berry has won an Oscar for best leading actress in a film, and that was the first time in history. And then after that, Octavia Spencer. And, you know, Lupita, and Jamie, and Forest Whitaker. I think more change is definitely ahead of us, which is a great thing.
"Finally, we're getting our turn." – Vivica Fox
Vivica Fox: Right now, it's a wonderful time to be an African-American actress in Hollywood. Finally, we're getting our turn. Back then, it was like, "We're gonna take a risk." "Black girls don't play internationally." "Black girls don't get ratings." "Black shows, they don't work." You know. Like, really? They love our music, they love the way we dress. They emulate us but they don't want to see us onscreen? Didn't make any sense.
Gabrielle Union: There was not always a value placed on our performance, a financial value. So this film I think helped a lot of us quote-wise, and sort of moving forward with a little backing going into future negotiations. I think that's the biggest thing. It's not always about the next job or the next role, it's about how much are you willing to pay me? Because your quote is what you stand on. You know what I mean? A lot of times, it's not [in booming, grand voice] "Well, she had a critics award nomination!" Like, nobody gives a shit. It's how much did you get paid? That is your social currency in Hollywood.
Morris Chestnut: I think the door is much more wide open now than it was then in film. And on television, you don't just have network. You have cable, you have Netflix...all these different platforms doing original programming — there is a demand for African-American talent on the television screen. So the opportunities you see in television compared to back when we did Two Can Play That Game is absolutely night and day. I think what would be an ideal world is when we have just as many opportunities behind the cameras as we have in front of the camera.

Vivica Fox: It's still...to this day you can watch Two Can Play That Game and enjoy it. And that's when you know it's a good film and you've done your job. Even [Set It Off], you can still watch it now, I'm like, wow, this is just really good.