People Who Witnessed The Cambrils Terror Attack Describe The Horror — And Carry On With Life
"I saw it all, I saw the car, I saw guns."
CAMBRILS, SPAIN — There were just a few tourists eating lazy lunches at pavement tables on Friday in this small seaside town just 90 minutes from Barcelona, where just twelve hours ago diners abandoned their paellas and carafes of wine and ran screaming into nearby shops in fear for their lives.
But now the scene is serene — though the cafes and restaurants are much quieter than on a typical Friday in August — with a long beach full of sunbathers, families swimming in the sea, and a few pleasure boats floating in the distance. Also nearby: Police tape along the promenade, a couple of police vans, an armed officer, and a huddle of reporters beside their television vans.
At about 1:30 a.m. a group of men drove an Audi A3 down the town's promenade and used it to plow into people, Catalan Interior Minister Joaquim Forn said.

Susanna Haleobyan, who works in La Taberna del Mar, saw the incident unfold outside the restaurant while she was working.
She said dozens of people took shelter in the restaurant, and police ordered them to stay inside as they attempted to stop the attackers.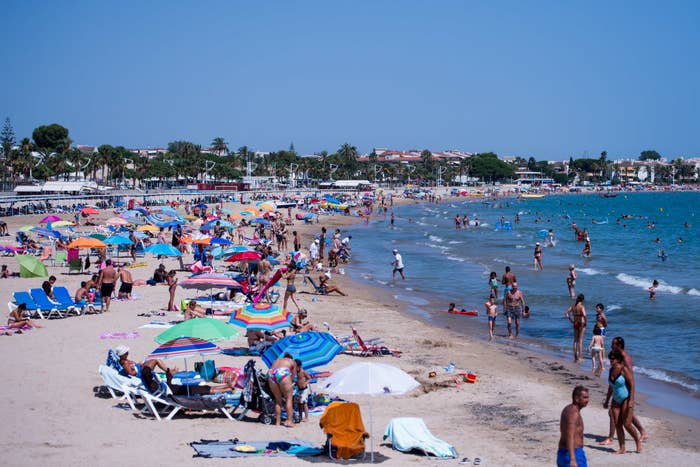 "I saw it all, I saw the car, I saw guns. There were men, shots, police. I was here until 3 a.m. with a lot of people here inside. I tried to look out, but it was closed, the police said 'close the door,'" she told BuzzFeed News.

"I saw all the police, one policeman was injured. I think the terrorists had guns, the police had guns," she said. "We were in here with 40 people, babies, children. At 3 o'clock the policeman came and we went to the hotel and slept until 8 o'clock in the morning."
Six people were injured, including a police officer. One woman, who locals said was from Zaragoza in northeast Spain, later died from her injuries in hospital.

The horror in Cambrils was the second wave of what police called a two-city coordinated terror attack. Earlier in the evening, a van drove along a popular tourist route in Barcelona, killing 13 and injuring more than 100 others.
Police managed to stop the attackers — who wore fake suicide belts — midway through their offensive, but when their car smashed into the vehicle the alleged terrorists, who were armed with knives and an ax, jumped out of the overturned Audi.

The attackers then engaged police in a shootout. One officer, who has been hailed as a hero, killed four of the terrorists and has been credited with saving an injured partner's life. Josep Lluis Trapero, the head of Mossos, the Catalan police force, said on Friday: "To kill four people, even if you are a professional, is not easy to digest."
Another of the suspects managed to run off, and stabbed a passerby in the face with a knife before he was shot by another officer.
Juan Enrique Peri, the PR manager for L'Ancora Restaurant, which is located right along the attackers' route, first realized what had happened when he heard gunfire.

He rushed to the window of his apartment, which looks onto the main street in Cambrils, and saw three of the terrorists gunned down by police.
"At the first moment I heard shooting, later I saw the flashing lights, the police cars," he said.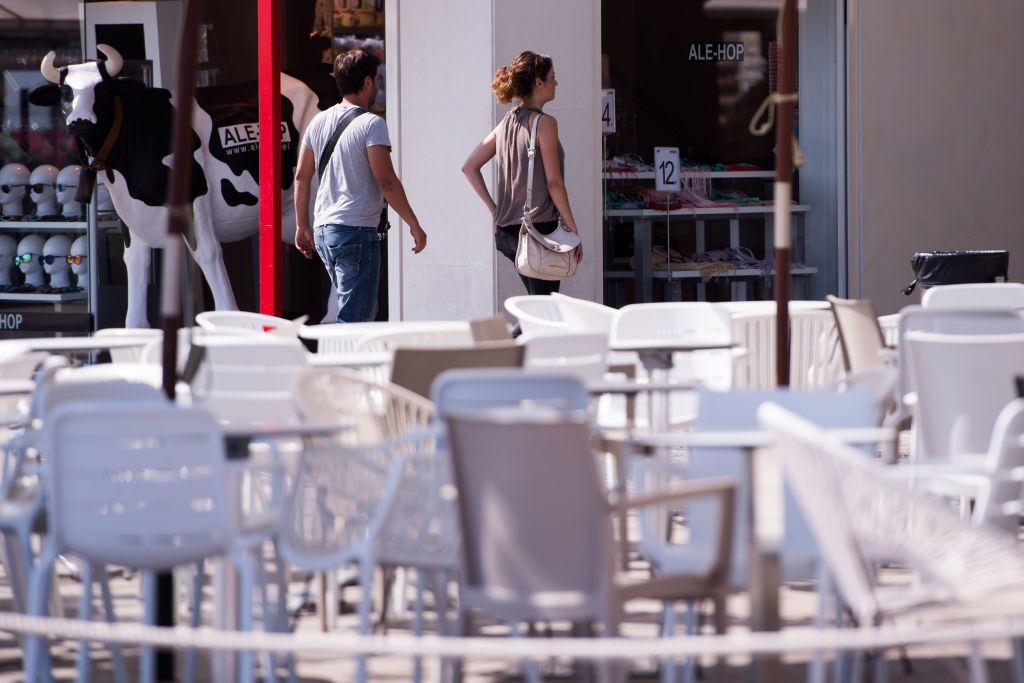 "I was very curious, I was looking out. I live at the front, I went to the window of my house, and I saw a lot. The police were shooting and killed three people — in the front of my house I saw the dead bodies.

"They had belts for explosions, but the news said they were not real. They had knives and were stabbing people outside of the car," he said.
"There were people running, crying, there were children crying, and parents. Everybody inside the restaurant, the plates of food, paellas, ice creams, they left them, they ran inside the shops and restaurants, there was a lot of food left, a lot of wine," he said.
Police have not released the identities of the Cambrils attackers. ISIS, through an affiliated news channel, has taken responsibility for the attacks.
Trapero said investigators believe that the terrorists had spent considerable time plotting Thursday's twin attacks. He said police believe they were planned at a home in Alcanar, where an explosion at a home on Wednesday killed one person.
He said three Moroccans and a Spaniard, aged 21, 27, 28, and 34, have been arrested, and that none of them has any prior record of terrorism offenses. Today, local news outlets reported that police are hunting four more men, all of whom live in or close to the northern Catalan town of Ripoll, near Girona.
But here in Cambrils, there is little sign of the huge police operation that is ongoing behind the scenes.
"Look" Peri said, gesturing with an open hand, "the restaurant is very quiet."