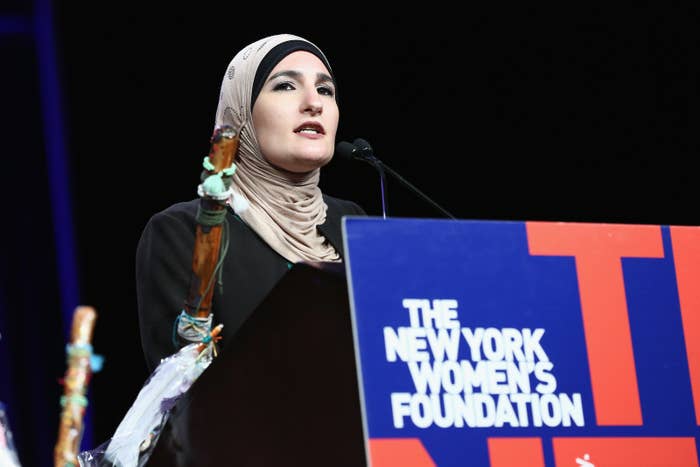 Women's March organizer Linda Sarsour is rejecting a report that says she failed to act on sexual harassment claims at the nonprofit she led, producing affidavits that cast doubt on elements of the story, published late Sunday by right-wing outlet the Daily Caller.
Sarsour on Monday provided BuzzFeed News with witness statements and email correspondence that offer a markedly different version of what happened after then–staff member Asmi Fathelbab accused an office volunteer of harassing her in 2009.
Fathelbab described assaults that included the volunteer, Majed Seif, sneaking up behind her "with a full erection," pinning her against a wall to rub his crotch against her, and following her to and from work.
"You could hear me scream at the top of my lungs," Fathelbab told the Daily Caller. When Fathelbab took her claims to Sarsour, she said, she was body-shamed and dismissed as an attention-seeker. Seif and others who worked at the nonprofit have denied the allegations.
Fathelbab is the latest woman in recent months to allege that her workplace mishandled her harassment complaint. She said she had "no aim or angle for this other than my story be heard," when asked if she had any concerns about the story being used online in a partisan way to attack Muslim Americans.
Sarsour, the most visible Muslim woman activist in the country and a vocal critic of the Trump administration, is frequently targeted by right-leaning critics who try to discredit her by picking apart her political stances and her sometimes combative social media posts. Sarsour said the Daily Caller report is another smear, but one that's more alarming because of the reach of the claims. The story went viral within hours of its publication, undoubtedly helped by a tweet and retweet from Donald Trump Jr., whose Twitter account has more than 2 million followers.
Sarsour said her first instinct was to dismiss the report as a hit piece, but Trump Jr.'s role in amplifying the claims made her fearful for the personal safety of her and her family.
"Anti-Semitic, terrorist sympathizer, supporter of female genital mutilation — every week they come up with some new stuff about me," Sarsour said of her detractors. "But when the president's son is tweeting about me, that's serious stuff."
This much is not in dispute: In 2009, Fathelbab was part of an AmeriCorps program that placed participants in Arab-American organizations across the country. It was funded by the Michigan-based Arab Community Center for Economic and Social Services, or ACCESS.
Fathelbab was sent to coordinate a youth education program for the Arab American Association of New York, the Brooklyn-based nonprofit where Sarsour was executive director at the time. Three other ACCESS hires worked there; Sarsour said the association oversaw their work but was not responsible for their salaries or benefits.
Volunteers often helped staff members at the busy office, where Arab-Americans sought help navigating immigration issues and social services. Among the volunteers was Seif, a man who lived in the same building as the office and who regularly stopped by to help with Arabic translation or event planning. His day job was at an international high school, and he taught calligraphy at the United Nations.
This is where the stories diverge.
Fathelbab told Daily Caller reporter Benny Johnson that Seif repeatedly menaced her at the office "when no one was around." Emails show that Johnson reached out to Sarsour for comment, but she did not reply. (Johnson is a former writer at BuzzFeed News who was fired in 2014 after more than 40 incidents of plagiarism and insufficient attribution were found in his writings.)
The Daily Caller story is based on the account provided by Fathelbab and information from "two people who knew Fathelbab during her time at the Arab American Association," and another anonymous person identified as a "New York political operative." These three other sources, according to the Daily Caller, independently confirmed her account. Because they were not named, BuzzFeed could not verify their stories.
"She called me a liar because 'Something like this didn't happen to women who looked like me,'" Fathelbab was quoted as saying about Sarsour's reaction. She added that fans who put Sarsour "on a pedestal for women's rights and empowerment deserve to know how she really treats us."
Sarsour said she's "dumbfounded" by Fathelbab's version of what happened. As referenced in the documents Sarsour provided, she gave ACCESS an affidavit dated Aug. 13, 2009. Sarsour defended Seif in the statement and wrote that it was Fathelbab who was creating a hostile environment by telling coworkers stories of alleged harassment.
Sarsour told ACCESS she'd looked into the claims and found "no substantial evidence or any testimonies from anyone about the alleged accusations." Even so, Sarsour continued, she talked with Seif about the claims and asked him to stay "as far away as possible" from Fathelbab to avoid worsening the issue. Seif denied Fathelbab's claims at the time, and he does to to this day. Sarsour said she'd considered the matter settled — until hearing five months later that Fathelbab had told ACCESS about the claims.
Sarsour told BuzzFeed that none of Fathelbab's claims to the Daily Caller matched the account she brought to Sarsour nearly nine years ago.
"The exact words were, 'He makes me feel uncomfortable,'" Sarsour said. "There was nothing about touching or groping. There's no evidence, no email she can pull out where she ever gave those claims to us."
As for the claims about body-shaming, Sarsour said, that "never, ever" happened.
"This is character assassination," she said. "This is where we have to draw the line. I have two daughters. This is not the type of behavior I engage in."
Sarsour said she has no problem calling out fellow Arabs or Muslims for sexual harassment, noting a Facebook post she wrote in June 2013 amid allegations by a dozen women against a senior official with the American Arab Anti-Discrimination Committee, or ADC. Sarsour threatened to cancel her speech at the ADC convention unless the group made a commitment to "investigating this to the fullest extent of the law."
BuzzFeed News spoke to Fathelbab on Monday afternoon. She said she was unaware that Sarsour, on behalf of the Arab American Association, filed affidavits. Fathelbab also maintains that she was vocal about the alleged sexual physical contact. "I told her everything that was going on. And half of the time she could actually hear me screaming from the other side," Fathelbab told BuzzFeed News. (Sarsour said this "never happened.")
Asked why she decided to come forward publicly, Fathelbab said it was hypocritical that Sarsour was for women's rights, given her experience. "Apparently I didn't count as a woman to her, to have a right," Fathelbab said.
Sarsour provided BuzzFeed News several materials supporting her version of events, including:
An August 13, 2009, statement to ACCESS by Seif, the accused volunteer, who said he'd never been around Fathelbab without another staff member present and that the claims against him were "offensive and hurtful."
Signed statements dated August 14, 2009, in which two staff members who worked closely with Fathelbab told ACCESS they had no reason to believe the claims had merit.
BuzzFeed News interviewed both of the former coworkers who provided statements in 2009, and both said they stood by their accounts.

One, Jihad Kifayeh, said Fathelbab was a good friend of his in the office — they often ate lunch together and she let him use her car a couple of times. He said he took her claims seriously when she told him and other coworkers that Seif was harassing her, even monitoring Seif's behavior around her for any sign of misconduct.
"If this was my sister, I would expect the same," Kifayeh said. "I wanted to get to the bottom of it. We watched Majed before we even let him know."
Seif did not immediately respond to a request for comment from BuzzFeed News on Monday.
He and coworkers kept digging, Kifayeh said, but found nothing to corroborate Fathelbab's claims. He said some of her stories sounded logistically impossible in a bustling, tightly knit office where staffers were rarely, if ever, alone. He also said she never described physical harassment or groping. "This is a new aspect to the story I've never heard before. It was always, 'He's stalking me, he's following me,' but never anything about touching," he said.
"We were like, 'How? When?'" Kifayeh said. "It's not like we all disappear. We all come in at the same time and we leave at the same time."
The other former coworker, a man who shared an office with Fathelbab for a year, agreed to speak on condition of anonymity because he wanted to protect his family from the social media firestorm that's erupted around the story.
The former colleague said he never heard her scream at the top of her lungs as she told the Daily Caller. He said Seif would enter and exit a room silently on his usual business and she'd insist he was following her. The former colleague said it was clear to him and others in the office that her claims were baseless.
"Linda did what she was supposed to do. She had a meeting, got our perspective, got our witness accounts. What else could she do?" he said. "I thought this was over and done with nine years ago."