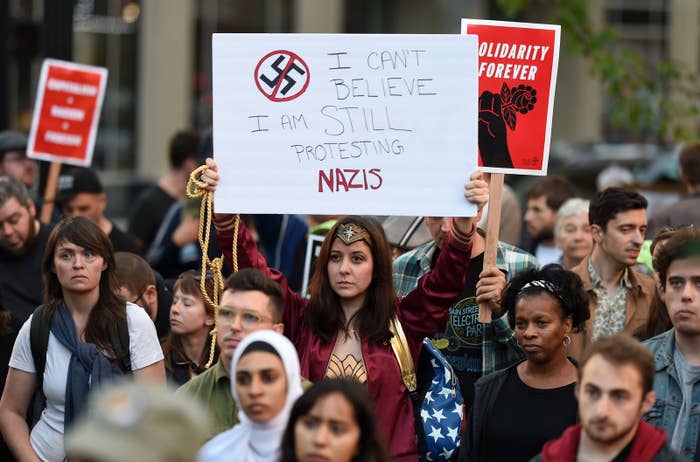 The number of hate crimes nationwide rose nearly 5% in 2016, with racial and religious minorities the most frequent targets, the FBI said Monday in a report that covers the incendiary election year that swept President Donald Trump to power.
For 2016, the FBI tallied 6,121 incidents from participating law enforcement agencies across the country: 57.5% were related to race or ethnicity, 21% were related to religious bias, and nearly 18% were related to sexual orientation. The FBI count includes a range of incidents, from intimidation to murder. Among the findings:
— Racially motivated offenses remained the leading category, with attacks targeting black people accounting for half of the 4,229 racial bias incidents reported. Religious-based hate crimes are next in the ranking, with 53% of those offenses targeting Jews.
— Anti-Muslim offenses rose by 19% over the previous year, the biggest leap in the religion category. In the latest figures, anti-Muslim incidents make up a quarter of all crimes motivated by religious bias, though Muslims account for just 1% of the US population.
— Though there was little change in the number of anti-gay attacks, offenses against transgender people increased to 111 from 75 the previous year.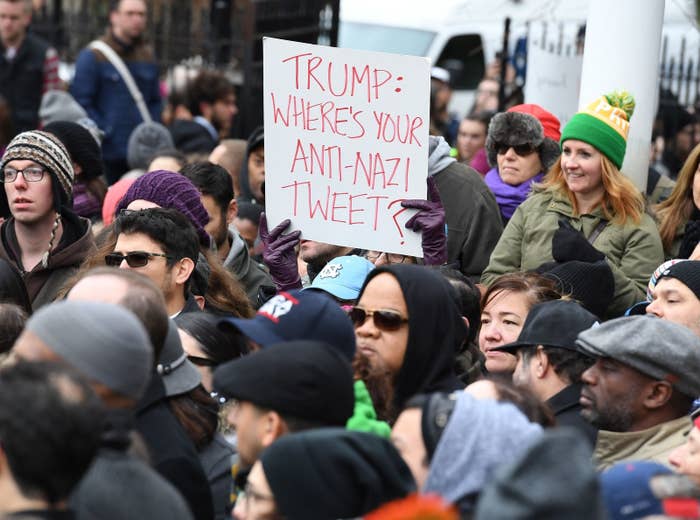 — Increases reported by big cities — notably New York, Los Angeles, and Chicago — and by specific states contributed to the overall jump, according to an analysis by the Center for the Study of Hate and Extremism at California State University, San Bernardino. Florida's numbers were up 33%, not counting the massacre targeting LGBT patrons at the Pulse nightclub. California was up 11% and New York state was up 19%.
— Of known offenders, 46.3% were white, and 26.1% were black. Other races accounted for the remaining known offenders. The race was unknown for 18.1%.
The correlation between Trump's ascent and the hate-crime increase might seem like a no-brainer given his campaign's vilification of Muslims, immigrants, and other minorities, but analysts warn that the findings are too complex to make a clear cause-and-effect link.
The rhetoric of Trump and other high-profile figures undoubtedly stoked prejudices, they say, but there are many other factors to consider: Election years always show an increase in hate crimes; some spikes occurred after Islamist extremist attacks; and numbers sometimes rise in connection with localized disputes such as mosque-building projects or demographic shifts in cities.
"The presidential campaign tapped into anger across the country and impacted anti-minority prejudice across the board."
Those caveats sound overly cautious to many US Muslims who describe a country that's palpably more hostile to them under Trump, especially if their faith is easily identifiable because they wear a headscarf or other clothing associated with Islam. Anti-Muslim hostility certainly preceded the election year, they say, but they blame Trump for whipping it to levels unseen since the aftermath of the 9/11 attacks.
The FBI report counts slightly more than 300 anti-Muslim incidents in 2016. Muslim advocacy groups such as CAIR, the Council on American-Islamic Relations, recorded even higher figures, citing not only law enforcement data but incidents reported directly to its offices. CAIR received notice of more than 4,000 incidents in 2016 and determined that more than half of them — 52% — were related to bias related to religion or national origin. The wide discrepancy comes from how hate crimes are defined and reported.
Corey Saylor, head of the CAIR department that tracks anti-Muslim offenses, said the FBI and nonprofit groups used different methodologies and differed on totals, but they reached the same conclusion: prejudice-motivated attacks are on the rise. The latest uptick in anti-Muslim offenses began around 2014, coinciding with ISIS killing US journalists, Saylor said, and worsened in 2016, an election year that saw Muslims and immigrants demonized by Trump and other candidates.
"The presidential campaign tapped into the anger across the country and impacted anti-minority prejudice across the board," Saylor said. "I believe to my core that candidates on the campaign trail were throwing grenades into the public discourse without any care for the consequences."
In early 2017, in the months immediately following Trump's inauguration, a wave of high-profile hate crimes hit the country. Mosques were burned and bombed, and Jewish cemeteries were vandalized. In Kansas and Washington, white men shouting racist messages shot three Indian men, killing one and wounding two more. A white man in New York City fatally stabbed a black man and told police he was planning to kill as many black people as possible. In Oregon, a white man fatally stabbed two men who stepped in to stop his racist tirade against two teenage girls, one of whom wore a hijab.
Brian Levin, director of the Center for the Study of Hate and Extremism, said research suggests statements by political leaders can influence hate-crime numbers. When President George W. Bush publicly defended Islam in the immediate aftermath of 9/11, hate crimes dropped, Levin said. And when then-candidate Trump first rolled out his "Muslim ban" proposal, Levin said, "we saw a precipitous increase."
Right-wing critics of groups that track hate crimes dismiss the numbers as exaggerated or based on hoaxes.
"As a criminologist, what I can't do is say that x caused y," Levin said. "What I can say is that we see an interesting correlation."
Right-wing critics of groups that track hate crimes dismiss the numbers as exaggerated or based on hoaxes. Levin said such critiques rarely bother with data; he said he's found roughly half a dozen false reports this year from among thousands of offenses.
The FBI compiles its crime data from reports it receives from thousands of local law enforcement agencies across the country. Police departments and sheriff's offices in the five states without hate crime laws — Arkansas, Georgia, Indiana, South Carolina, and Wyoming — have no legal obligation to determine if a crime is motivated by prejudice against a victim's race, religion, sexual orientation, or disability. Hawaii, which does have a hate crime law, opts out of the FBI's data reporting program and does not provide any data.
Civil rights activists perennially criticize the FBI's figures as incomplete because not all jurisdictions record bias-related offenses and because there's a relatively high bar of proof for labeling an incident a hate crime. In 2016, more than 90 cities with more than 100,000 residents either reported zero hate crimes or ignored the FBI's request for data, noted the Jewish advocacy group Anti-Defamation League. The ADL rolled out an interactive map showing state-by-state hate crime laws and FBI data from 2004 to 2016.
The Sikh Coalition, a national advocacy group, issued a statement Monday calling on law enforcement agencies to adopt mandatory hate crime reporting to provide a clearer picture of emerging trends. Sim Singh, the coalition's national advocacy manager, said the FBI's count of seven incidents involving Sikhs "represents the tip of the iceberg." The Sikh Coalition received reports of 15 for the same year.
"If law enforcement agencies fail to document the true extent of hate crimes against our communities, our nation will have a hard time mobilizing the political will and resources necessary to prevent and combat the problem," Singh said.
Levin likened the imperfect data-gathering to setting out 50 buckets before a snowstorm – even if 20 of the buckets are tipped over, enough are left to determine an overall snow pattern. The FBI's annual report isn't comprehensive, he said, but it's still a valuable tool.
"It's not necessarily a good barometer of exactly how many hate crimes are happening in the United States," Levin said, "but it is a good barometer of trends."
BuzzFeed News reporter Albert Samaha contributed to this report.