A plan to blacklist the Muslim Brotherhood – and, by extension, target US Islamic groups – no longer seems imminent as the White House wrestles with more urgent controversies, but civil rights attorneys are warning that it's no time for celebration.
This is the moment to prepare for actions the Trump administration could take to choke off Muslim civic life, warned Charles Swift, a national security lawyer best known for representing the driver of al Qaida mastermind Osama bin Laden. Jaws dropped as Swift outlined the government's broad powers of investigation to a Muslim audience at a legal seminar in suburban Maryland this month.
Under laws enacted after 9/11, Swift said, the feds still have the authority to swoop in and freeze assets, in some cases even before an investigation. Such moves could be challenged in court, he said, but not before causing irreparable damage.
"The day you're blocked is the day you're done," Swift told the audience.
Swift, director of the Constitutional Law Center for Muslims in America, is part of a road show of legal experts crisscrossing the nation to jolt Muslim nonprofit directors into "preparing for the day." The 15-city tour is one of many legal rights campaigns gaining traction as Islamic organizations find time to regroup in the break offered by Russia taking over as the national security issue du jour. Public outcry and court rulings over the travel ban also bought some time.
That brief lull already may be coming to a close, with the White House announcing that President Donald Trump will give a speech on Islam during a trip this week to Saudi Arabia. There's no telling what he might address or whether he'll drop any clues about the likelihood of the Brotherhood ban, an idea pushed by some of his anti-Muslim advisers.
Legal-advocacy groups advise US Islamic organizations to remain on high alert, preferably with attorneys retained and records shipshape. Citing cautionary tales of now-defunct Islamic charities, the activists are pointing Muslim groups to the hidden vulnerabilities in their bookkeeping, overseas ties, donations, and other seemingly mundane duties of running an Islamic organization.
And finding legal protection also comes with snags, especially for small groups on shoestring budgets. If your assets are frozen, you can't pay for a lawyer, and if you prepay for legal services, the attorneys could drop you because they don't want to be associated with the target of a federal investigation.
Then, even if a targeted group successfully defends itself and is cleared of wrongdoing, the organization is still effectively finished: in financial ruin and a pariah to donors.
"That was really scary to hear. Once you get tapped, you might get tapped out by the end," said Amena Waseem, who attended Swift's talk because she plans to open an international relief group.
Waseem said she's worked in the nonprofit world, so she knew she'd have to stay vigilant to make sure her support didn't inadvertently help any sanctioned group. Still, she said, the workshop was a wake-up call – she hadn't realized the scope of the government's powers to investigate Islamic organizations under the rubric of counterterrorism.
"This in itself is a new thing for us, having the resources to go to and say, 'I need legal assistance, I don't understand what's about to happen,'" Waseem said. "There's so many initiatives now, and so many people who look for these resources and who probably still don't know they exist."
"Could they happen again? Even though the court found that it was unconstitutional? Well, yes."
The Trump administration's anti-Muslim rhetoric has reintroduced a fear that hasn't been felt this keenly since the George W. Bush era, when US authorities shut down the eight largest Muslim charities, introduced a Muslim registry, and targeted civic groups in a sweeping post-9/11 crackdown. After courts balked at what's now widely considered overreach, the Bush administration became less zealous in targeting; ditto for the Obama administration.
Activists say a complacency set in during the Obama years, and fears dissipated that Muslims could find their political and civic life upended without warning. But that's still a real threat in case of a Muslim Brotherhood terrorist designation or in a government response to a big terrorist attack on US soil, civil rights attorneys say. Such events would make it easier for US authorities to freeze the assets of Muslim groups and place them under paralyzing investigations.
Perhaps the most cited example from the Bush years is KindHearts, a relief group that planned to build a hospital in Gaza until authorities froze nearly $1 million in assets. There was no notice and no explanation except that authorities were probing possible ties to the Hamas militant group. KindHearts sued the government and in 2012 won a settlement, becoming the first targeted group de-listed and allowed to distribute its assets.
It was a Pyrrhic victory; KindHearts never recovered. And while the government didn't appeal and stopped conducting preemptive freezes, attorneys said, there's always the chance the Trump administration would take a legal gamble and revive the practice.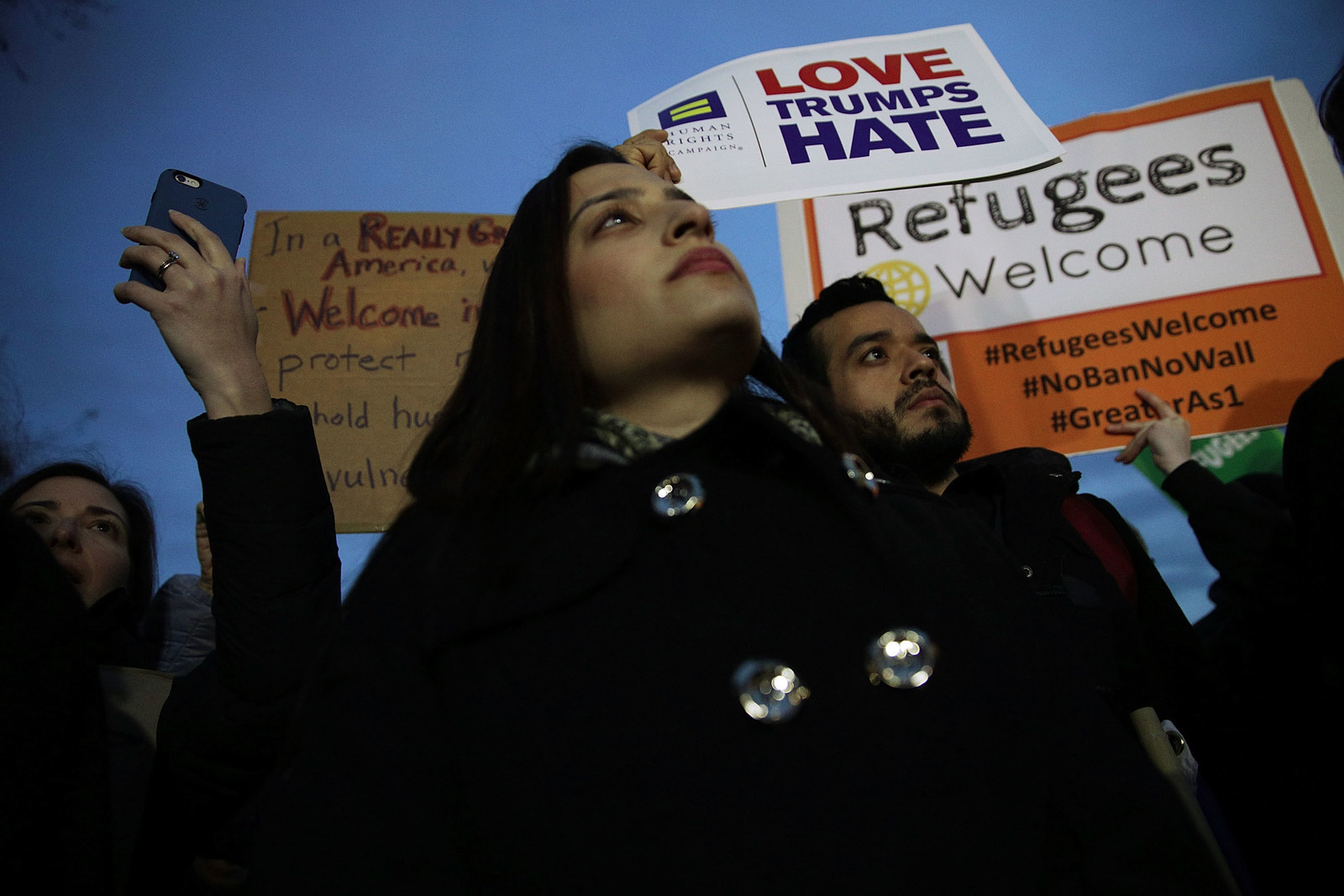 "Could they happen again? Even though the court found that it was unconstitutional? Well, yes," said Hina Shamsi, director of the ACLU's National Security Project and an attorney who worked on the KindHearts case. "Because governments and administrations do wrongful things, unconstitutional things, and then they have to be challenged."
And the risks run far beyond just operating civic groups. The next biggest topic of the Maryland seminar was travelers' rights, with questions about how invasive an airport search can be and how long immigration and customs officers are able to hold a traveler.
Every major Muslim advocacy group in the country has issued such know-your-rights primers since Trump's botched rollout of a travel ban targeting six Muslim-majority countries. Courts have halted it, but stories abound of Muslim travelers nevertheless being singled out at airports.
It was just one more example of why many Muslims feel unprotected even with laws and policies in place that ostensibly should work in their favor.
"Can I inspect someone more rigorously because they're Muslim? No," Swift said.
"Realistically?" someone in the audience called out, and everyone laughed.