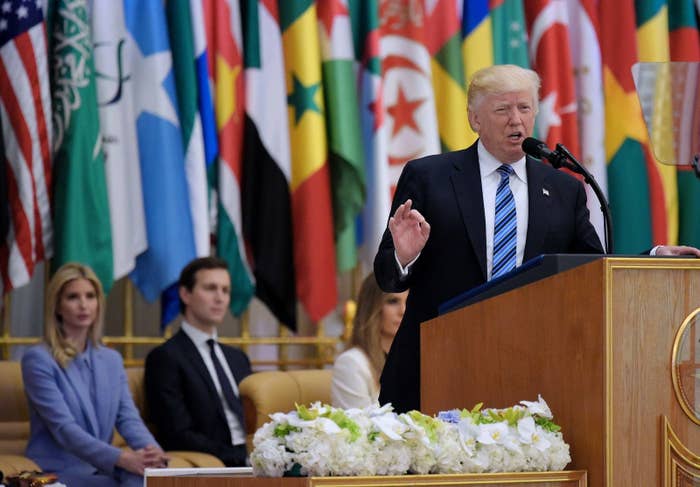 In the week before President Donald Trump's Islam-focused speech in Saudi Arabia, American Muslims collectively cringed over the big question: Just how bad could it be?
Not as bad as imagined, it turns out, but still unimpressive.
US Muslims said Trump's address Sunday at a summit in Riyadh was remarkable mainly for its blandness — shopworn lines about good versus evil from a president who once blamed his Saudi hosts for 9/11, who floated the idea of shutting down mosques, and who said, "I think Islam hates us."
American Muslims also noted a glaring omission in the half-hour speech: themselves. There was no acknowledgment of the contributions of the athletes, doctors, actors, and tech entrepreneurs who are among more than 3.3 million Muslims living in the United States.
"You don't mention them once in your entire speech?" said Adnan Zulfiqar, a Philadelphia-based Truman National Security Project fellow who studies foreign policy in the Muslim world. "What that tells me is that Trump's conception of America is not only Muslim-free but, in many respects, minority-free. He easily engages with Islam as a foreign 'other,' as opposed to Islam and Muslims as part of the American fabric."
Trump, a day after a lavish royal welcome that was scrubbed of women and protesters, waxed poetic about standing together against the killing of innocents and the oppression of women. Trump said he hadn't come to lecture (though he did) and that he was interested only in gradual reforms, not interventions — a reassuring message for authoritarian Arab allies such as Saudi Arabia, Egypt, and Jordan.
Trump ditched his base's preferred terminology of "radical Islamic terrorism" and, in most places, used less inflammatory terms such as "radicalism" and "extremism." It was the kind of language Trump used to attack his predecessor President Barack Obama for using.
"We welcome President Trump's recognition of Islam as 'one of the world's great faiths,' but that recognition does not wipe out years of well-documented anti-Islam animus," Nihad Awad, executive director of the Council on American-Islamic Relations, said in a statement. "The president should also recognize the contributions American Muslims make — and have made for generations — to the betterment of our nation."
To many US Muslims, the about-face showed that Trump considers the faith of 1.7 billion people as just another negotiable, his public stances on Islam changing whichever way the wind — or a $110 billion weapons deal — blows. He bashed Islam in front of anti-immigrant US voters he needed to win the election; he embraced Islam in front of Middle Eastern autocrats whose help he needs on counterterrorism and trade issues.
"Trump doesn't have any inhibitions in terms of exaggerations, so he laid it on thick," Zulfiqar said. "But in a room full of a lot of autocrats, exaggeration plays incredibly well. So, while he's heaping praise on them and their potential and accomplishments, he can sneak in 'Islamic terrorism' and nobody even cares."
Trump's muted speech stood in contrast to the rest of his over-the-top visit to the kingdom, his first overseas travel as president and a closely watched — and mocked — event for American Muslims.
Much of the color from his trip spread in memes and GIFs, the disjointed scenes conjuring a dystopian Arabian Nights. There's Trump, bouncing along during a traditional sword dance. There's White House strategist Steve Bannon, who's long spewed anti-Muslim venom, looking ill-at-ease in a swarm of men in traditional Saudi thobes and headdresses. And there's Trump again, this time in a golf cart with the Saudi king, headed to a Toby Keith concert.
It became a cliché to say, "You can't make this stuff up."
"It was weird," said Shayan Ghajar, an Iranian-American agricultural researcher in Virginia. "It felt strangely like an echo of the Bush era, where most of our foreign policy was determined by the economic interests of the defense industry. The sword dance kind of brought that back for me."

And all the Bannon memes? "Priceless," Ghajar said with a laugh.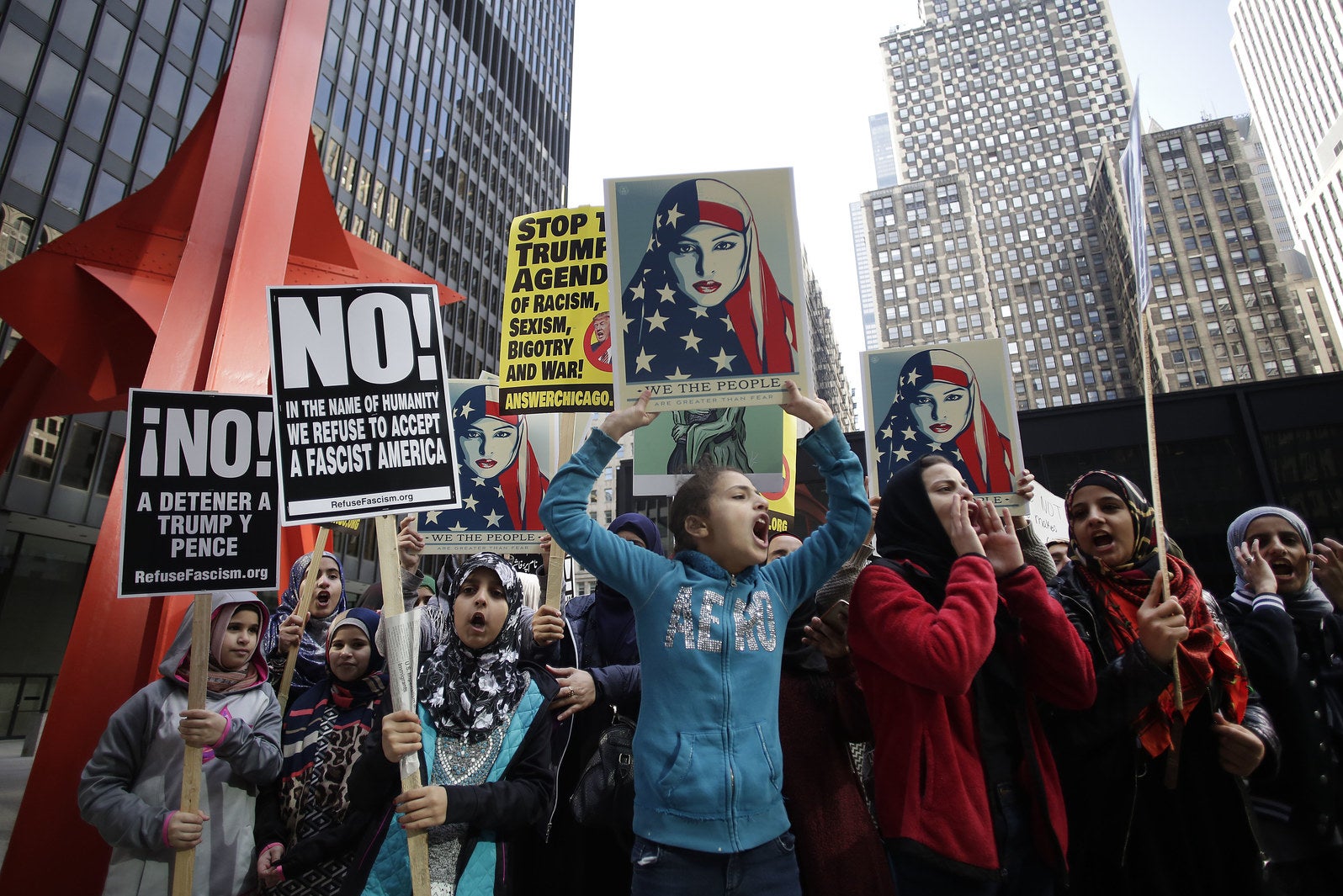 Sakeena Rashid, a tech developer in Ohio, was among those bracing for the worst. She recorded her reactions to Trump's speech using images from her newly launched app, Islamoji, which sells emojis that represent the wide diversity of American Muslims.
On her Facebook page, Rashid started with an emoji of a Saudi man with a pet cheetah, a nod to the opulence of the royal welcome for Trump. Next came one of a woman in a headscarf looking skeptical as Trump talked about "friendship, hope, and love." A pile of cash for the announcement of an arms deal.
Rashid wrapped it up with a riff on the Kermit the Frog meme, an emoji of the skullcap-wearing Kareem the Frog sipping his tea because Trump had delivered a lecture after saying he wouldn't.
"It was definitely awkward," Rashid said, describing the image of Trump, of all people, speaking in Saudi Arabia after a Qur'an recitation.
Apart from the funny emojis and memes, Rashid said, there was a line in Trump's speech that reminded her of the seriousness beyond the spectacle. It was when Trump said that "young Muslim boys and girls should be able to grow up free from fear, safe from violence, and innocent of hatred."
She said it instantly took her back to two weeks ago, when she was standing in a grocery store with her baby in her arms and a stranger who saw her headscarf yelled at her to go back to her country. Never mind that she's an African-American who was born in Michigan.
Rashid, like many other American Muslims, said a half hour of conciliatory remarks wasn't going to make up for the many years Trump has smeared Islam, such as spreading bogus claims about Muslims in New Jersey cheering when the World Trade Center collapsed on 9/11 or insinuating that ordinary Muslims could prevent terrorist attacks that even trained intelligence officers failed to spot.
That kind of rhetoric, Rashid said, contributed to an irate man feeling bold enough to loudly accost a woman shopping in public with her children.
"When Trump said that about safety for boys and girls, I was, like, does that count for American Muslims?" Rashid said. "As Muslims in the United States, we have to also feel safe and free from fear, and we don't."