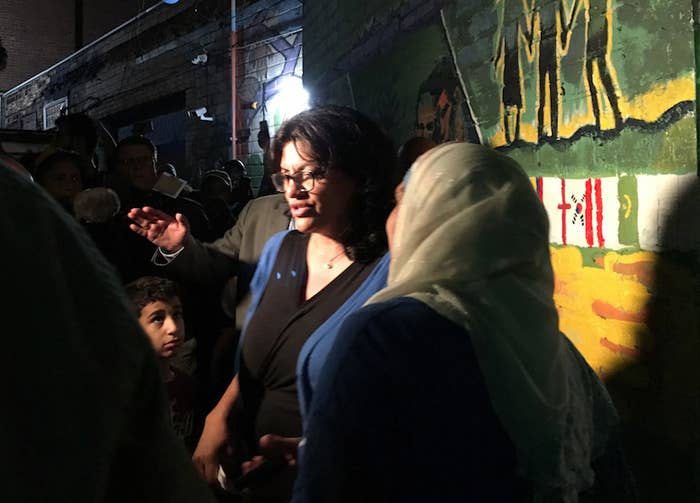 DETROIT — Rashida Tlaib was once hauled out by security for shouting at President Donald Trump during a speech here. Early Wednesday, she won a crowded Michigan Democratic House primary and will now likely take her fight against Trump to Washington as the first Muslim woman ever elected to Congress.
The race was called for Tlaib just before 3 a.m., after running neck and neck with Detroit City Council President Brenda Jones for hours. When news of the victory was finally announced at Tlaib's election night party, young supporters in blue T-shirts burst into tears and hugged one another. They began chanting, "Rashida!" A few ululated and waved the Palestinian flag. Many in the room were from immigrant backgrounds and took pride in Tlaib's milestone. At one point they all sang along to "Don't Stop Believin'."

Tlaib, a progressive 42-year-old former state representative, was part of a wave of Muslim candidates across the country who ran this year as a collective pushback against Trump administration policies targeting Muslims and immigrants. She is now almost guaranteed to win November's general election for the 13th District House seat vacated by Detroit's legendary former congressman John Conyers Jr., who stepped down in December amid accusations of sexual misconduct.
Tlaib's win in the primary to take over his seat in January guarantees her a spot on the general election ballot in November. There was no Republican running on the ballot in either race. Detroit City Council president Brenda Jones won a tight primary to advance to a November special election to finish out the remainder of Conyers' term, which then ends in January.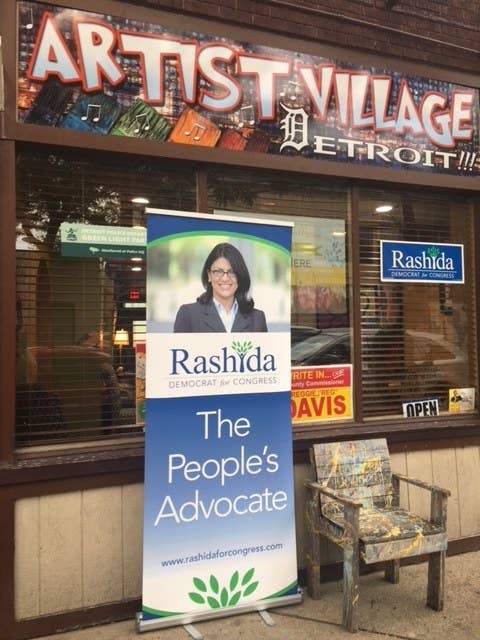 There's never been a Muslim woman in Congress, but it's now possible that at least two will be seated next year. Ilhan Omar, a Somali American who is a top candidate in next week's Democratic primaries in Minnesota, is also running in a deep-blue district and is expected to advance should she win next Tuesday.
And Tlaib wasn't the only Muslim woman running for Congress in Michigan Tuesday. Fayrouz Saad, 35, is in a Democratic primary in the state's 11th District that remains too close to call. The results of that race have not yet been determined, but Saad is trailing. The district is more favorable for Republicans.

Another Michigan Muslim whose campaign earned national attention didn't fare as well. Abdul El-Sayed, a 33-year-old doctor who'd hoped his progressive, Bernie Sanders–endorsed campaign would help make him the nation's first Muslim governor, lost to Gretchen Whitmer in the state's Democratic gubernatorial primary. Whitmer, who had support from some of the Democratic establishment as well as influential labor and women's groups, will face Republican Bill Schuette in November.
"I wish you could see yourselves from where I stand," Abdul said in a concession speech to tearful supporters in downtown Detroit Tuesday. "A movement that is so diverse, people who came together over and over again, under one roof, because that's what America is supposed to be."
In the congressional race, Michigan analysts were skeptical that Tlaib, a Palestinian American with deep ties to activist circles, could pull off a win in a majority-black district contested by several prominent figures in the black community. Apart from Tlaib and Jones, the packed primary also included state Sen. Coleman Young II, whose father was a Detroit mayor, and state Sen. Ian Conyers, the great-nephew of the former lawmaker.
But Tlaib raised more money than her Democratic competitors and won the endorsement of the Detroit Free Press. She was also backed by a host of organizations on the left, including the Sanders-aligned Our Revolution and Greater Detroit Democratic Socialists of America, which identifies Tlaib as a member.
In the hours before the race was called, her election night party was in full swing. A DJ played hip-hop, supporters signed a poster saying they were proud of her, and a giant cake bore the message "We love you Rashida!" As midnight rolled by, with results still trickling in, supporters danced to Arabic music and Cardi B.
Nada Al-Hanooti, 27, considers herself a protégé of Tlaib, who gave her an internship when she was "a 21-year-old, prissy college girl." Tlaib sent her to Detroit, where Al-Hanooti saw poverty up close, an experience that "completely changed my life and how I view politics," she said.
Al-Hanooti followed Tlaib into politics and quickly learned the sting of a loss. She ran for Dearborn City Council last year and came in 12th place. While campaigning, she said, police stopped her because they'd received a complaint about "a Middle Eastern girl with a clipboard." Now she's the executive director of the Michigan chapter of Emgage Action, a Muslim-focused political action committee that endorsed Tlaib, El-Sayed, and other Muslim candidates.
"We have a long way to go but we'll get there, and candidates like Rashida and Abdul paved that path for us," Al-Hanooti said Tuesday night. "Their candidacies are not a campaign. It's a movement. Tonight, they started something special, and we're going to continue fighting."
The Michigan Democratic primary elections became a closely watched litmus test of progressives' ability to push their party to the left. In the two weeks leading up to the vote, Alexandria Ocasio-Cortez showed up from New York, fresh from unseating a 10-term incumbent in a Bronx's House race, to stump for Tlaib and El-Sayed.
El-Sayed's supporters said they were grateful for Tlaib's win, and that they'd view their candidate's thwarted governor's bid as a valuable lesson in organizing young voters and people of color.
"I definitely think the energy will be shaken, but I don't think it's going to stop them from fighting for what they believe in. And it might even give them more fuel to fight harder for their own communities," said Mikala Cox, 22, who voted in Ann Arbor, Michigan. "It might be kind of a bummer, but it won't stop young people from being passionate about voting and being a part of our democracy."
The national political divide was encapsulated in the banter between a Trump-supporting septuagenarian and three liberal teenagers outside a Dearborn polling station Tuesday.
The older man, Lee Jacobsen, was handing out campaign materials for Republican gubernatorial candidate Patrick Colbeck. The teens — a boy and a girl, both Arab American, and a 16-year-old black girl — were all too young to vote but were volunteering for different Democrats. All four of them sat under a shady tree, trading jabs as they pushed leaflets toward voters who walked by.
Jacobsen railed against former president Barack Obama as an ineffective, boring leader. Well, at least he met with school-shooting victims, the teens retorted. Had Trump? The teens lashed out at Trump's admissions of sexual harassment of women and what they called his "sleeping with porn stars." Trump was in show business, Jacobsen shot back, so everybody should've expected he was "a ladies' man." Trump has "stopped the missiles" in North Korea, Jacobsen said. The teens pointed to Trump's harsh rhetoric toward Muslims.
Janna Bazzi, 17, said her high school has many Arab American and Muslim students, and after Trump was elected, "We got threatened."
"I've written personally to Abdul El-Sayed asking him one question: Which law do you uphold, American law or Sharia law?" Jacobsen said. "His reply was, 'Well, Mr. Jacobsen, freedom of religion is a right we all enjoy in this country.' In other words, a deflection. He wouldn't answer it directly."
The teens rolled their eyes.
"He probably had better things to do," Bazzi said.