MINNEAPOLIS — Even with the outcome expected, there was a sense of history-making when it became official Tuesday night: A Muslim woman was elected to Congress for the first time.
Michigan Democrat Rashida Tlaib, 42, won her election after running unopposed by a Republican. And 36-year-old Ilhan Omar of Minnesota won her race later in the evening. The Midwestern Democrats previously served as state lawmakers.
In addition to the "first," she is expected to share with Tlaib, Omar will also be the first headscarf-wearing member of Congress, as well as the first Somali American US legislator, and the first woman of color to represent Minnesota in Congress.
Their election would be a milestone in any year but is especially symbolic as a rebuke to President Donald Trump's fearmongering about Islam and immigrants. Omar and Tlaib are among 100 or more Muslims who ran for office in 2018, an unprecedented surge in political engagement for a community targeted by policies intended to keep them on the sidelines.
Somali supporters, some in tears, danced and sang when the race was called. Cheers erupted when Omar took the stage, her first words to the crowd the Islamic greeting, asalamu alaikum. Omar said she didn't run to be "a first," but because she couldn't stand on the sidelines as "fear and hate" permeate politics.
"My grandfather taught me that when you see injustice, you fight back," she told the crowd. "You do not give in to sorrow, you do not give in to sadness. You organize, and you build with people."

Minnesota, she said, not only welcomes immigrants, "we send them to Washington."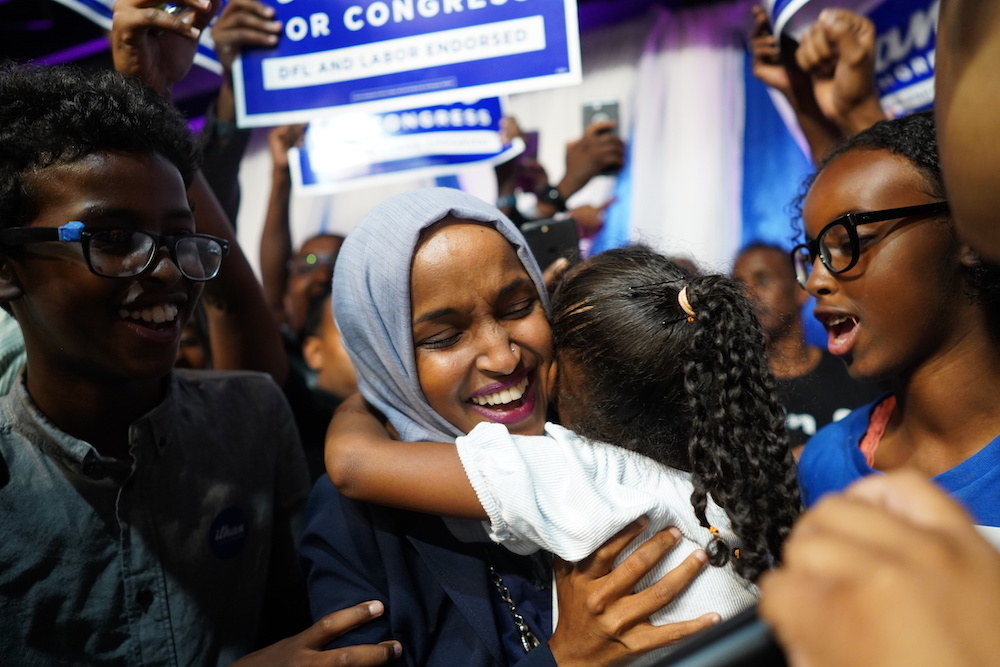 The wins reverberate among Democrats, who've seen voter excitement over progressives like Omar and Tlaib nudge the party leftward in races across the country. Even before she was elected to Congress, Omar was on the cover of Time and made a cameo in the Maroon 5 video for Girls Like You. Tlaib, too, has appeared in dozens of TV segments and magazine profiles that describe her as "fearless" and "trailblazing"; a Politico write-up dubbed her "the Left's way forward."
"They defy ideas of what Muslim women should look like, do like, be like, and I think people will continue to be fascinated by them," said Wa'el Alzayat, CEO of Emgage, a nonprofit that supports US Muslim political engagement; its political arm donated to the Tlaib and Omar campaigns. "They bring certain perspectives and experiences and views to Congress, which is predominantly white male, and that is the whole point of electing people like them."
Democratic Reps. Keith Ellison of Minnesota and André Carson of Indiana were the first Muslims elected to Congress; Omar and Tlaib will be the first Muslim women to serve. Omar faced Republican challenger Jennifer Zielinski for the deep-blue 5th District House seat given up by Ellison in his campaign for Minnesota attorney general. Ellison ran Tuesday under the cloud of an ex-girlfriend's abuse claims, which his party investigated and he has denied.
In Michigan, Tlaib won the 13th District House seat that for decades was held by Detroit's legendary former congressman and civil rights icon John Conyers Jr., who stepped down last year amid multiple accusations of sexual misconduct first reported by BuzzFeed News. No Republican ran against Tlaib, though she did face an 11th-hour challenge from a fellow Democrat. Detroit City Council President Brenda Jones, who narrowly lost the primary to Tlaib, mounted an unsuccessful write-in campaign — a final hurdle on Tlaib's road to Washington.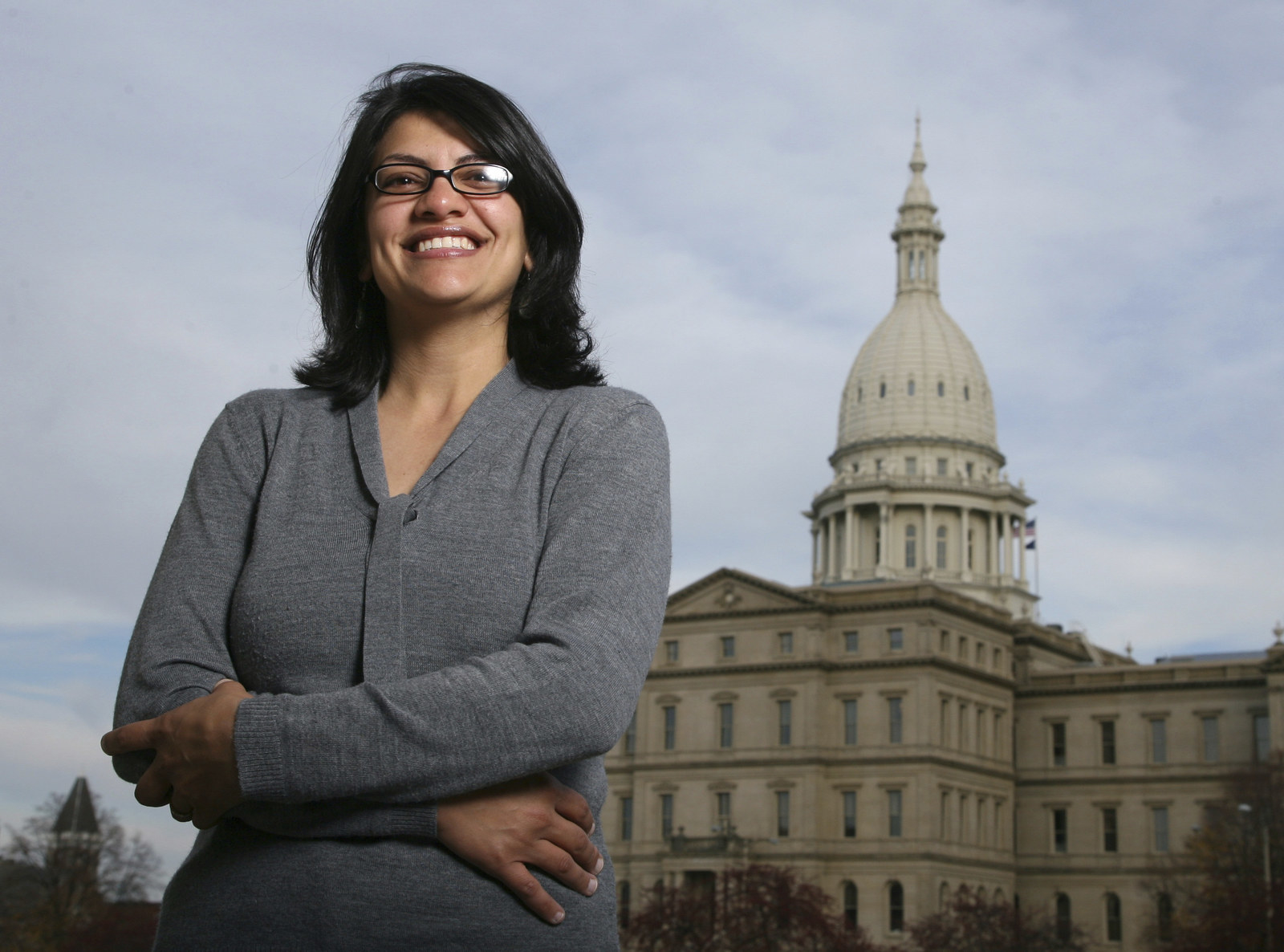 In an interview with BuzzFeed News ahead of Tuesday's election, Tlaib said she expects more obstacles as she joins a Congress, where "half of my colleagues are millionaires" with seemingly little interest in her pet issues: civil rights, universal health care, college debt, unions. Tlaib said she's so consumed by the policy side that she's barely had time to absorb the historical meaning of her win. She said it sneaks up on her, like the time she met an 11-year-old Palestinian American Muslim girl on a visit to California.
"She hugged me and I said, 'Nice blazer,' and she said, 'I wore it to look like you,'" Tlaib recalled. "And I realized that this moment is so much bigger than what we think."
Still, Tlaib said she tries not to let the weight of it all distract from her mission: "I take a breath in, I breathe out, and say, 'OK, now I have to really hit the ground running.'"
The night she won the August primary, Tlaib, the eldest of 14 children born to Palestinian immigrants, wept as her mother draped her in the trademark black-and-white Palestinian scarf. Tlaib's campaign workers celebrated by dancing to Cardi B and a Palestinian song with the words, "I will never bow to anyone."
With her primary win secured, Tlaib and several of her volunteers headed to Minnesota to campaign for Omar, who swept her primary the next week by more than 20,000 votes. Once the race was called, the campaign blasted "Wavin' Flag" by the Somali Canadian rapper K'naan, as Omar, the youngest of seven children, took the stage to deliver a victory speech honoring her family's journey from civil war in Somalia to a refugee camp in Kenya to a rebuilt life in the American Midwest.
After Omar won her primary, Tlaib posted a photo on Facebook of the two of them, along with a caption on the significance of their victory: "We just doubled the number of Muslimas in U.S. Congress. Yep, just like that. The America we know did this. Hope!"
But that uplifting message has gotten harder to sell in the months since. There have been a deadly series of high-profile apparent hate crimes and Omar and Tlaib will hear the president and his right-wing supporters attack virtually every aspect of their identities: Woman. Muslim. Democrat. Liberal. Immigrant. And they'll have to quickly trade the glad-handing of the campaign trail for the arm wrestling of Capitol Hill. The progressive stances that energized Democratic voters — such as Medicare for All, a $15 minimum wage, tuition-free college — are anathema to Republicans in Congress and the White House.
And both women already have gotten a taste of the scrutiny they'll face as they take on even more visible national roles.
Tlaib — the third Palestinian American elected to Congress after Michigan Republican Justin Amash and New Hampshire Republican John E. Sununu — caught flak from some Palestinian activists who accused her of getting too cozy with pro-Israel lobbyists, and from Jewish activists who were upset with her support of the movement to boycott Israel over its human rights record with Palestinians.
Omar, too, has taken heat over Israel, which she's described as an apartheid regime. She is also accused of misusing campaign funds as a state lawmaker and is dogged by right-wing media allegations that she married her brother to help him get US citizenship. Omar repeatedly has dismissed the claims as "disgusting lies."
"I don't think these have to be career-killing controversies," said Alzayat, of Emgage. "But you're seeing proof of how hard it is for minority candidates, much less Muslim candidates, to make it through. There is always something."
Zaki Barzinji, who served as the Obama administration's liaison to US Muslim communities, said he remembered a chat he had with Omar and a couple other rising Muslim politicians who visited the White House in 2016. The talk was about playing the long game, how you have to lay the groundwork for a viable run by first building community ties, showing up to local party meetings, learning the give and take of a state budget — the stuff Barzinji calls "the unglamorous work."
Their ascent to Congress is especially noteworthy because of the political backdrop, he said, but their work to get there began long before the Trump era. Tlaib, Barzinji said, learned all she could as an aide to a Michigan legislator for years before making her own run. Likewise, Omar first made her name as a community organizer and served as a policy aide to a Minneapolis City Council member.
"It's not just what they represent as Muslim women, but also that they represent the right playbook for building political power for any community," Barzinji said. "And it's a lesson I hope our community learns."
CORRECTION
Rashida Tlaib is the third Palestinian American elected to Congress. An earlier version of this post incorrectly described her as the second.